We have created a CloudSponge Proxy plugin on Bubble in order to make your CloudSponge integration easier.
When you are ready to add the OAuth Proxy URL, install our plugin to add a visual element to your toolbar. Then you can simply create a new page and drop the OAuth Proxy element onto the page. Done and done! Now you have your Proxy URL ready to use for your own Google, Yahoo and Microsoft OAuth credentials.
Install it
Create a new page in your Bubble app.
Install the plugin directly here, or:

In your list of Visual elements, click  "install more…"
Search for 'cloudsponge' and install the CloudSponge Proxy plugin

Drag and drop the "OAuth Proxy" onto your page
Test it
When you preview your page, it should display a very simple content. This is expected. Your users won't see this page because when you connect it to the OAuth flow, the page will automatically forward to CloudSponge's service.
Click the link. When you see the fist pump kid, you know it's set up properly.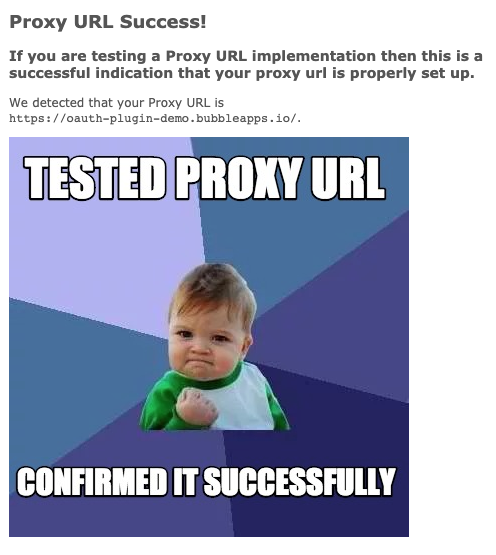 Deploy it
Before you use this page as your Proxy URL, you'll need to deploy it and get its public URL. This URL is what you'll use as your Proxy URL for CloudSponge and it's also added to the OAuth settings for Google, Yahoo and Microsoft.
Click on Development in the navigation bar
Click "Deploy current version to Live"
Enter a message and click OK
Switch to your Live environment by clicking Development in the navigation bar again
Click on "Live"
Finally, click on Preview to visit the live page.
Remove the debug_mode=true parameter from the URL to get your Proxy URL. Use this URL for setting up your OAuth for Google, Yahoo and Microsoft. More information is in our OAuth documentation.
For more context, our best resource is our webinar on Getting Started with CloudSponge. You'll learn how the Proxy URL fits with Google's OAuth and your CloudSponge account.