We're almost a month into 2016 and if you're anything like us it's time to turn our lofty New Year's resolutions into practical, actionable goals. If growth is an aspiration for your team in 2016, you may be interested in the the content that we learned from last year. These content pieces are written by the growth experts we admire like Alex Schultz, Brian Balfour, Steli Efti, Andrew Warner, ReferralCandy and more.
Everything we work on at CloudSponge, from engineering to marketing, centers around helping our customers accelerate growth by expanding existing marketing and referral channels. We hope you find some great systems, hacks, and tactics to acquire more users for your business in 2016.
Brian Balfour's Building A Growth Machine Workshop [VIDEO]
Presented in cooperation with Noah Kagan at AppSumo, Hubspot's VP of Growth Brian Balfour walks through a thought-provoking presentation on building a growth machine and growing the active user base for your business. His emphasis is mainly on building a scalable, repeatable system to undertake, test, and prove growth strategies and acquire new users.
We recommend taking 30 minutes and sitting down with a notebook to capture all the gold nuggets contained in the same presentation he uses to educate his own team. Watch it now or click the image below to view Brian's workshop, and if you want to skip the preamble you can jump to 00:06:43 for the meatier stuff: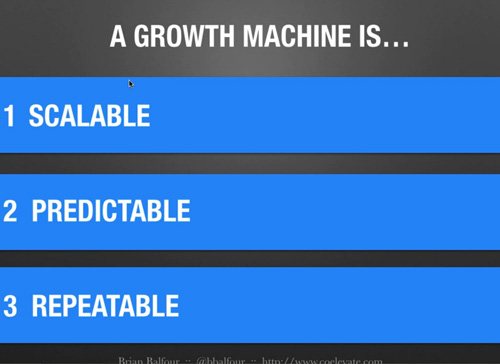 CloudSponge Tip: We recommend that you sign up for Brian's email list at Coeleveate to get his high quality blog posts and messages sent to your inbox. As an example of what to expect, we've provided Brian's Best of 2015 list that he emailed to his Coelevate subscribers:
---
ReferralCandy's Email Course on Referral Marketing [EMAIL DRIP]
Dinesh Raju, CEO at ReferralCandy, and his team have put together one of the best email drip campaigns we've seen to teach users how to run a refer-a-friend program and drive growth through referral marketing. They've taken their learnings from running thousands of campaigns and neatly packaged them into 10+ emails. In each email, ReferralCandy offers insights into building out a program and breaks down some of the most successful referral programs out there including Dropbox and Airbnb.
To sign up for the email drip, simply navigate to the ReferralCandy site, scroll down the page, and enter your email address into the FREE GUIDE signup form on the bottom left of the page.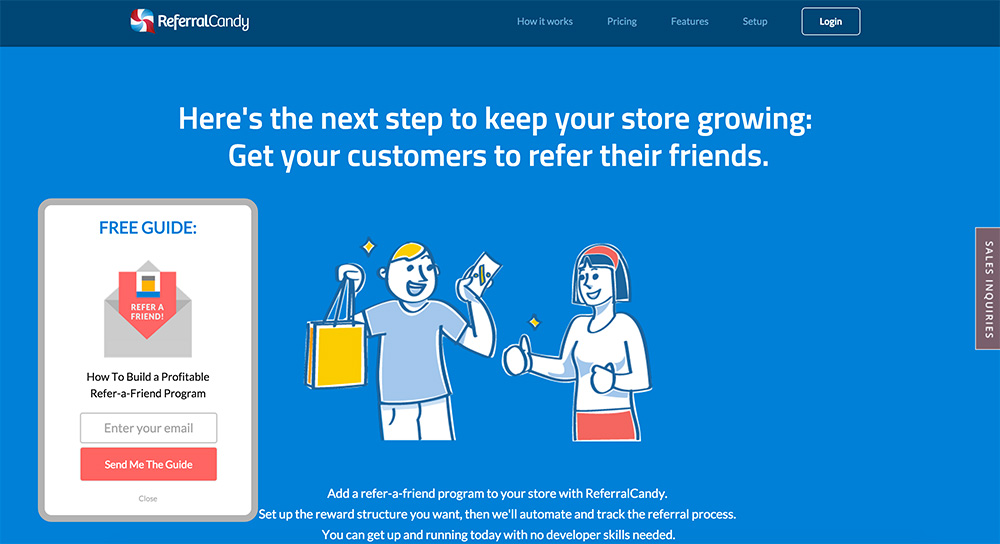 CloudSponge Tip: Consider checking out the ReferralCandy blog, they usually have pretty good content around everything from web writing to word of mouth marketing. We learned a ton from the Referral Marketing Guide on their website as well.
---
DHH's Reconsider [MEDIUM POST]

When the Founder and CTO of Basecamp David Heinemeier Hansson posted his manifesto on Medium, we couldn't stop nodding our head. DHH asks his readers to really think about WHY they are running a business and bids us to take pause before aiming for a giant, unicorn-sized exit. Here's an example of the down-to-earth mindset DHH is outlining as he describes one of the reasons why he started the project management and collaboration app Basecamp:
"I wanted to make a product and sell it directly to people who'd care about its quality. There's an incredible connection possible when you align your financial motivations with the service of your users. It's an entirely different category of work than if you're simply trying to capture eyeballs and sell their attention, privacy, and dignity in bulk to the highest bidder."
Read the full post that's been shared from Medium thousands of times and asks startup founders and entrepreneurs to live a life outside of work and "live happily ever after."
CloudSponge Tip: Read more content from the Basecamp team on the Basecamp blog and on the Signals v. Noise Medium channel.
---
Traction: A Startup Guide To Getting Customers by Gabriel Weinberg [BOOK]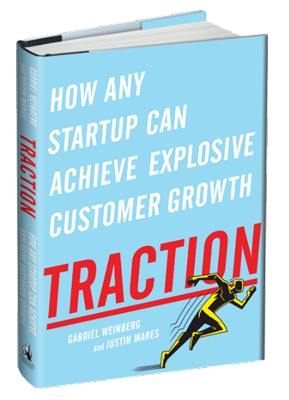 In this revised 2nd edition of his book, Gabriel Weinberg walks through the Bullseye Framework, a 3-step framework to help finders find marketing channels that will bring them success and growth. We found his insights into running tests across different channels and deciding when to double-down on a marketing win transformative to say the least.
Check it out on the Traction website, Amazon, or listen on Audible if you're listening while you're on the go.
---
Alex Turnbull's Manifest On Driving Traffic For Groove [BLOG POST]
We were pretty impressed by Alex Turnbull's detailed breakdown of how they handled an existential crisis to Groove: lack of traffic. In this blog post, Turnbull outlines every tactic they undertook to grow traffic by more than 12,000% including blogs, guest posts, engineering, and marketplace integrations. Alex Turnbull is the CEO & Founder of Groove, a helpdesk software for SMBs, and we enjoyed his comments on the article as much as the article itself. Read Alex's Blog Post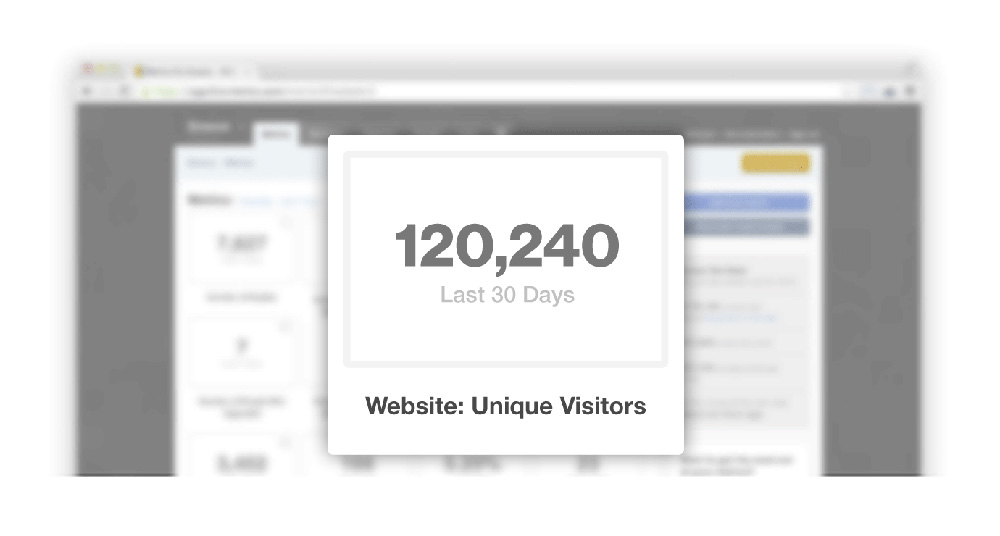 ---
Steli Efti's Hack & Hustle [BLOG]
Steli Efti is the CEO of CRM company Close.io and his Hack and Hustle blog takes a visceral, hands on approach to sales instruction. Steli discusses everything from why your sales voicemails suck to when it makes sense for a SaaS company to start growing a sales staff.
Other Content Highlights from Steli Efti:
CloudSponge Tip: If you're undertaking sales in 2016, you might want to sign up for the Daily Sales Motivation email subscription from Steli, which offers a daily video, inspirational quote, action item to take on every day.
---
Growth & Marketing Tips from Neil Patel [BLOG]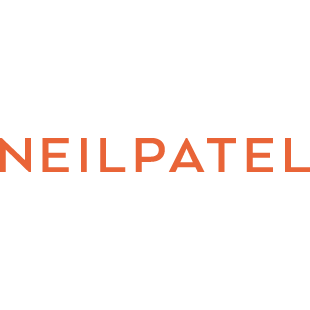 Neil Patel has his hand in so many successful businesses, it's hard to keep track, but the cofounder of Crazy Egg, KISSmetrics, Hello Bar, and Quick Sprout doesn't seem to let that stop him from cranking out tons of amazing content about social media, content marketing, and digital marketing.
Here are some of Neil's standouts for 2015:
Check out more of Neil's long-form content on a few of the blogs where he offers the most tactical advice on the Neil Patel Blog and Quicksprout.
---
The Startup Chat [PODCAST]

Don't miss Steli Efti as he pairs up with Hiten Shah to discuss the gamut of business topics. It's approachable, unscripted and honest. It basically feels like you're listening in on a private conversation between a couple smart guys who know a lot about starting online businesses.
For example, here's a good episode where they talk about common disputes between marketing and sales departments and techniques they've used to bridge the gap.
---
The SaaS Revolution Show [PODCAST]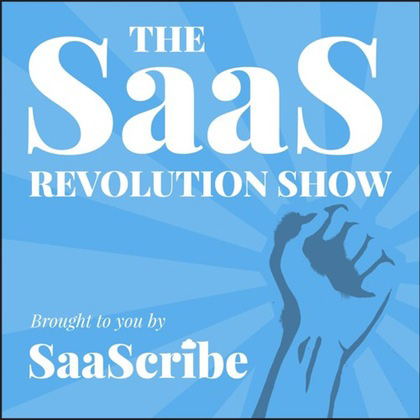 We love this podcast, and not just because we were invited to be interviewed about how we use engineering to drive growth for our SaaS product, Cloudsponge. The SaaS Revolution brings you an amazing range of interviews from founders and executives from some of the greatest SaaS companies out there like the CEO of Typeform and Mark Roberge of HubSpot.
---
How To Start A Startup – Lecture 6 on Growth with Alex Schultz [COURSE]
Y Combinator's entire "How To Start A Startup" class is amazing and it inspired a bunch of changes across our organization, but lecture 6 was our favorite.
In lecture 6, Alex Schultz, VP of Growth at Facebook, walks startups at the metrics, tactics, and mindset needed to drive growth across the whole company. You can watch the video below or check out the transcribed version on the Startup Class website.
---
Andrew Warner's Mixergy [PODCAST]
First, full disclosure, we love Andrew Warner's Mixergy podcast so much we've sponsored it a few times. We've really enjoyed Andrew's gritty and honest take on interviews. Here, Warner digs into the details of how companies made mistakes, found traction, scaled, and solved growth hurdles. His unique interview style challenges his guests and yields some of the most useful (and embarrassing) insights into growing a company. CloudSponge has even had a chance on the hot seat, so give it a listen if you're curious what our CEO Jay Gibb has to say about it. We hope you enjoy all the episodes as much as we do.
---
The Sales Acceleration Formula by Mark Roberge [BOOK]
The sales acceleration formula is MIT grad and Hubspot Chief Revenue Officer Mark Roberge's best take on building a scalable, predictable growth engines through sales and marketing. Mark covers everything from data analysis, hiring, and inbound marketing to attack the challenge of growth that every company faces.
The book is available on Amazon, but if you're curious you can hear his summary given at a Talk At Google in June 2015.
---
Your 2015 Best Of…?
We've done our best to include as much as we could remember from last year, but have you seen some obvious misses from this list? If so, let us know and we'll include them in an update!
Happy growing in 2016!