When you add Better Sharing, the email address field on your Conjured Referrals form will include a button that lets your visitors easily add emails directly from their address book.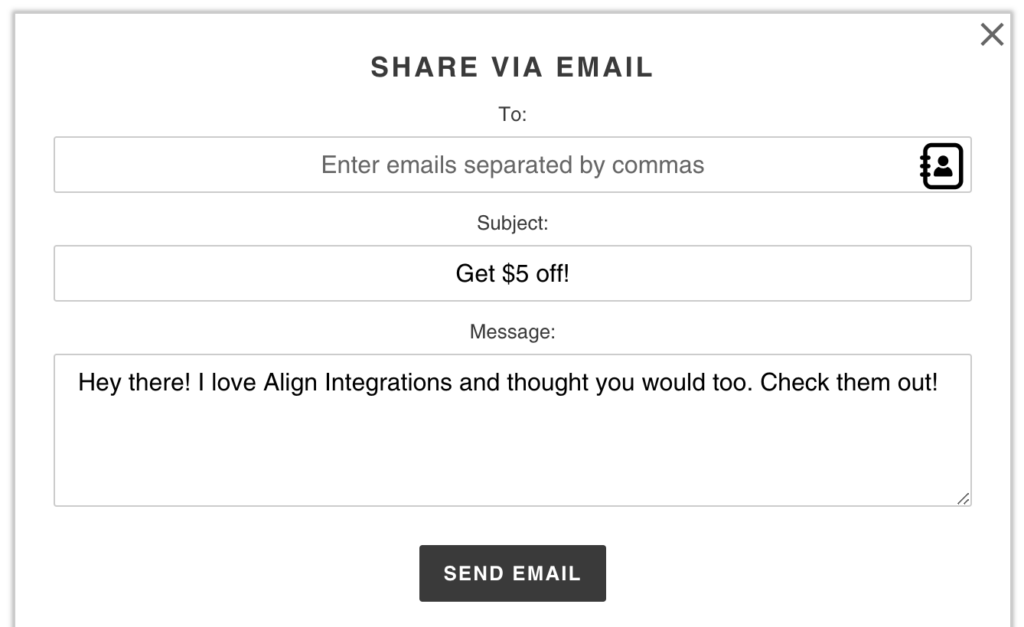 Adding Better Sharing to your Conjured Referrals app is easy. We've done the hard work for you so that you only need to add our script just after your existing Conjured Referrals script.
Installation
Append the better-sharing-shopify-conjured-referrals.js script to your Conjured Referrals installation, add your CloudSponge key and we'll take care of the rest.
In your Shopify account, locate your Conjured Referrals script and add the Better Sharing script immediately after it.
<script
    src="https://unpkg.com/@cloudsponge/better-sharing-shopify-conjured-referrals.js"
    data-key="[YOUR_KEY_FROM_CLOUDSPONGE]"
    crossorigin="anonymous">
</script>
Don't forget to replace [YOUR_KEY_FROM_CLOUDSPONGE] with your key from CloudSponge. 🙂
A note about configuring OAuth
When you follow the steps for setting up OAuth in your CloudSponge account, you can use your Conjured Referrals page as the Proxy URL. Enter the public URL of this page as your Proxy URL.
Launch
That's it! Save your changes and verify it on your Conjured Referrals form.
Once you have some results, drop us a line and tell us. We'd love to feature you in a case study!
Reach out to us at any point by emailing support@cloudsponge.com or joining us in our Slack channel. We love this stuff and we want to do whatever we can to help you make it work for you.