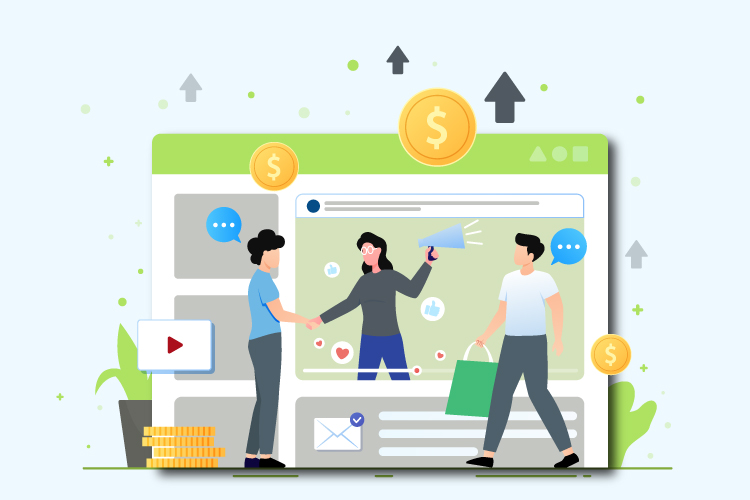 For many businesses, referral programs seem like something from a Ponzi scheme era. So they hide them in a hard-to-reach corner, hoping that it will work by itself if someone finds them.
What a mistake!
A referral program is a powerful tool to spread awareness about your brand and strike your conversion rates up to 70%. So don't be afraid to get advocates for your business with these simple communication management tips.
#1 Put it in the spotlight of your website visitors
Promoting a referral program starts with a relevant landing page. The success of its performance depends on how many people will see it.
So let's focus on your website visitors.
How to attract returning and new website users to join your referral program? Here are some examples:
Announcement bar. Usually, it has a standout color and a short text describing offer benefits. Precisely with such a banner, Bombas e-store highlighted their referral program.

Navigation menu. There is an excellent CTA example to follow from the ThreadBeast shop. Its marketers engage users to visit the referral program landing page with the "Free Threads" CTA.

Referral widget in a first-screen carousel. Usually, it includes numerous offers, one of which can be a referral discount. This is exactly how Premier Estates wine retailer attracted the attention of potential referrals.
If you don't want to publish it on your first screen, add this info as a pop-up with a 2-5 min delay.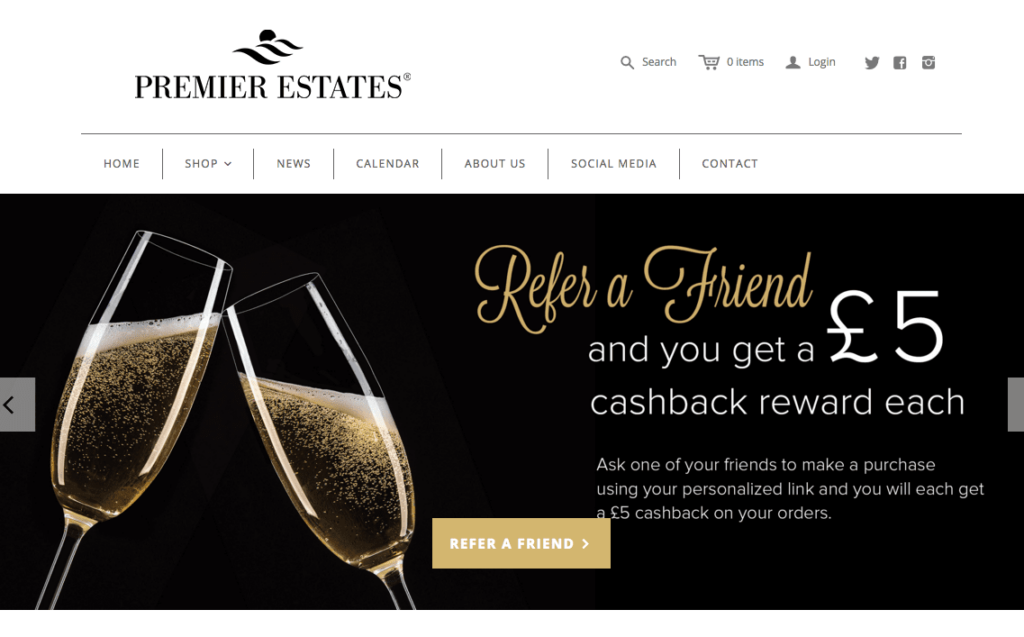 Footer link is a perfect way to showcase your offer throughout the entire website. Just look at how the HelpCrunch platform for customer communication management presents it: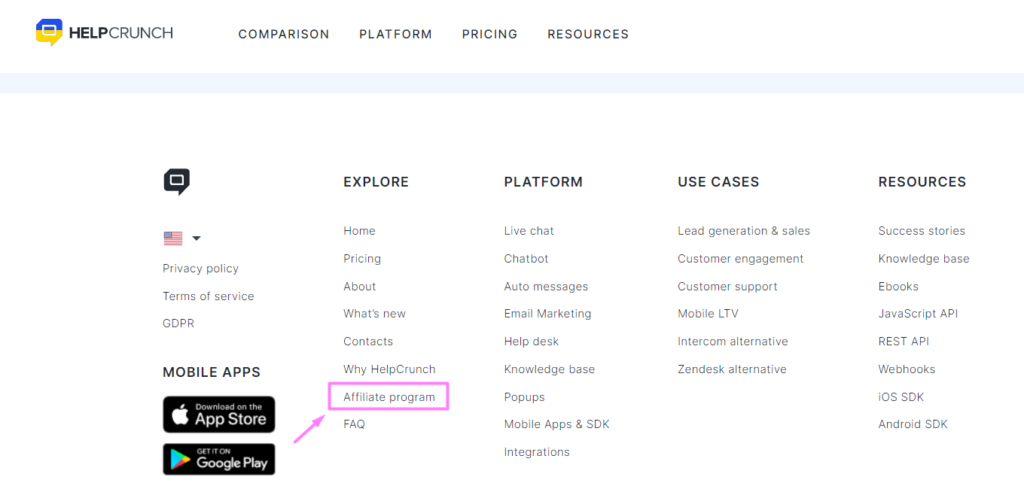 The same tools work for a category, product, 404, about company pages, etc.
Don't limit your website potential by engaging with new website visitors (app users) only. Turn on your current customers as well.
#2 Speak to your current customers
Let's continue with parts of a website where visitors turn into your customers, so you can make them referrals.
Log-in menu. There is an excellent implementation of this strategy from the Everlane clothes store. Under the account log-in, they put an animated text about the brand referral program in different colors.

Every time customers want to check their order status or delivery, they see this eye-catching offer.
The customer's account dashboard is the next place where you can catch logged-in users' attention with your offer. It can be a banner, pop-up, or one of the menu items leading to a referral program landing page.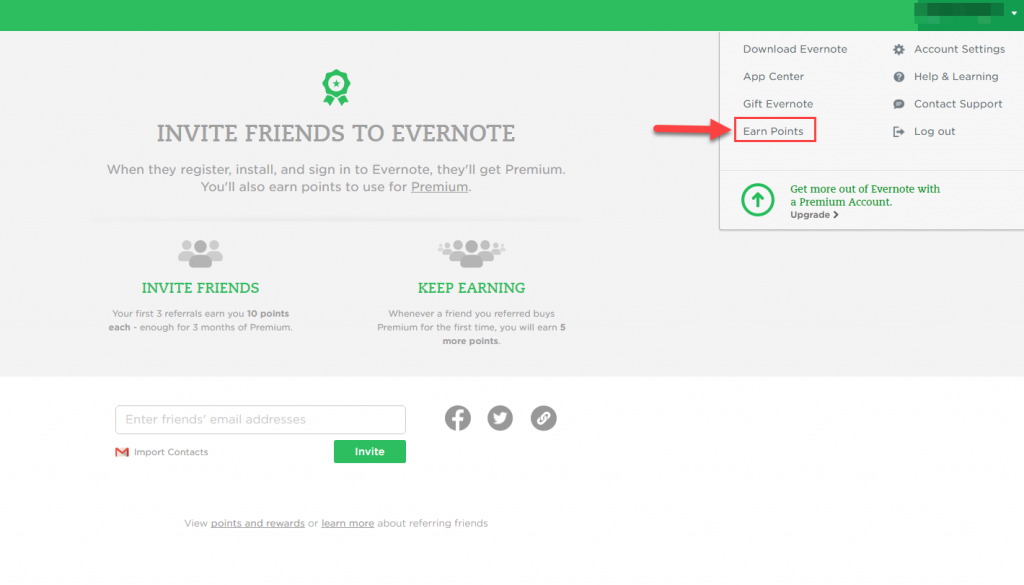 Speaking about banners, here is an example from Flytographer photographers' service.

Checkout page banner. You can implement it during order confirmation or after the "Thank You" step. Here is a good example from Baron Fig, brand selling notebooks:

Promoting the referral program as a banner of the website page

Involve support agents to offer current customers becoming your referrals. Thus, customers get short information about your referral program whenever they communicate with the support. As an alternative, you can reduce the cost of your customer support by automating it with a chatbot assistant.

Example of Casper using automated chat to promote their referral program

Invite your mobile app users. Here are some examples of how brands try to engage customers in referral activities: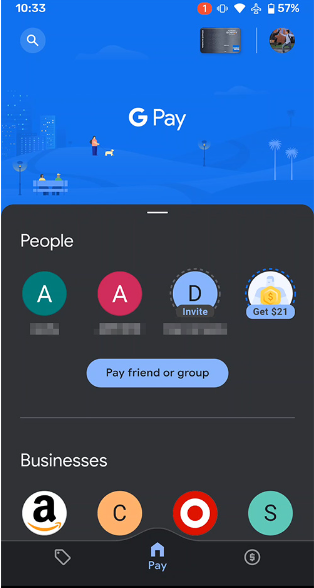 These were the most popular ways brands engage customers to join their referral program on a website or app. Time to move on to external marketing channels.
#3 Spread the word about your referral program on social media
Social publishing is the second most popular marketing channel among marketers. Usually, they post blog articles, case studies, and seasonal promos, and totally forget about a referral program.
Here are a few ideas to dilute your social media content plan. Aside from the above-mentioned brand content, you can promote your referral program via:
Its a pre-launch announcement.
Benefits, explaining why followers should participate in it.
Success stories of your referrals.
Your product customer testimonials and reviews.
Brand mission to show other values than income and success.
Referral program news.
Want to see examples?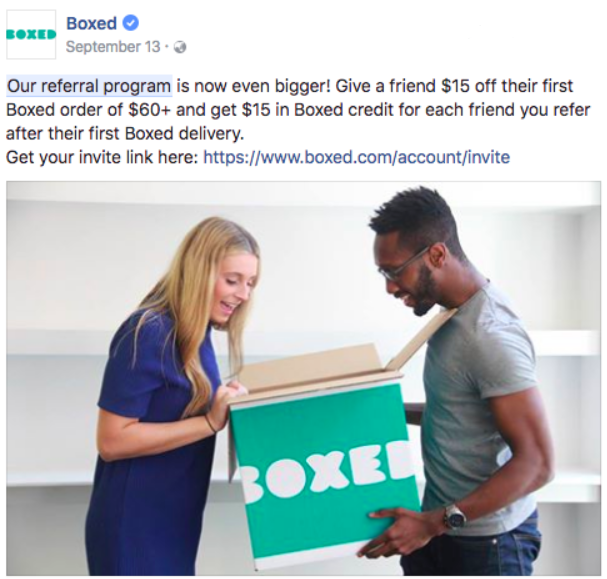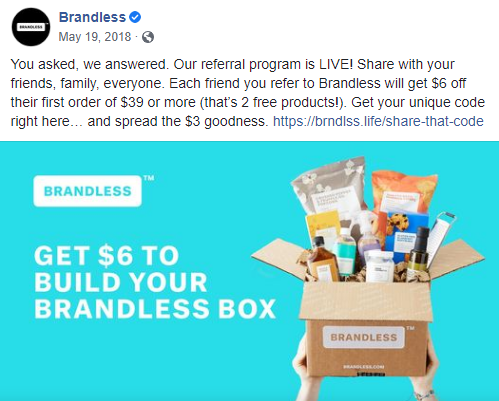 Content publishing isn't all you can do to get more referrals. For example, add your referral program link to a bio. Or, vice versa, add social sharing buttons on your referral program landing page.
Wanna more ways to attract new referrals for free? Continue reading 👇
#4 Get the most out of your email campaigns
You can use this marketing channel to speak to your subscribers and customers. It implies different strategies. So, let's take a closer look at the best of them:
The best moment to engage people is when they are happy. For many of us, purchasing something new is quite an exciting moment. So, use this opportunity to promote your referral program.For example, add the invitation to the content of a confirmation or "Thank You" email. Or, send it a few days later, as Casper store marketers did.

You can use the same content block in weekly digest newsletters as well.

You can use the same content block in weekly digest newsletters as well.
One more way to gently remind subscribers about the opportunity to earn money with your brand is to include it in your email signature. Here is an example from Ruby Walters

Promoting the referral program in the signature of your email

Send a dedicated email newsletter introducing your referral program if you want something more noticeable. Here is an excellent example from the MeUndies underwear shop:

Promoting the referral program in an email newsletter
This email clearly explains how their program works, how to participate, and the benefits users will get.
#5 Draw attention to the referral program using videos
It is an excellent method to leverage the power of word-of-mouth for free.
It is impossible to ignore its growing popularity among consumers and marketers.
But how to promote referral programs in a video? There are three options:
Update your existing videos. For example, on YouTube, you can edit the description of published videos by adding a referral program link.
Make a short video scene promoting your referral offer to add it to your new videos.
Create a separate long video promoting your referral program.
Don't forget to share those videos on your blog, landing pages, socials, communities, email newsletter, etc.
#6 Find influencers to promote your campaign
If you already have customers who repost your brand content without any reward, it is high time to turn them into your ambassadors. Mainly, it concerns those who have over 1k followers — micro-influencers.
Here is just what the Love Wellness cosmetics brand did. They hired 8k followers blogger Sara Chambers to promote their products.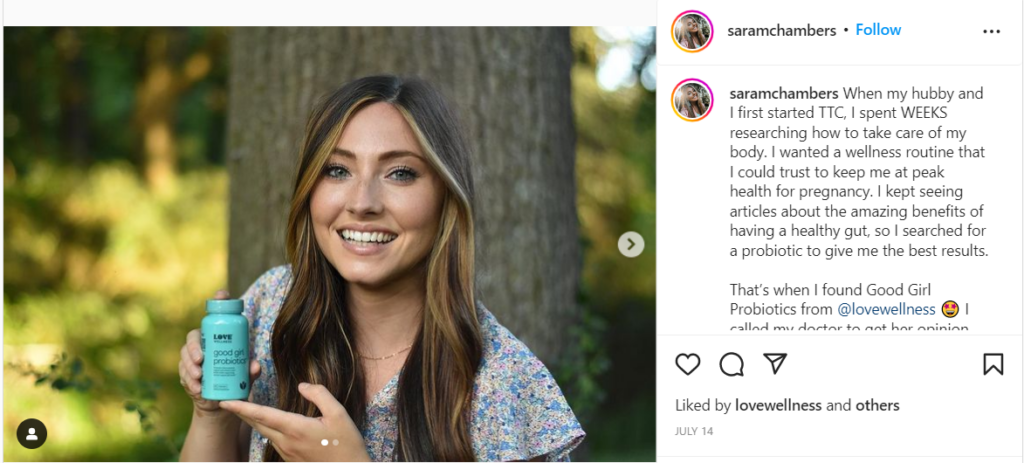 The best moment here is that micro-influencers like Sara devote more time to know each of their followers. People trust them. Thus, small influencers bring more ROI. What is more, you can easily create custom links for influencers and therefore track partner link performance to better understand the source of referrals.
On the other hand, collaboration with nano-bloggers can bring you better brand awareness. What do influencers get in return? Brand products for free or money.
#7 Don't hush away from paid ads
Launch paid ads if you have no budget to waste on a non-target audience. Agree that choosing a location, gender, interests, and job position of people whom to show your offer sounds excellent.
But where to start? Instagram, Google Ads, LinkedIn? Here are some questions to guide you:
Where is your target audience? For example, Instagram and TikTok are perfect for eCommerce, while Twitter and LinkedIn are more about SaaS.
What is your Ads goal?
Budget? The price depends on your keywords and industry.
Examples? Here is the one from a broker company:

Since ad text is limited, they place money at the very beginning of the message. Then, marketers try to win your trust and engage with money again.
Conclusion
Referrals can significantly benefit your business and help you grow an organic and active audience. But you have to take the first step and promote your program to those who will find it interesting. Use these tips as a starting point and build your promotion campaign.
Editor's Note: This article was written for the CloudSponge website by HelpCrunch via our Write for Us program. Make sure to check them out!