There is now a growing number of publications distributing their content via email. That's for good reason: according to Email Monday, every dollar spent on email marketing yields $38 of ROI. 
That is a compelling business model!
Now as a publication, you can advertise directly on email newsletters, using services like Liveintent, and many brands like to sponsor email newsletters.
So then the question becomes: how do you focus on growing the email subscriber list?
I get many enquiries from publishers wanting to implement exactly what
Morning Brew has accomplished with their email list subscriber growth:
A milestone newsletter referral program.
What does a Milestone Referral Program Achieve?
A referral program will not be effective when your average reader refers fewer than 2 people. You would need to add incentives in place to achieve referral 'continuity'.
Let's focus on this one word, which we will visit quite often: Continuity.
A standard refer a friend program is a 'flat' program where for every successful referral your reader makes, they receive a reward and so do their friends. This works well for the likes of e-commerce or retail; where a discount code can be given to a customer for referring a friend. This discount code could then be used in the customer's next purchase.
A cosmetics customer, for example, can indefinitely refer more friends to keep receiving a discount off their next purchase when their product runs out, achieving continuity.
In your industry, as a publisher, we're dealing with another business model. Your content, in most cases, is free to consume. To be more precise, your subscriber is essentially paying you with their attention for the ads you serve.
So how do we achieve continuity in a subscriber referral program? How do we continuously incentivise your readers to keep referring their friends and coming back to consume your content?
A milestone referral program is similar to a standard refer a friend program; except it utilises a tiered approach; something similar to a tiered loyalty program where consumers are rewarded with more valuable rewards as they climb tiers.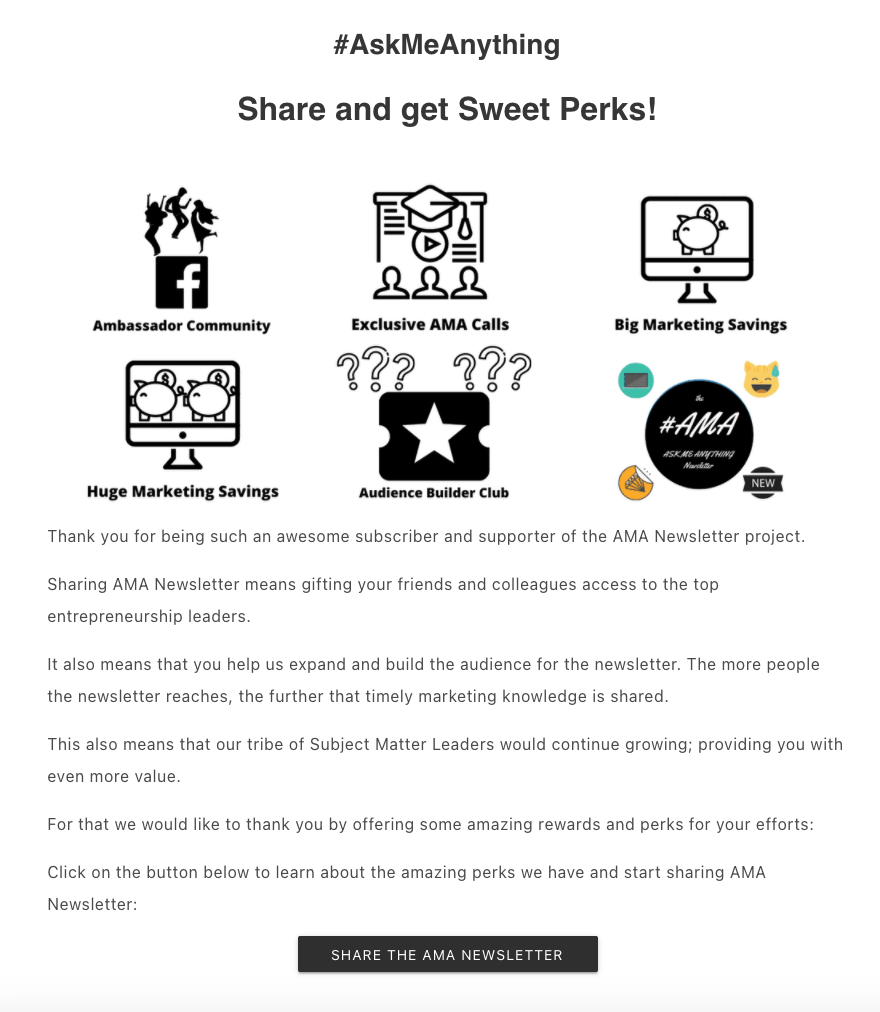 The referral program success story of Morning Brew demonstrates the effectiveness of a tiered reward system. Many other newsletter referral programs such as
The Hustle, theSkimm, and Finimize also utilise a tiered reward system.
And it doesn't stop with publications; marketers launching products also utilise a tiered reward system. The famous Harry's launch campaign is a great example of this.
Increasing the likelihood of successful referrals
Many successful newsletter referral programs emphasise the importance of making it as quick and easy as possible for subscribers to refer their friends.
This comes with good scientific reasoning and is demonstrated by
the research out of the Persuasive Labs in Stanford University, lead by B.J. Fogg, which demonstrates that to achieve a target behaviour, you need the right type of: Motivation (M), Ability (A) and a Prompt (P)
Behaviour = M.A.P
The higher the motivation and the higher the ability, the better chances there are for someone to 'do' the behaviour when they are prompted to do it.
Going deeper into behavioural design is beyond the scope of this article, but for the purpose our referral program example: It is often hard to reliably motivate readers. The more effective approach is to make it as easy as possible for them so that they would have the right level of ability to perform the referral behaviour.
There are different types of abilities (e.g. having enough money or having enough time to perform a behaviour). Remembering a friend's email address is an ability that a reader cannot invite a friend without.
Almost all of our friends are online and they all have email addresses. Remembering their email addresses is a big ask!
This is where CloudSponge's Contact Picker comes in.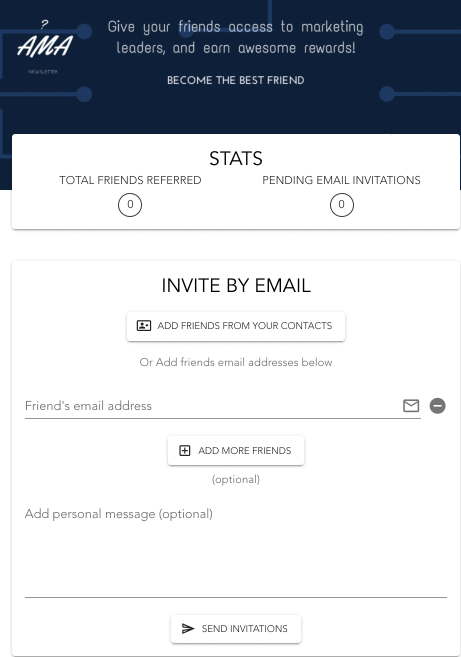 The contact picker removes the need for your readers to remember their friends' email addresses, or leave your website to search for contact information in a different application. At a few clicks, and without leaving your website, your reader sees a list of their contacts fetched from their email accounts, where they search, pick and choose the friends they wish to invite.
When they select their friends, Gather then sends the invitations to those friends, also giving your reader the ability to add a personalised message to the invitation.
This makes the process of inviting friends as easy as a few clicks, no need to remember email addresses.
That is why the likes of Morning Brew use CloudSponge. Now with CloudSponge & Gather integrated seamlessly, you can provide that great experience to your readers.
Watch a video for a demo of how it all works!