Sometimes, the devil is in the details. In this teardown, I examine how JustFab uses customer referrals to keep their fashionistas growing the company, including the mobile referral experience.
JustFab
Consumers are making the move to shopping online, leaving department stores and other brick-and-mortar retailers in the dust. Forward-looking businesses are ready to capitalize on this shift, with JustFab emerging as a player in the subscription fashion space.
How does JustFab work? After taking a brief fashion quiz, new users are given access to an exclusive online store, with the selection tailored to their tastes. From there, you can purchase anything you'd like.
Really though, JustFab wants you to become a VIP Member, i.e., to join their subscription service. VIP members get access to a steep 30%+ discount on all products in exchange for committing to a flexible subscription. Each month, VIPs can decide if they want to "skip" or "shop". If they decide to "shop" they're charged $39.95 which is deposited to their JustFab account as credit. Then they can use it to purchase anything they'd like or let the credit accumulate for a later purchase.
(Check out their explainer video for additional details at https://youtu.be/vTls4kOPsuc).
How does JustFab make their referral program work for them? Let's take a look at the desktop and mobile experiences here and in the video below.
Experience for the Referrer
First, the basics. The referral program becomes visible once a visitor creates a JustFab account, whether they are a VIP or not. They tuck their referral program away into the My Account menu, where it is highlighted with pink text that pops.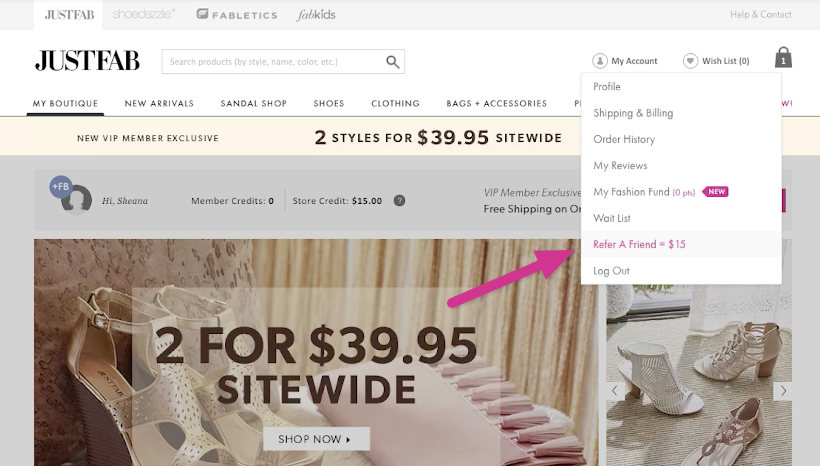 The call to action makes the reward immediately clear: Refer A Friend = $15. Easy-peasy. The $15 is a one-sided reward for the referrer, coming in the form of credit for a future purchase. If the referrer is themselves a VIP member, they get an additional 50 reward points, which can be accrued for extra discounts and more prestigious tiers of VIP-dom.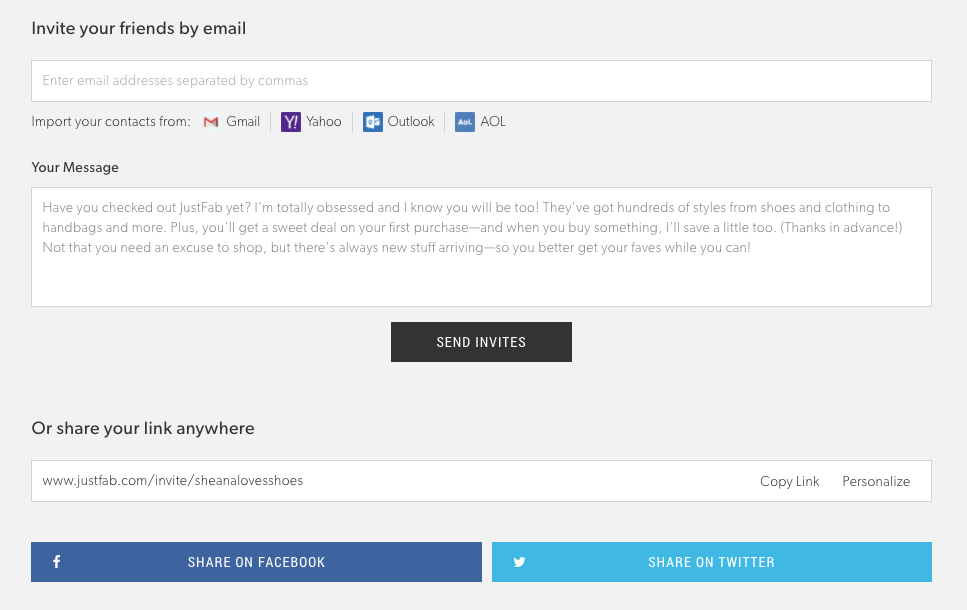 Referral Options Galore
JustFab makes it easy for referrers to share here, there, and everywhere. An email invitation is simple to send thanks to fully visible and editable referral copy. It strikes a, well, fabulous tone, as is fitting for their brand and audience. Referrers can import their email contacts using the CloudSponge widget, whether they store their contacts in Gmail, Yahoo Mail, Outlook.com, or even AOL. It's a mere click-click-click to add my friends' email addresses and send my invitations.
JustFab also provides easy sharing for Facebook and Twitter and the option to copy and share the referral link with just one click (yay!). But one of my favorite features is the ability to customize the link address (I chose the appropriate justfab.com/invite/sheanalovesshoes).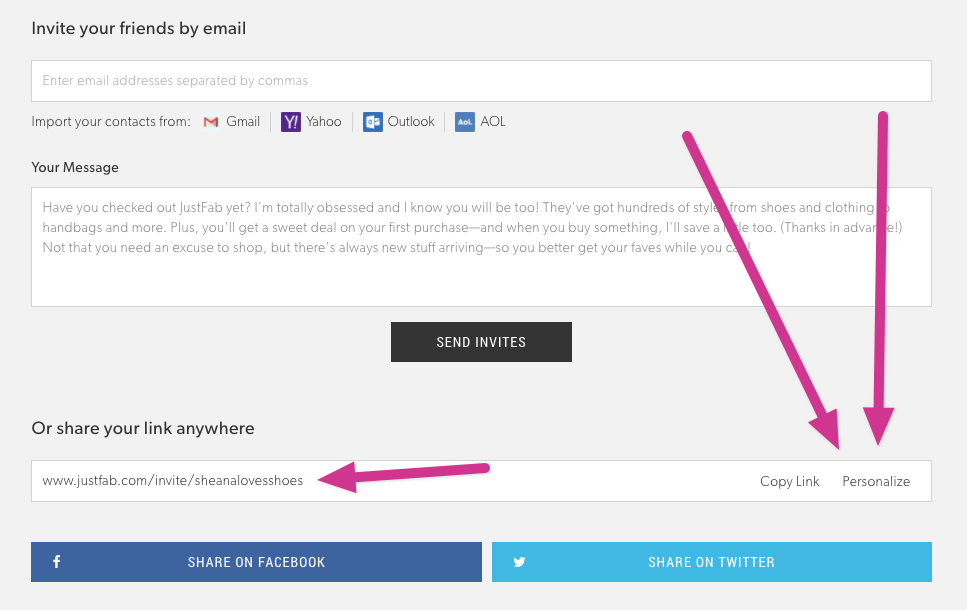 Technical product managers sometimes find it hard to believe that something like this could matter. After all, no one remembers a URL; everyone just clicks a link. So why does it matter if the referral URL can be customized? Quite frankly, it looks a lot better. One might toss it into a social media post without feeling like a corporate pawn. It also creates an opportunity for a referrer to show their personality. My adorable URL? I felt positively charming when I created it, as in "'Sheana loves shoes?' Ha, I'm so clever." JustFab is creating the opportunity for image-minded referrers to share their links and showcase their personalities in the process.
Once my referral is sent, JustFab provides strong referral tracking at the bottom of the invitation page. They do many things right. First, they provide at-a-glance stats to highlight the information I most want to know: how many referrals I've sent, how many friends have joined, and my total earnings. These numbers have large fonts and jump out on the page. Following this easy reading, JustFab provides lots of details: I'm able to view who received my invitation, when it was sent, where they are in the process, and more.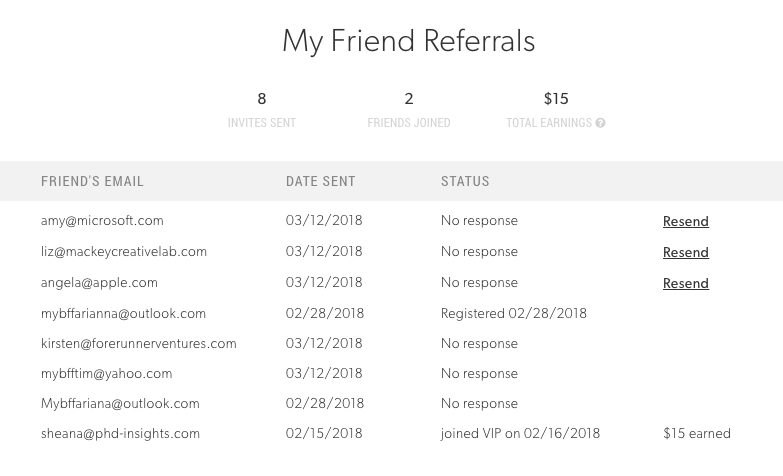 Unlike some of the other referral programs I've torn down, JustFab also gives the option of resending an invitation (although I can only send this reminder once). Companies who want to resend invitations should pay attention; LinkedIn historically got in trouble for sending multiple reminder emails without communicating that to the referrer. JustFab is smart to provide transparency here.
I Think You'll Heart JustFab
My referral email is sent via JustFab's transactional email provider and arrives from stylist@e-mail.justfab.com. They could do more to capitalize on the personal connection with the referrer here (Hired does so especially well). For instance, they could include the referrer's name in the subject line or as part of the sender name (e.g., Sheana via JustFab). The goal is to make the email stand out from the crowd. That being said, the email itself begins by mentioning the referrer's name. When my referred friend clicks the "Get Started" CTA, she is dropped into JustFab's main website. This would be a great opportunity to leverage the personal relationship with the referrer and provide that context to the onboarding experience with a referral-specific landing page.
Rules, Rules, Rules
Carefully designed referral programs guard against abuse. Having specific limits helps reduce the risk of fraud and protect the bottom line. JustFab has reasonably strict referral limits to keep in mind. For instance, when is a referral even considered complete? For JustFab, referral rewards are only given when a referred friend becomes a VIP member, not when they merely make a purchase. Other highlights:
Only five referrals can be completed each day.
Referral credits expire 60 days after they are applied.
Referral credit is never restored once used, even if the purchased order is returned.
Mobile Referrals: Opt for Tapping Over Typing
(View the video at the top of this page to see additional coverage of JustFab's mobile experience.)
How can you make a referral program simple for mobile users? Think more tapping, less typing. JustFab makes the mobile experience easy by providing that great copy (discussed above) in their referral invitation, reducing the need for typing. Importing my contacts is still simple thanks to the mobile-friendly CloudSponge widget. JustFab also carries over the custom referral URL I created earlier on desktop. (Sheana loves shoes? Ha, I'm charming on mobile too).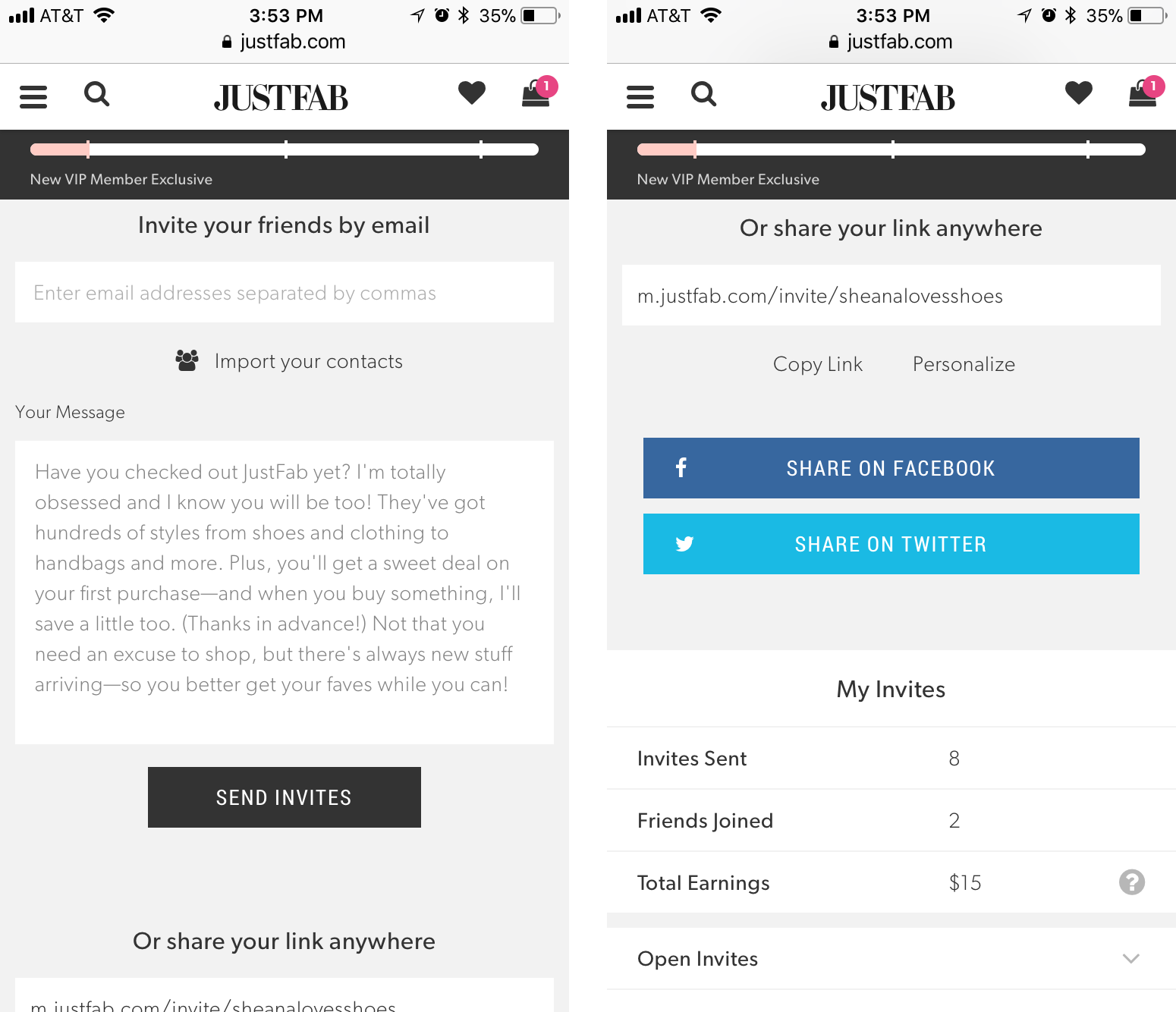 The referral link can be copied with a single tap. This is essential on mobile for two reasons. First, having to copy and paste a specific bit of text on my iPhone sometimes feels like a game of Operation. I'll pass, thanks. Second, mobile provides a golden opportunity to share via much-utilized messaging apps. I can easily copy and paste my referral link to one friend on WhatsApp, another on Facebook Messenger, and another in iMessage. You don't have to predict the referrer's preferred channels: they'll take the link wherever they need to. Of course, this is all true on desktop as well, but messaging apps tend to be mobile-first experiences. With 80% of adults messaging at least once a day, mobile matters for referrals. JustFab nails it by including the tap-to-copy referral link.
How can they make their mobile referral experience even better? The same principle (more tapping, less typing) applies and offers clarity on how to order referral options on the screen. The easy-tapping buttons should come first, followed by more cumbersome actions. For JustFab, I'd like to see the tap-to-copy URL first and foremost, followed by the tappable social sharing buttons. The more complicated email invitations should get less emphasis on mobile, ideally appearing farther down. As mobile use continues to grow, implementing these mobile-friendly features will become more important to fully capture referral growth.
Word of Mouth Matters
JustFab is ready to arm the masses with fabulous handbags and sky-high stilettos. And they don't plan on stopping at the Carrie Bradshaws of the world; they want all of her gal pals too. To make that happen, JustFab offers a one-sided referral program in which the referrer gets a $15 credit towards a future purchase. They make it easy for customers to share a customized referral link, perfect for those who have highly curated social media posts. All in all, JustFab includes lots of best practices in their referral program, such as offering detailed referral tracking and utilizing mobile-friendly sharing options.
Be sure to view the video above for additional details on the mobile experience of JustFab's referral program. Was this teardown helpful? Share it with the rest of your team.