CloudSponge Product Features
Amplify your word-of-mouth marketing today. We have everything you need.
CloudSponge products are designed to automate word-of-mouth sales by giving your customers a simple way to spread the word about your company. 
It's all about optimizing the sharing features of your e-commerce store!
When your customers are given an easy-to-use tool that allows them to share your products with their friends and family, you can double or triple your word-of-mouth sales.
We have a proven track record of helping e-commerce businesses:
Lower customer acquisition costs
Increase engagement scores
Improve click-through rates
Boost sales
CloudSponge products provide an opportunity for you to use word-of-mouth marketing as a tool to grow and expand your company.
Your users will share with more people if you let them select contacts from their address books on your website.
When your users select contacts from their address books, you can personalize the referral email "From" and "Subject" fields with any data that is available in their contact records.
Personalizing the body of the referral email with data fields from your users address books will help recipients recognize that the email was sent by someone they know.
Analytics reports that are hyper-focused on your sharing workflow give you endless insights into optimization opportunities for your iterations.
Double your WooCommerce store's word-of-mouth sales. CloudSponge has been helping e-commerce stores make more sales and reduce customer acquisition costs for over 10 years.
If you're already using a referral program platform we might have an integration for it. If you don't already have one, we can point you in the right direction to one of our integrated partners.
E-commerce referral platform providers
Newsletter refer-a-friend program tools
No-code sharing plugins and addons
Need something specific? Just ask and we'll build an integration for you.
Embed your users' address books from Google, Outlook.com, Yahoo, and dozens more (even AOL!) with a simple script that takes just a few minutes to configure. Once you have it installed, the personalization options for your referral emails are total game changers for your word-of-mouth sales.
Dozens of options to make it exactly the way you want it
Customizable style to match your store perfectly

"We were averaging a count of 10.6 donors per family. After implementing CloudSponge we average about 18.2. So that's a 72% increase in the number of contacts reached thanks to CloudSponge."
Lead Software Developer at PledgeStar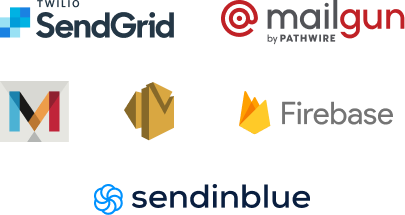 Send emails using your own transactional email provider. We're not in the email-sending business, but we're happy to help you sort through all of your options to get it wired up perfectly.
Our Zapier integration connects you with all of the most popular transactional email providers like SendGrid, SendInBlue, Mandrill, Mailgun, AWS SES, and countless more.
Using your own transactional email enables our Perfect Personalization that's only possible thanks to the address book payloads that you'll get from our Universal Contact Picker.
Deeply integrated metrics that are hyper-focused on your sharing workflows provide more useful analytics than what can be provided by ordinary off-the-shelf web analytics tools.
Average Submitted Contacts tells you how many referrals you're getting per referrer (hint: it's probably 3.5x what you're getting without a contact picker.)
People Who Submitted tells you how many people love you so much that they want to tell all their friends about you.
Total Contacts tells you the total number of contacts that have been shared with your business from your referrers.

"At least two times the people are getting a referral email now…Think about that. Obviously, having CloudSponge is hugely beneficial for us."
Add Your Heading Text Here
100% customizable to match your brand perfectly
Themes and language packs available for quick localization
JavaScript callbacks and webhooks provide complete engineering flexibility
REST API available if back-end integration is preferred
Normalized address book payload includes emails, mailing addresses, phone numbers
Add Your Heading Text Here
Our status page provides real-time view of our integration uptime
OAuth monitoring service sends notifications if anything goes wrong with your third party credentials
100% maintenance free, it's our job to keep everything running for you
Our changelog keeps you up to date on the work we're doing
Add Your Heading Text Here
Our OAuth Concierge service handles the complicated process of acquiring third party API credentials for you
We can offer referrals to our integrated partners if you haven't already chosen a referral platform provider
Our engineers can provide integration consulting if your referral platform provider is not supported yet
Our customer success team provides expert guidance to make sure you benefit from our 11+ years of experience
Our platform is secure, private, and GDPR/CCPA compliant