We get a ton of people asking about how to learn from Morning Brew's famously successful newsletter referral program, and often they're using KickoffLabs as their platform for growing their audience.
While we cannot take hardly any credit at all for Morning Brew's meteoric growth, our contact picker is absolutely a critical piece of the puzzle for them.
So, we built a script that allows KickoffLabs customers to easily add "Share via Email" functionality to their pages.
You'll need:
A KickoffLabs (KOL) account
A CloudSponge account
A Zapier account
A way to send transactional emails (e.g. SendGrid, SendInBlue, Mandrill, Mailgun, Amazon SES, etc.)
Step 1: Add the form to your page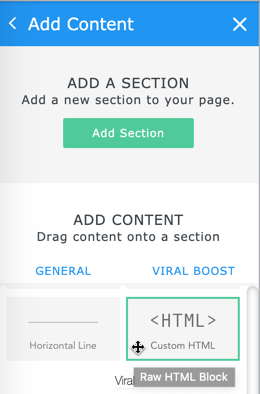 Use the KOL block editor to add this HTML somewhere on your page where you want the form to render:
<div class="better-sharing-inline-email-form">Better Sharing will load here. 🔧 Made with ❤️ by CloudSponge.</div>
Step 2: Add the script to your footer

Replace the values in [square brackets] in the script below and then paste the code into the "Footer Scripts" section of the "Head & Footer Codes" area of your KickoffLabs page:
<script
    src="https://unpkg.com/@cloudsponge/better-sharing-kickoff-labs.js"
    data-key="[YOUR_KEY_FROM_CLOUDSPONGE]"
    data-sender-email="[a verified sender email address for your ESP]"
    data-default-sender-name="[name of the sender when the user's is not available]"
    crossorigin="anonymous">
</script>
You'll find your CloudSponge key in your account under the "Credentials" area.
A note about configuring OAuth
When you follow the steps for setting up OAuth in your CloudSponge account, you can use your KOL Thank You page as the Proxy URL. Enter the public URL of this page as your Proxy URL.
Step 3: Create your Zap trigger
Create a new Zap.
Search for and pick 'CloudSponge' for the Trigger App Event value and set it to "Form Posted".
Click 'Continue' and then 'Sign in to CloudSponge' with your credentials.
When you get to the "Find Data" step, go back to your KickoffLabs "Preview" and submit the form once to train Zapier on the data fields it can expect to see in the payload.
It'll look something like this: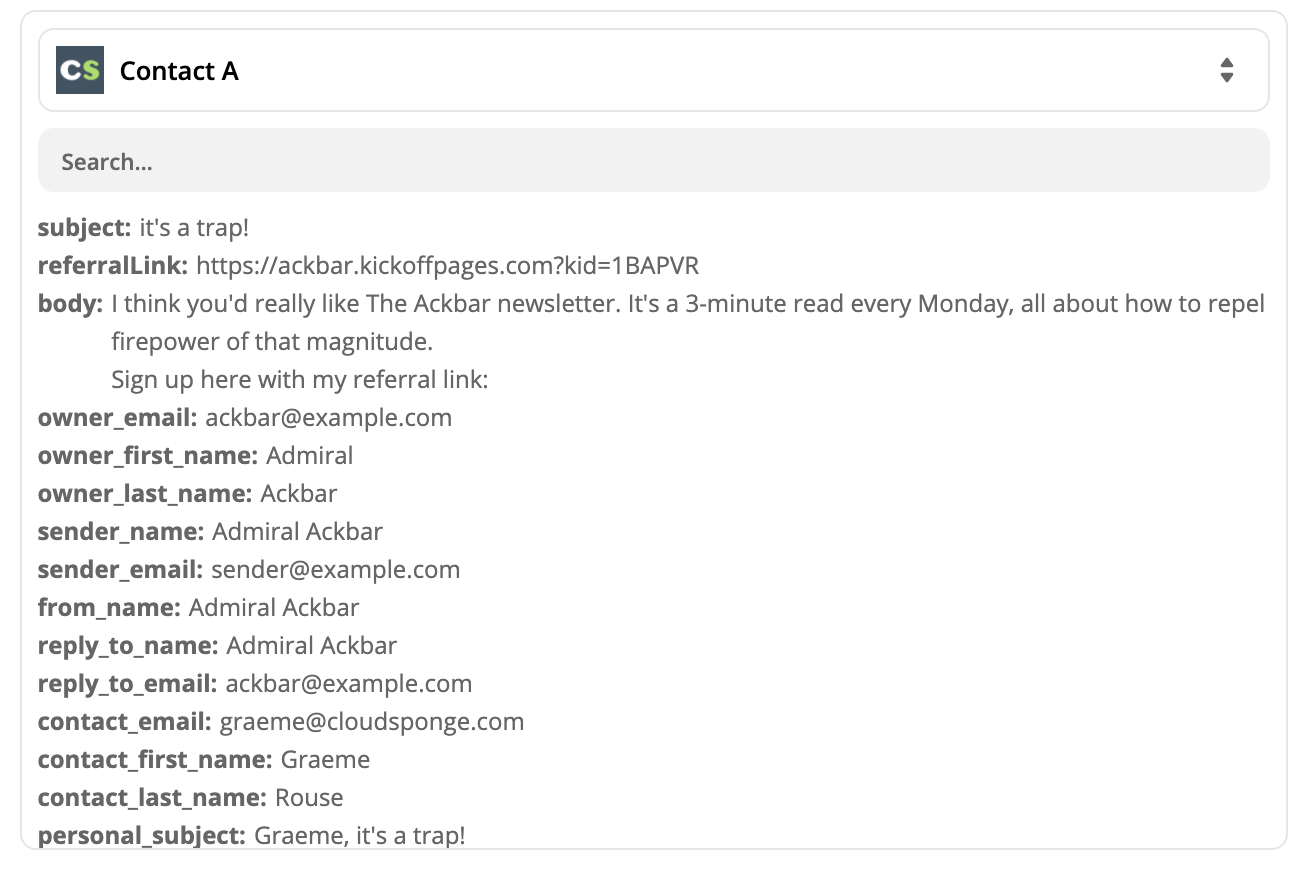 Step 4: Create your Zap action
This part depends on your transactional email provider, but they're mostly the same. We won't try to explain it in detail here since Zapier's interface does a great job of that, but we will give you a few pointers that will make your emails awesomer.
Make the sender's name recognizable by using our "Sender Name" or "From Name" field. This ensures that the recipient sees that the email is from a familiar name.
Use the "To" value from Better Sharing when possible. This field includes the recipient's name (when available) and email address. You should test your Zap with this value as not all ESPs will accept emails formatted this way.
Your Subject field will be populated with the value you set in the data attributes of the script. Our script also sends a "Personal Subject" field that includes the recipients' name, if it's available.
It's always better to have an email that starts with "Hey Jay," rather than just "Hey,". The name field might be blank so we provide a formatted "Greeting" field for you to use at the start of the email body.
Make sure to include the "Referral Link" in the body of your email, so that recipients have a path to sign up.
Step 5: Launch and iterate
You're done. Now launch it, watch it, and tweak it. Once you have some results, drop us a line and tell us about it. We'd love to feature you in a case study!
Reach out to use throughout this process by emailing support@cloudsponge.com or joining us in our Slack channel. We love this stuff and we want to do whatever we can to help you make it work for you.