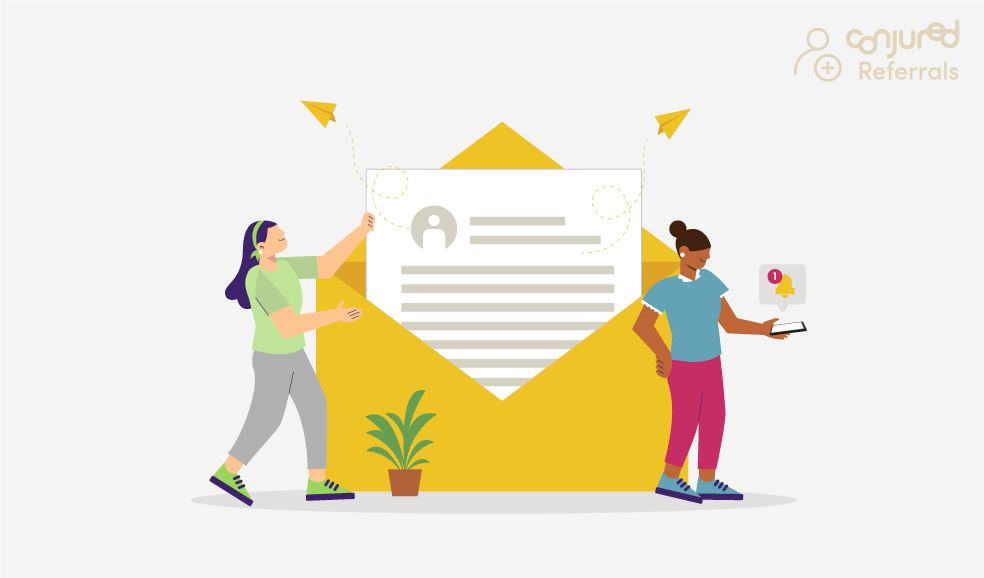 Most e-commerce marketers are familiar with the power of referral marketing.
Not only are consumers referred by a friend ten times more likely to buy, but when people are referred by other customers they have 37% higher retention rate and a 30% higher conversion rate.
Just about any stat you look at points back to the same story: Referral marketing sells.
Many businesses have capitalized on the power of word-of-mouth by creating referral programs that allow customers to earn rewards for telling their friends, family, or followers. Often the recipient of the referral will earn a reward as well for accepting the referral offer.
One famous example is Airbnb's refer-a-friend system that offers $100 to the referrer while giving the referred customer $25. Both bonuses are in the form of credit the customers can use to make future Airbnb purchases. Learn how Airbnb built one of the most successful referral programs ever.
There's no question about it: Referral programs are a powerful way to grow subscribers, increase customer loyalty and engagement, and encourage repeat business. However, one user-experience shortcoming has severely limited their potential.
We've all seen a referral program offer like this one from Gousto: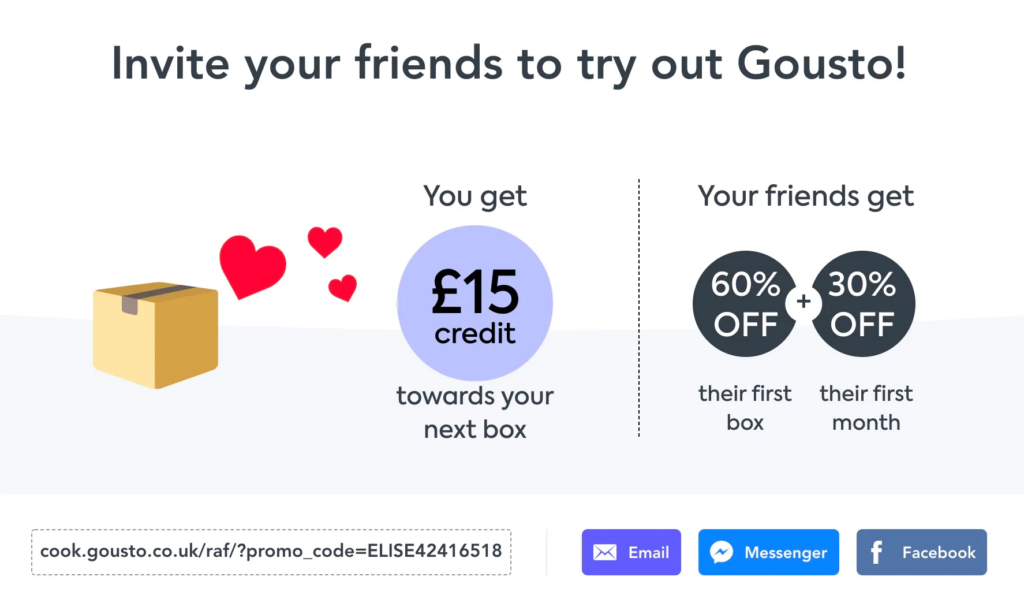 The customer can click to copy a link they will email to friends or share on social media.
But what if a customer can't think of anyone off the top of their head to share the link with, or they have too many contacts across multiple address books to remember them all. Maybe they don't feel like navigating away from the page to sift through contact lists, copying and pasting from other spreadsheets or windows.
There are a myriad of reasons why a typical referral form like the one above may dissuade a customer from sending a referral offer to a friend, or at the very least, limit the number of referrals they end up sending.
This is the exact reason CloudSponge created a solution to optimize this stage of the referral experience. Let's look at how CloudSponge Contact Picker solves this limitation.
Contact Picker: One easy contact widget to rule them all
CloudSponge Contact Picker is not a referral marketing platform or plugin. In fact, it is commonly used on top of referral marketing plugins like Conjured Referrals from Shop Circle.
Contact Picker adds a widget that allows customers who are considering sending a referral to connect their personal contact lists from most leading address books—Gmail, Yahoo, Outlook, and many others—without navigating away from the screen.
This presumably simple optimization yields powerful results. Now customers can quickly and easily navigate hundreds, or thousands, of contacts over multiple address books, clicking and adding as they scroll. Not only does it empower customers to remember more contacts, but makes adding and sending more referrals easy and streamlined.
A customer who may have sent one or two referrals can now send hundreds with just a few clicks.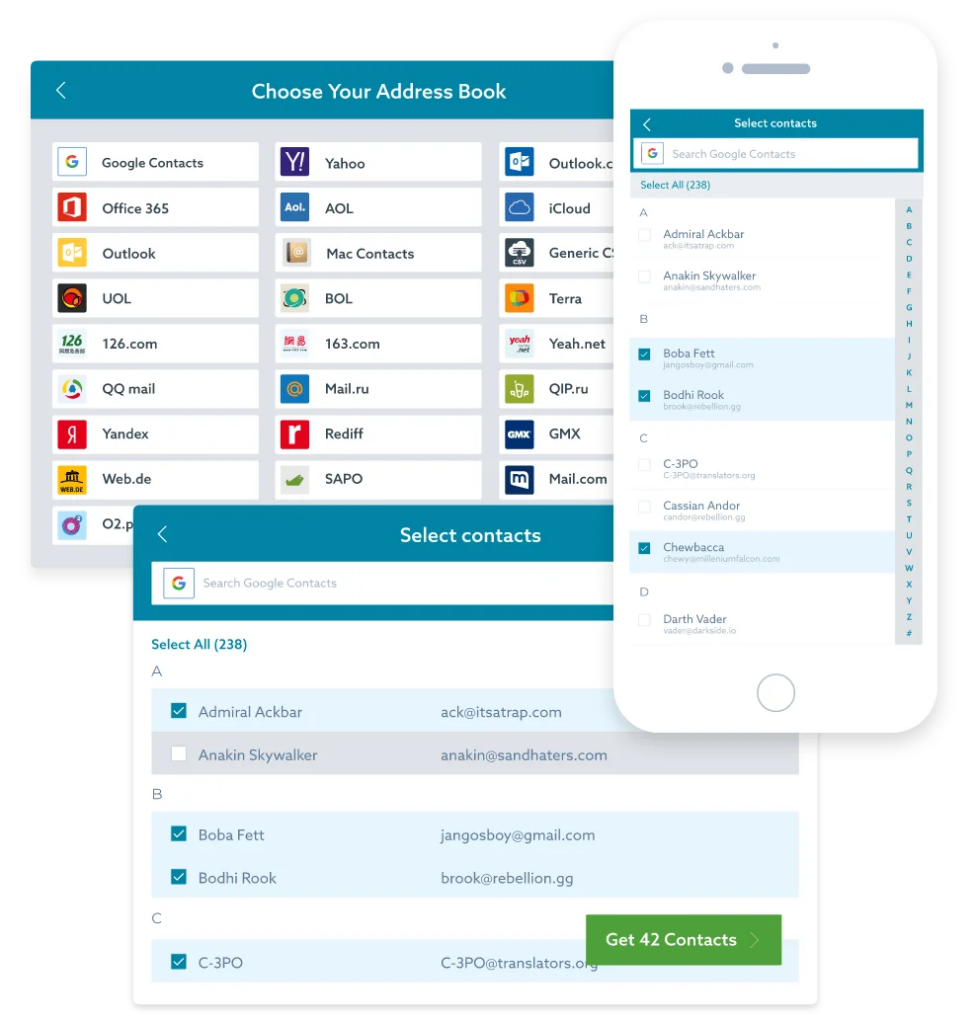 No more trying to remember emails, manually typing, uploading spreadsheets, or copy and pasting from another window. Customers see all their potential contacts from dozens of address books, no hassle.
What's truly amazing is that leading brands are seeing significant results from adding this simple feature.
Use Case: Morning Brew
Morning Brew is a business newsletter for modern professionals with over a million subscribers. With the addition of the CloudSponge Contact Picker, users can easily select as many contacts as they want, making it as easy as possible for them to earn rewards and unlock exclusive swag. This has generated 50% more referrals for the Morning Brew newsletter.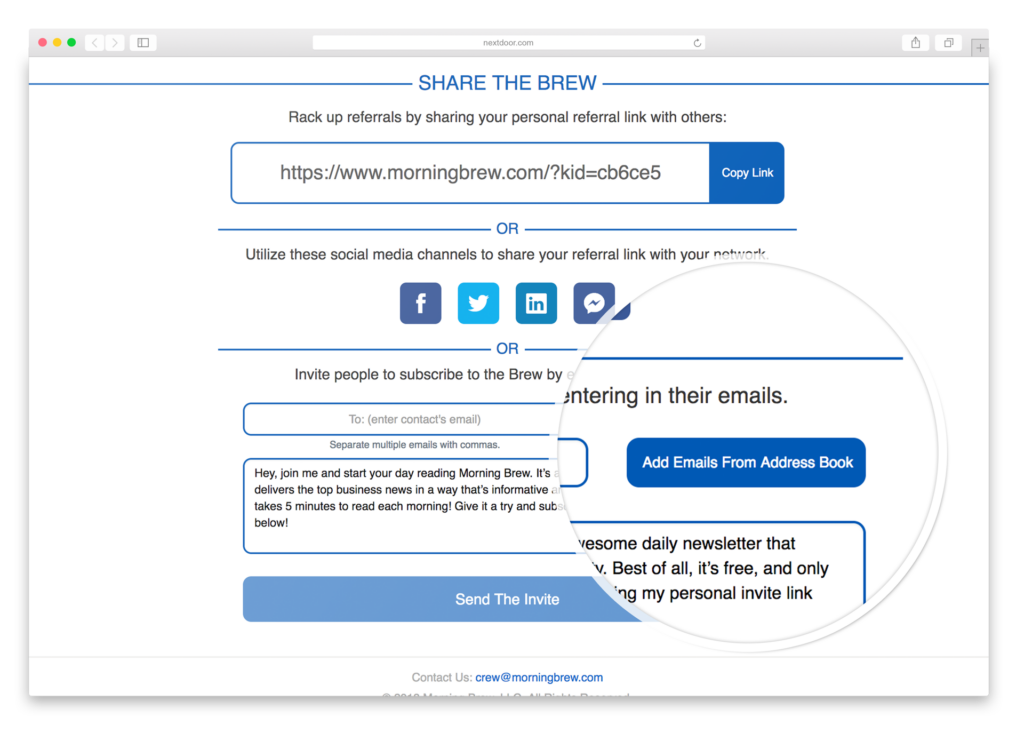 Read about more exciting results from leading brands using CloudSponge.
The Power of Personalization
CloudSponge's Contact Picker offers a branded plan for stores that wish to integrate this tool without betraying the colors, shapes, dimensions, or overall look and feel of their brand. They also offer a RESTful contact API that allows developers to make a direct backend integration with CloudSponge to build their own custom contact picker or unique user experience.
By enabling customers to easily access their extensive personal contact libraries without having to navigate from the page, CloudSponge adds a layer of convenience and personalization that makes customers feel like the referral program has been tailored to their experience, driving engagement and greatly increasing the number of referrals.
The best part is this amazing and simple integration has been designed to work on Shopify and integrate with Shop Circle apps like Conjured Referrals, which customers can use to build an extremely personalized and engaging referral program from scratch.
Once you have created the referral program of your dreams, use Shop Circle's Customer Tags & Segments to create custom communication to your audiences organized by segment, tag, or purchase behavior, or use triggers for automated tailored messaging.
Together CloudSponge and Shop Circle offer a dynamic e-commerce toolkit for creating customer experiences that grow revenue, increase subscribers, and wow customers by setting a new bar for personalization and convenience.
Editor's Note: This article was written for the CloudSponge website by our partners over at Shop Circle. Make sure to check them out for some great products to improve your word-of-mouth outreach.