Airbnb is one of the touchstone examples of how a referral program can leverage rewards, social proof, and user data stored in email services to drive massive growth. Their growth team has set a new standard for how to design a refer-a-friend system that builds awareness and drives huge increases in new bookings or sales.
At CloudSponge, we've been proud to see how the company uses our contact importing tool in one of the best examples of referral marketing we've seen. Today, we'll take a look back at how Airbnb crafted a referral program that had such a lasting impact on their business by examining what Airbnb and some of the top marketing minds in tech have concluded about what makes this growth program tick.
A New Force In Hospitality
It seems strange now to think that Airbnb was a small, little known company, but in 2008 Airbnb was a small startup headquartered in San Francisco, California. In the last decade, Airbnb has become a trusted community marketplace for people to list, discover, and book unique accommodations and experiences around the world.
A hospitality juggernaut, Airbnb now boasts 150 million guests worldwide in 191 different countries. It has also become one of the simplest ways for people to monetize additional living space and share them with millions of Airbnb users. Their growth has been so great that experts have posited that the company is a major threat to traditional hospitality giants such as Marriott, Hilton, and Hyatt.
Referral's 1.0: A Start To Something Great
At Airbnb, the growth team is constantly looking at places where the website and application touch non-users to evaluate how effective that experience is at converting visitors to new users. Given that according to a Nielsen study, 92% of consumers trusted a recommendation from people they knew, referrals was one of the few places where non-users can engage the Airbnb offering and have a very positive first impression.
Growth Product Manager, Gustaf Alströmer identified referrals as a way to potentially gain more users who hadn't previously heard about the offerings of Airbnb. "Outside of US, Airbnb is not as well known a brand. Invites are one of the ways that the product can touch new potential customers who don't already know about us."
Airbnb had implemented a referral program, but the general consensus was that it wasn't that effective and had mostly been forgotten. Referrals 1.0 "wasn't something we were particularly proud of," Gustaf says, but it was the first introduction of the double-sided rewards program. The program wasn't a unequivocal success, but after reviewing the data the growth team saw that it had a positive impact and could perhaps be leveraged to be more effective. Check out how you can create a successful email referral scheme for your business here.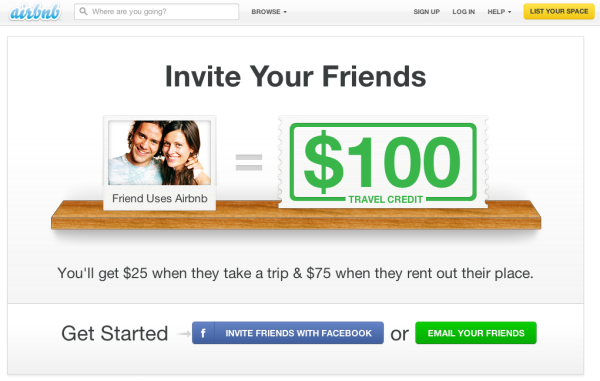 "It turns out it did have a positive impact, we were driving millions of dollars of revenue over time…the biggest problem was that it wasn't properly promoted. Most people visiting our site had never heard of it."
---
Referrals was an exciting project to undertake because it embodies growth: it's highly measurable, scalable, and is all about identifying a growth pattern that's already happening but amplifying it at a key moment.
Jason Bosinoff, Director of Engineering at Airbnb
---
Taking a look at the existing referral infrastructure, it became clear to the growth team that it was in dire need of being updated. "Some things were out of date, just didn't work anymore…we didn't want to promote something we weren't proud of, so before we do that we just wanted to create a better version of referrals," said Gustaf.
After speaking with other well-known companies that had implemented successful referral programs, Airbnb discovered that potentially 25-55% of new user growth could be produced through referral growth channels. Airbnb decided to revisit the referral program with a renewed effort and began the redesign process.
The Airbnb team was excited about the possibilities. In his Medium.com post, Airbnb's Director of Engineering Jason Bosinoff remarks that "Referrals was an exciting project to undertake because it embodies growth: it's highly measurable, scalable, and is all about identifying a growth pattern that's already happening but amplifying it at a key moment."
Harvesting Learnings
To start, Airbnb looked at the trove of data from verion 1.0 and began seeing where improvements could be made. "What are the things that we should be working on to make the new referrals program better?" asked Gustaf.
In order to measure the effectiveness of various parts of the program, Airbnb looked at several different levers that would impact how effective their referral program could be.
Monthly Active Users Sending Invites
Invitees per Inviter
Conversion Rate to New User
Conversion Rate to New Guest
Conversion Rate to New Host
Revenue Impact Potential
After forecasting potential improvement at each stage or growth "lever" listed above, Airbnb realized that the opportunity was anywhere from 20-90x improvement in revenue produced from referrals.
Referrals 2.0
When Airbnb assembled the growth team to build the new referral program, they started with 2 engineers, a designer and Gustaf. The referral team booked an Airbnb to get away from the distractions of the office, and began looking at crafting a new referral experience.
"We decided to build for Android, iOS, and web at the same time. The reason that mobile matters so much is because half of the emails that we sent out are actually being read on mobile and to not have any redemption flow or attribution flow on mobile would be a mistake," said Alströmer.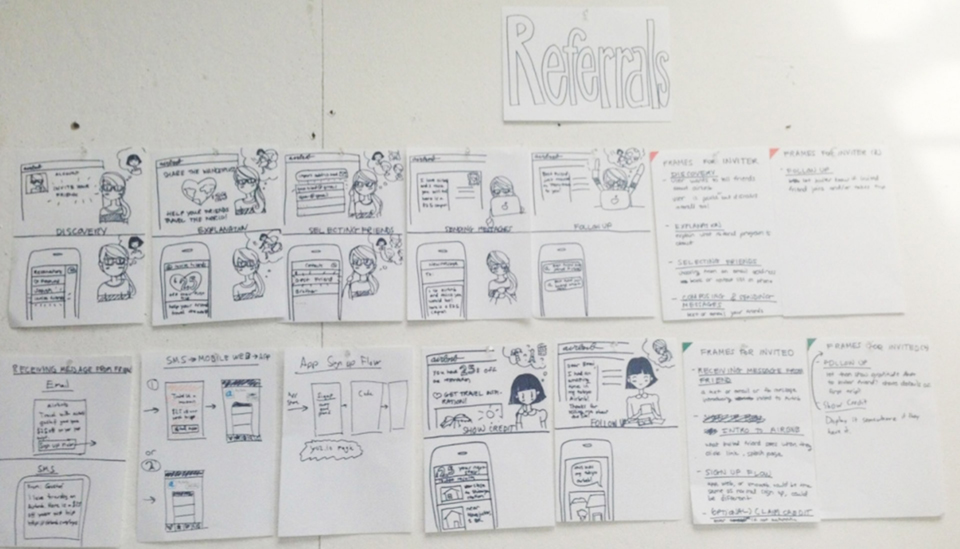 Mockups were built for all three platforms, and the growth team began learning as much as possible about mobile so that they could work closely alongside the mobile development teams at Airbnb. The growth team quickly became the largest outside contributor to the iOS and Android platforms, and when the project was complete and 30,000 lines of code written, Airbnb launched simultaneously on web, iOS, and Android.
Soliciting Invites
Making it easy for users to send invites to their friends was also essential. In addition to providing an easily shareable link, Airbnb provided a method to import contacts and friends from Gmail and send a customized invitation email to each contact. When users engaged the referral program, Airbnb also experimented with how to present the contacts for the best user experience.
"We tried to figure out contacts that were close to you," said Jimmy Tang, Engineering Manager at Airbnb. "The goal here was to figure out who are the people you talk the most in order to get a higher conversion rate on the send. We opted not to go for the other end of that spectrum where you try to get as many invites as possible. That's one of the user experience vs growth things, and we ended up going with user experience here."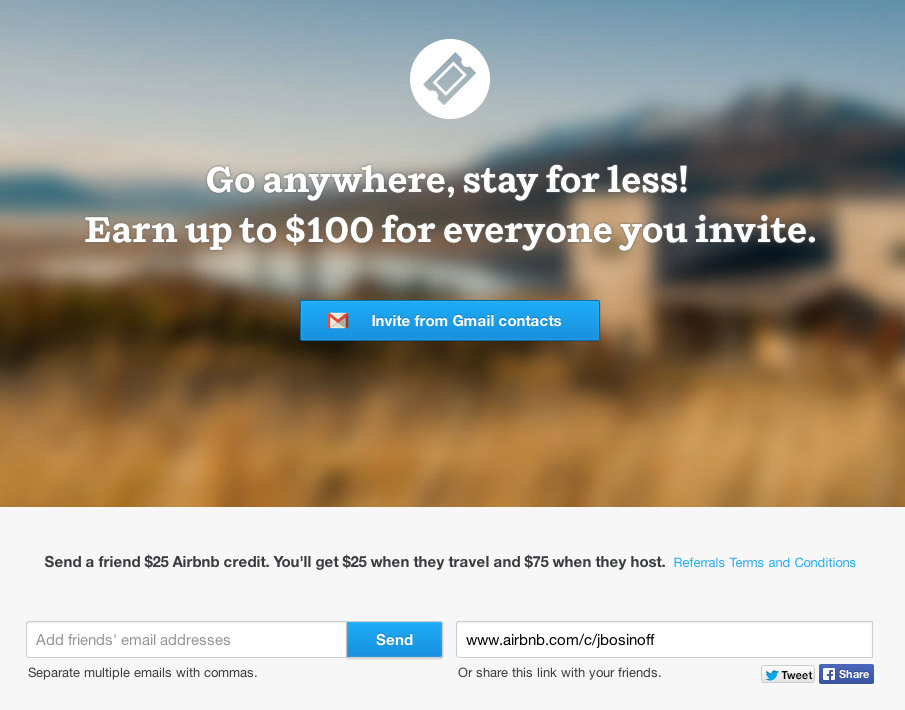 ---
It was important that each invite appear as a gift, not a promotion.
Gustaf Alströmer, Growth Product Manager at Airbnb
---
A Gift In Your Inbox
Once the user had imported a contact and an initiated an invitation, Airbnb sent a carefully crafted email to the invitees inbox. "We immediately began A/B testing. It was important that each invite appear as a gift, not a promotion," says Alströmer.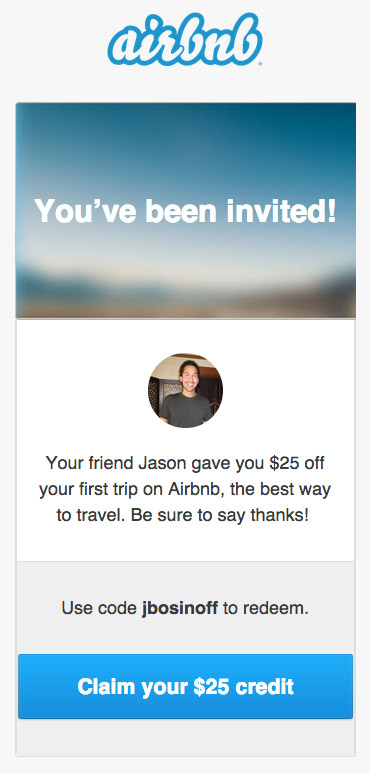 One of the most important design features Airbnb tested was including a photo of the sender. "We take the picture of the referrer and put it right in the center to show some social proof and build some trust." said Tang, Engineering Manager at Airbnb. This augmented the gift-like feel of the email and helped new users who were new to Airbnb understand that his was a personal referral.
Taru Bhargava, author at AppVirality, describes just why this person-to-person referral experience is so effective:
"We tend to follow the footsteps of those whom we value. Sometimes these actions imitate 'the monkey see and monkey do' approach. According to a Nielsen report, 84% of people go by recommendations from friend and family. If we observe it carefully, word-of-mouth via mobile app referral follows the same trend. In Airbnb's case, it was further elevated by a personalized landing page, when a user installed an app via a referral link."
And worked it did. "We were able to monitor the responses because the emails were sent to us. We got the perception that people were really treating this as a gift and this was exactly what we wanted."
Airbnb even began A/B testing emails promoting the referral program to existing users. They were curious which call to action would incite existing users to begin sharing referral invites to their friends.
Jason Bosinoff, Director of Engineering at Airbnb, identified a key motivation in getting people to send referral program invites: altruism. "One experiment I was particularly excited about was communicating very different value propositions for the same product. In one email, we emphasized that you can earn $25 for inviting a friend (self-interested). In the other email, we emphasized that you are sharing $25 with your friend (altruistic)."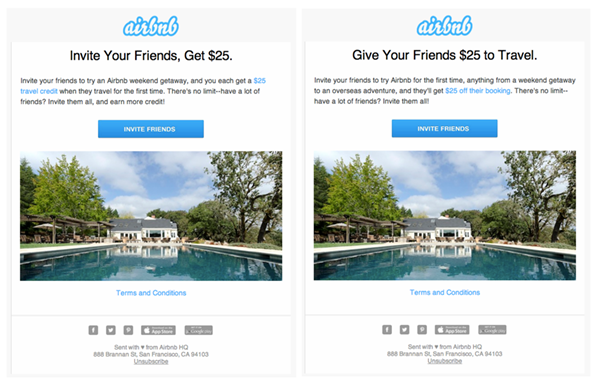 The result was the the altruistic email preformed better globally and provides a valuable lesson for anyone designing a referral program and trying to balance which incentives might elicit user action.
Why It Works
The psychology behind why creating an altruistic gift experience is summarized by growth writer Brandon Gains at Referral Saasquatch in their summary of referral programs by billion dollar companies:
"You're not only getting a $25 credit off your vacation, but your friend also receives that same credit. So it doesn't feel like someone is taking advantage of you, it's more of a natural conversation which helps drive user participation. Many consumers just aren't interested in trying to make money off of their friends, it seems greedy and could sour relationships."
This awareness of how a referral offer plays into everyday human to human interactions is an important consideration when constructing the components of a referral offer.
Legal Ramifications
While building the Airbnb referral program, the growth team also gleaned two major learnings about the legality of running a referral program and avoided two potential pitfalls. The first was making sure that all emails sent had a proper unsubscribe link.
"Referrals are considered promotional and fall under the same rule as marketing so all server sent emails must have unsubscribe link," Tang said.
Second, the laws around sending referral invites via SMS is a bit of "gray area." On mobile Airbnb opted not to send SMS as it opened up too many legal risks in terms of abuse.
"Anyone who's doing that make sure you know the legal situation first it may not be a risk that you want to take" warned Alströmer "depending on what country where we're launching this, we're not doing SMS and just doing it via email."
Nowadays we also have to consider GDPR and CCPA compliance whenever we're handling sensitive data that wasn't given to us by the data subject themselves (such as  your friend's email address). Bottom line? The golden rule applies; please treat other people's data the way you'd hope they'd handle yours.
The Results: Measurement and Dashboards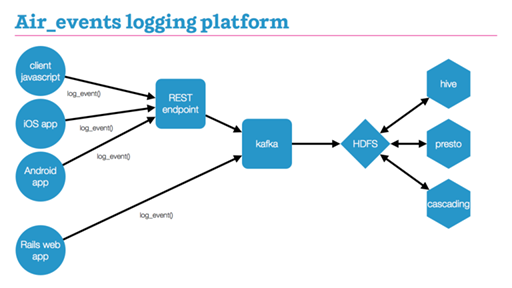 "The way we did tracking for this specific product is that we built a taxonomy of all the events that we wanted to track ahead of time and instrumented every single one of these events right on the day we launched…that made it easy to see where we would iterate on this product and where we would go next"
Looking at Airbnb's careful instrumentation, it became clear which methods were working and which ones were not. This made A/B testing the effectiveness of emails, subject lines, calls to action, and landing pages much easier to evaluate.
The result was a clear indication of hundreds of thousands of additional nights booked. One of the most interesting takeaways, was that in new markets, the referral program had increased impact. "The less mature the market, the more the impact of the referral program," said Gustaf Alströmer.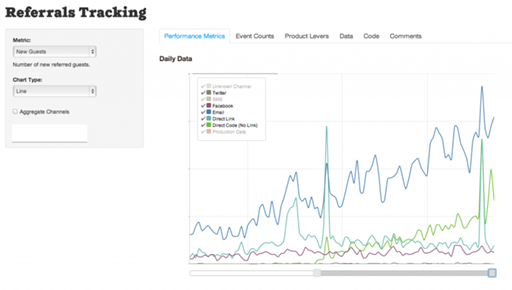 "Looking at guest bookings and hostings, our referred users performed much better than average users, he adds. Customers gained through referral programs booked more reservations, became hosts more often, and in the wonderful way of virality, they even referred more users and sent more invites.
Overall, referrals increased bookings by over 25% in some markets. The new 2.0 version of the referral program produced 300% more bookings and signups than before.
Airbnb's Referral Program continues to be a work in progress
With detailed tracking and measurement in place, Airbnb was able to make many evidence-based decisions about how to improve the user experience for referrals.
"Because we had built dashboards, we could see on launch day one how users were interacting with the referrals product," says Bosinoff. "It was gratifying to measure our impact from day 1. We can build product levers to try to boost each of our core metrics".
One of the major opportunities presented by this data was at the intersection point with users considering sending invites to their friends. "We can increase number of invites per inviter by offering imports of address books from email services."
Airbnb partnered with CloudSponge in 2014 to unlock more referral potential by moving beyond just Gmail. In order to simplify integration, Airbnb utilized our APIs to provide integrations with Gmail, Outlook and Yahoo at the same time. Airbnb revamped the import interface and made it simple to import contacts from all three major email services.
Want to explore our Contacts API for yourself? Start here.
Because of this, the company was able to quickly integrate several different contact sources with multi-language support without diverting resources from the core work of building an effective referral program. This becomes important when you realize how much work goes into the process.
ReferralCandy highlights this in their article The Secrets Of Airbnb's Successful Referral Program:
"Building a referral system is very hard work. It took a 5 person team (with lots of borrowed help!) 3 full months and 30,000 lines of code to do Airbnb's Referrals 2.0 system."
As such, any tools that can be leveraged to speed up a key part of the process could be instrumental in getting the program in front of users to begin driving growth.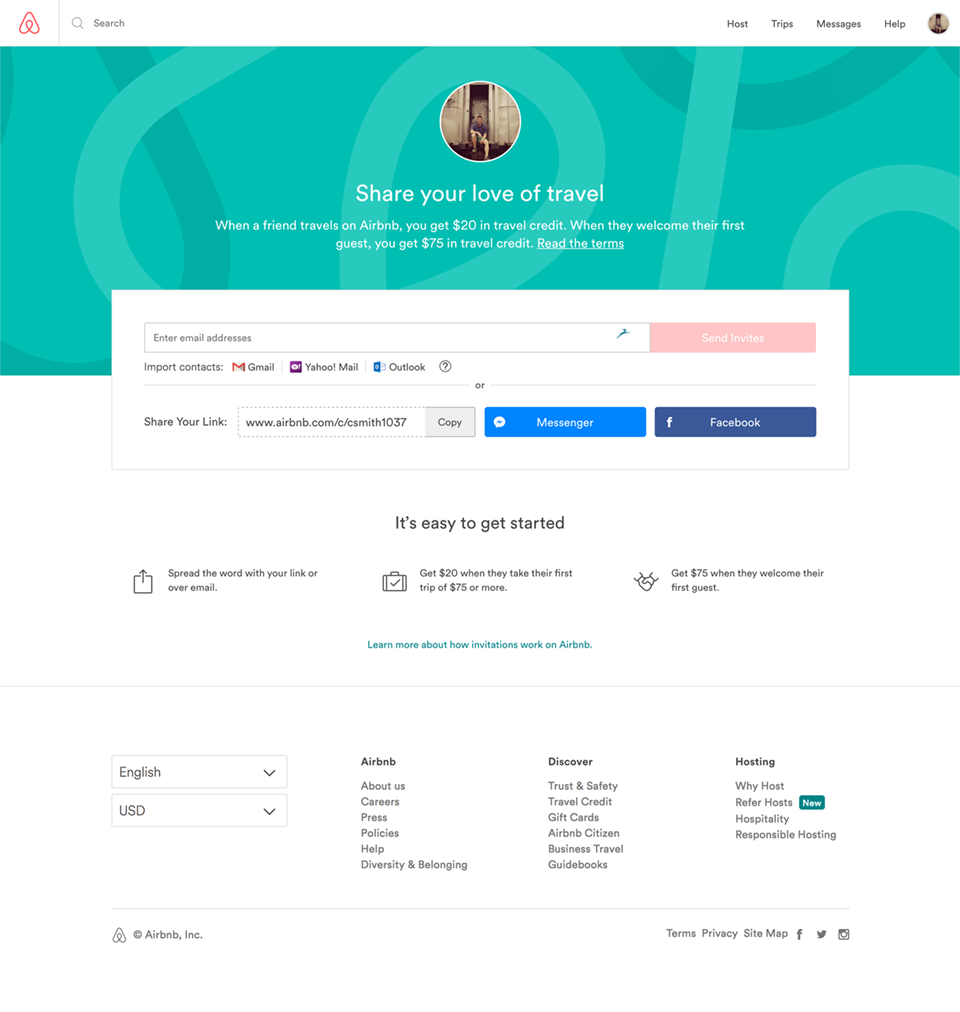 As a result, Airbnb sees nearly 20% of their address book imports coming from Outlook and Yahoo, two of the webmail services enabled by integrating with CloudSponge. Airbnb continues to see accelerating growth through referrals as address book imports continue to increase month over month to some of the highest levels in their history.
Learning And Improving
Airbnb continues to leverage referrals to grow, but now they have also launched similar incentives and systems for Airbnb hosts, not just users. All About Airbnb summarizes the rollout of the new program on their blog:
"To let users discover the new functionality, Airbnb included multiple touchpoints throughout the site (adding banners, notifications, and new navigation elements), in order to maximize the visibility and discoverability of the new program and better understand its potential during the test period."
It seems that the lessons about awareness learned in version 1.0 of the Airbnb program were not at all lost. In addition to driving awareness for the program and ensuring it was highly visible, Airbnb is leveraging email contact importing and social integrations to make it easy for users to share referrals with their friends.
The key difference? Incentives. Airbnb for the time being is offering cash as an incentive for onboarding new hosts:
"It's interesting to note that in this case Airbnb will be paying out hard cash rather than travel credits," write All About Airbnb author Matteo Gamba. "This might seem surprising and counterintuitive at first, as most successful referral programs tend to tie the incentive to the actual usage of the product in order to increase its stickiness. However, not every hosts is interested in using Airbnb to travel, and a monetary incentive is likely to produce better results than coupons."
Moving Forward
We look forward to seeing how Airbnb revises and evolves the referral platform. Suffice to say, we're proud to be a part of something so inspiration to so many marketers, growth hackers, and entrepreneurs. We'll be watching and taking notes.
Editor's Note: If you liked this article, you might also like our teardowns of JustFab and Stitch Fix's referral programs.