Every referral program is like a special snowflake: each one is a little different (and more tech, less snow). We're here to give you a jump-start on structuring your referral program by tearing down the choices of referral leaders like Stitch Fix and Hired.
Enter Stitch Fix
Stitch Fix is a major player in the competitive fashion-delivery space. As online shopping continues to grow, traditional fashion brands are racing to figure out how to stay relevant. Stitch Fix seems to have figured it out: their diehard fans grew it to nearly $1 billion in revenue in less than six years. And unlike many unicorns, they became profitable in the process. Here's how the service works. A new customer completes a fashion profile about their body type and style preferences. With that information, a personal stylist creates a box of five items just for them, complete with styling suggestions for the fashion-impaired. They charge customers a $20 fee to style the selection, which is applied to any clothes the customer chooses to buy. Send back what you don't like, and repeat. If you're bad at clothes or too lazy to shop, Stitch Fix is the answer.
Word of mouth allowed Stitch Fix to rocket to success.
"The vast, vast, vast majority of our growth to this day is still organic," says CEO Katrina Lake.
Customer referrals played a major role, making their referral program one of the most envied. Below, I tear down Stitch Fix's referral system to identify what makes it a standout. (Spoiler alert: having a great service helps!)
Trying to get more referrals for your business?
First, the Basics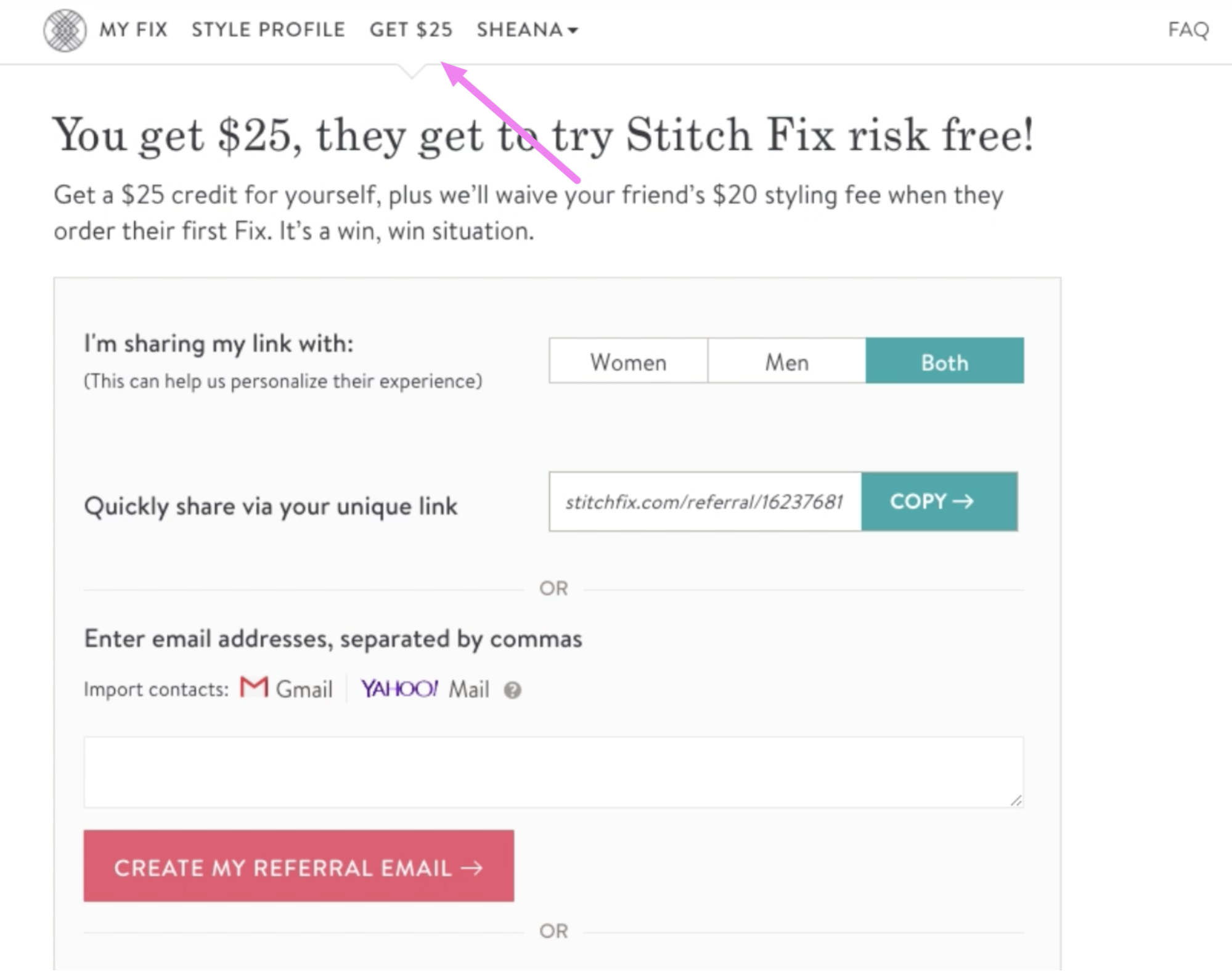 All users (including those who are not yet paying customers) are invited to refer friends by an attractive "get $25" button at the top of the page. This call to action is short, sweet, and to the point. The $25 comes in the form of a Stitch Fix credit, awarded once a referred friend orders their first "fix." The referred friend even gets their first styling waived. I emailed Stitch Fix to clarify the details, and this is not a $20 credit. Although the styling fee is waived, it is not deducted from their purchase. Effectively, if the referred friend makes a purchase, this incentive costs Stitch Fix nothing. Very clever!
We also see that referral channels are numerous. I am able to refer friends via a referral link, email, social sharing (Facebook, Twitter, and Pinterest), and even Facebook Messenger. I can add email addresses manually or input my Gmail and Yahoo Mail contacts via the "import contacts" feature. When I click on the Gmail icon, the CloudSponge widget takes me through the Gmail authentication process, and I'm able to select my contacts with just a few clicks. Interestingly, those email addresses are simply inserted into a basic text field.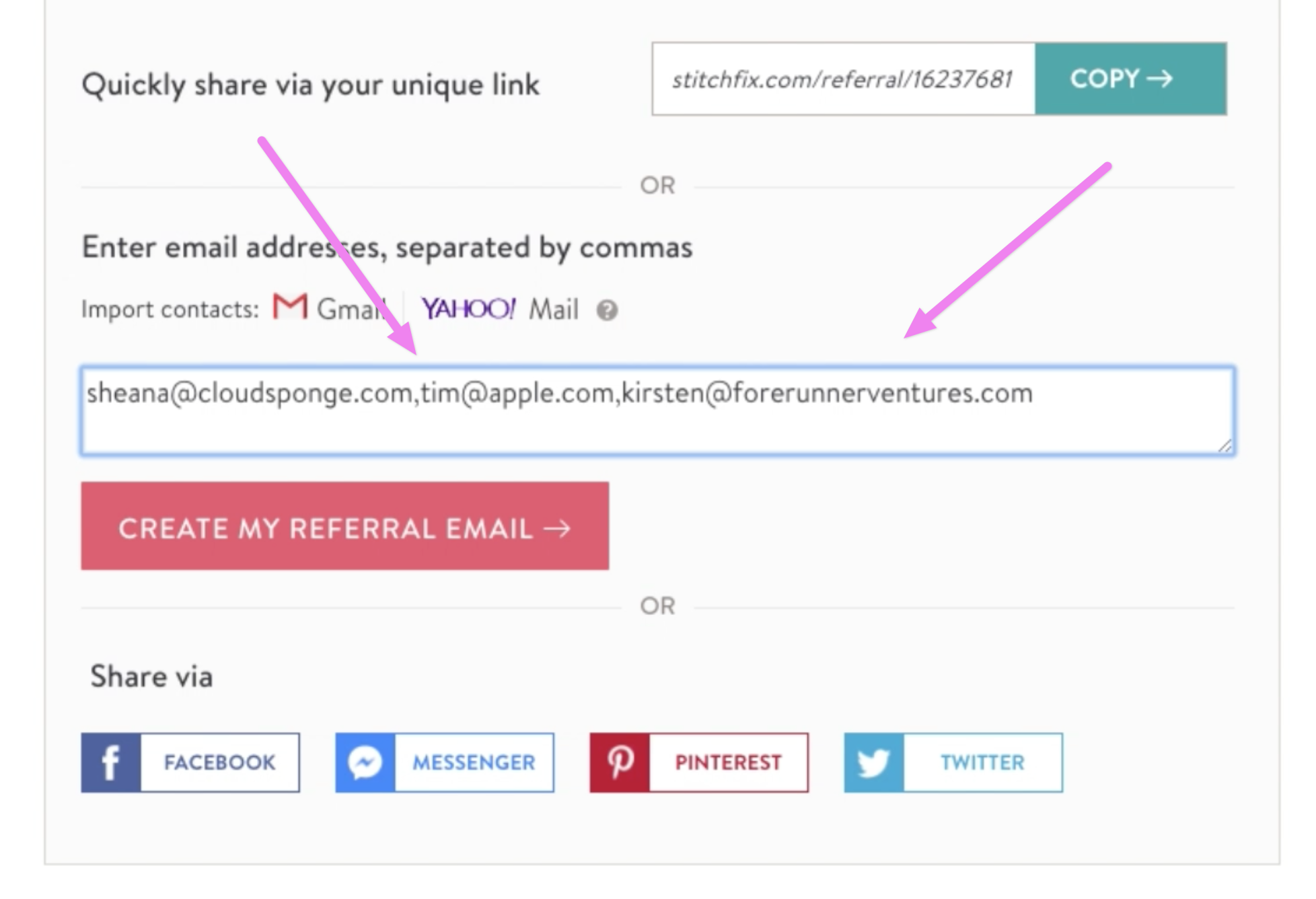 So far, there's nothing too crazy here. Once I click the "refer my friends" button, things get pretty interesting. Stitch Fix uses a mailto link to open my computer's default email client. It pre-populates a message for me – referral link and all – with my contacts in the BCC field.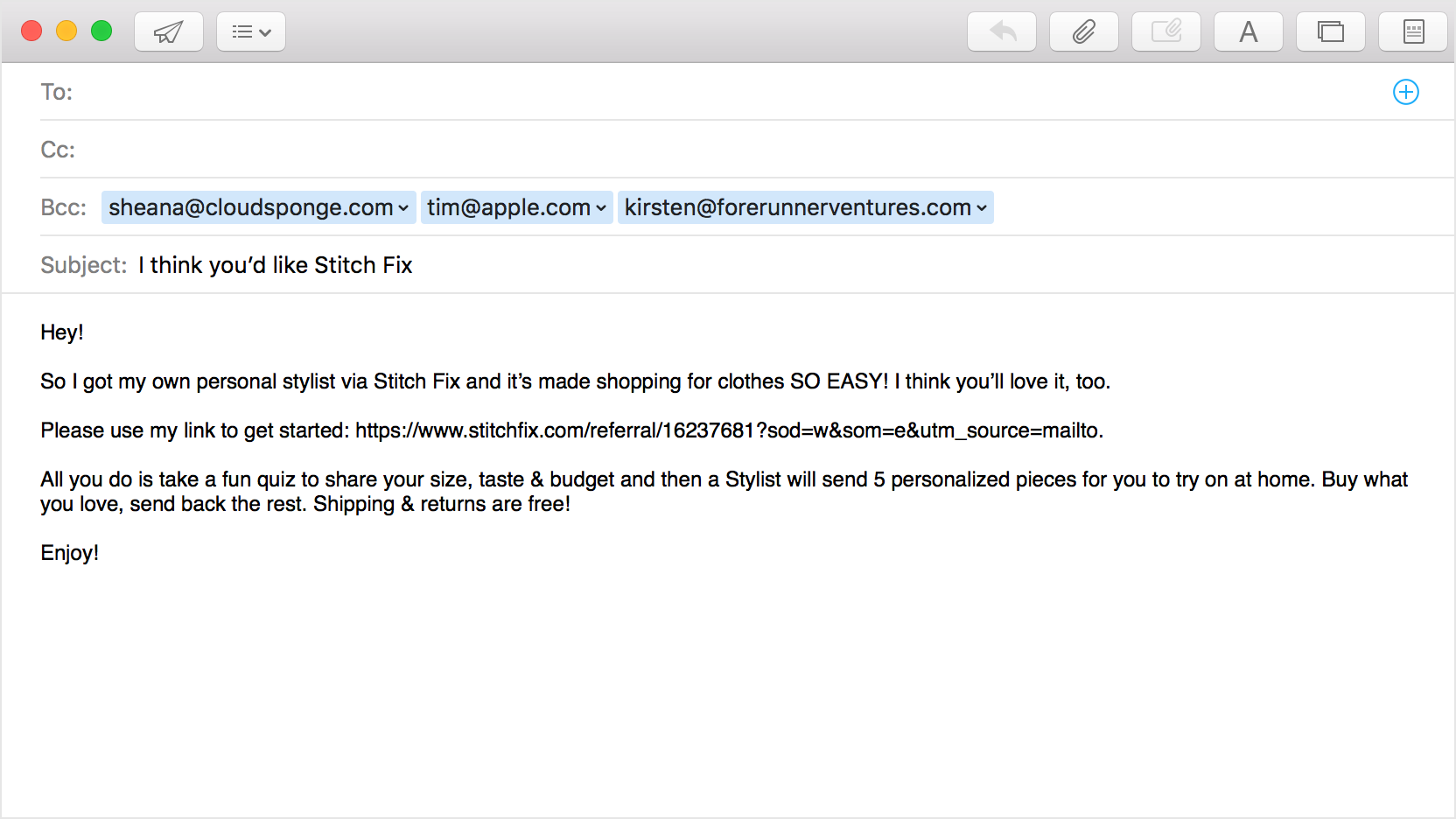 That's right. That means the referral invitation comes directly from my own, personal email address. No marketing email provider or transactional email provider required. As detailed below, this has some serious pros and cons. Once the email is sent, I'm returned to the referral section of Stitch Fix's website to track my referral's progress.
Accepting a Referral
When my referred friend glances past their inbox, they will see an email from yours truly with the eye-catching subject line: "I think you'd like Stitch Fix." If delivered from a transactional email provider (someone at @stitchfix.com), this copy would be a dud. But from a friend? That's a totally natural recommendation. After clicking on the referral link, I'm brought to Stitch Fix's onboarding process, complete with the name of the person who referred me peppered throughout. As with Hired's referral process, carrying the referrer's name directly to the Stitch Fix website lets them benefit from the positive feelings I have about the referrer. Stitch Fix takes it from there. I'm brought to their standard onboarding process. My first styling fee is waived and the friend who referred me is one step closer to their $25 credit.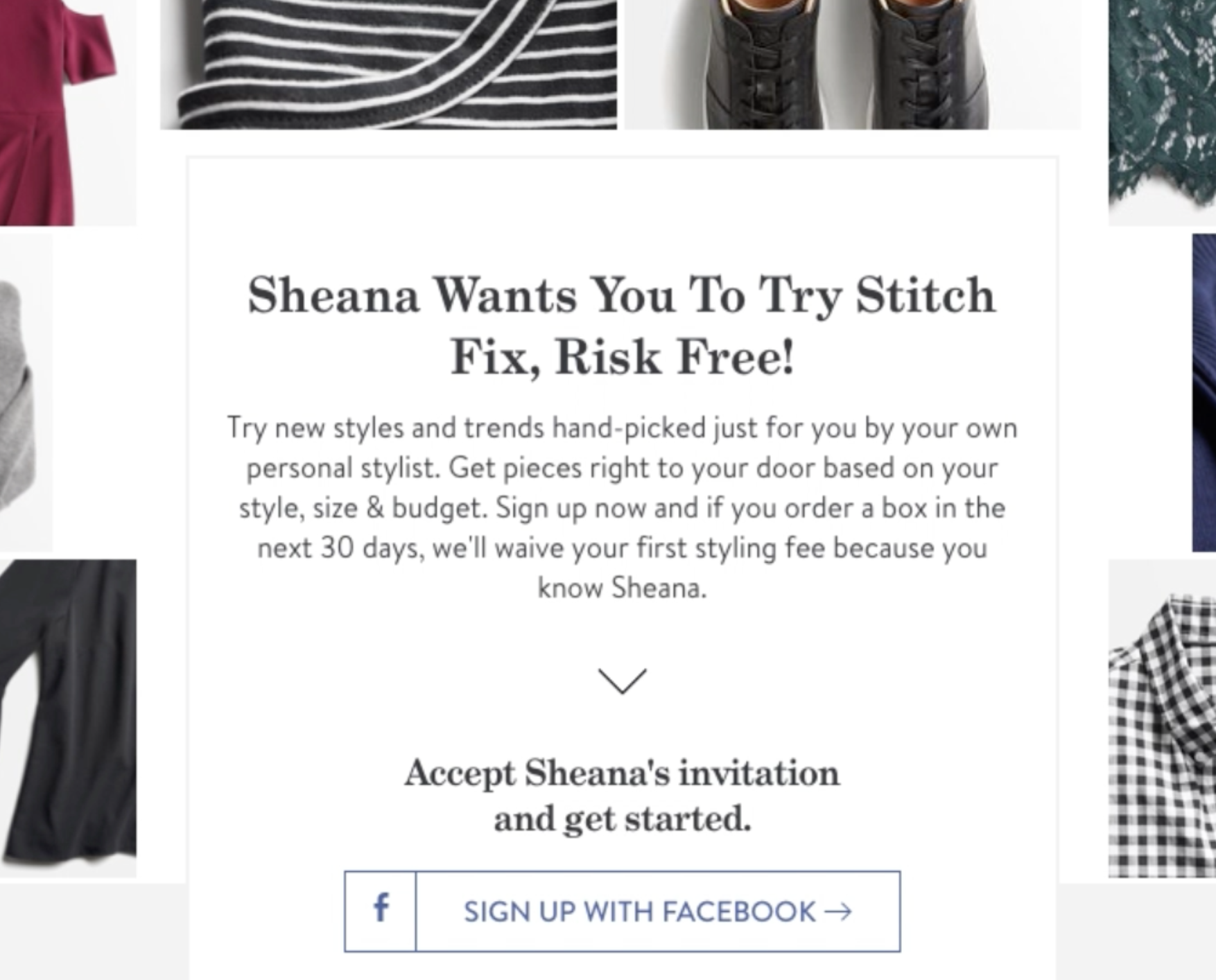 Stitch Fix includes many details to make their referral system work well. To name a few…
They use snappy, actionable copy throughout.
The referrer can copy their referral link with a single click.
They provide editable invitation-text for the referrer, which can be modified before sending.
There's detailed referral tracking that allows me to track my progress.
Pinterest Referrals
Stitch Fix also includes an under-the-radar referral channel: Pinterest. This is a smart move. What makes Pinterest so special? First, many people host their fashion inspiration there, making it a natural fit for the style-minded Stitch Fix. But more than that, it actually generates referral traffic, with claims that 5% of the world's referral traffic comes from Pinterest. Moreover, its users ultimately go on to buy stuff. 87% of its users have made a purchase because of Pinterest, and their average purchase price is higher than referrals from other social networks. Together, this means that it's not only a great option for referral traffic, but also a perfect fit (no pun intended) for the fashion savant Stitch Fix.
That being said, Stitch Fix's Pinterest referral could do more to leverage this visual medium. Stitch Fix already has a strong presence there, where they curate seasonal trends and offer how-tos and styling suggestions. This custom content showcases their expertise in fashion and utilizes Pinterest's strengths as a platform. Unfortunately, their referral link just looks like a plain old ad. It disappoints both as content marketing and as referral marketing: the content isn't unique, and it's not clear from the content that I'm a personal user of Stitch Fix.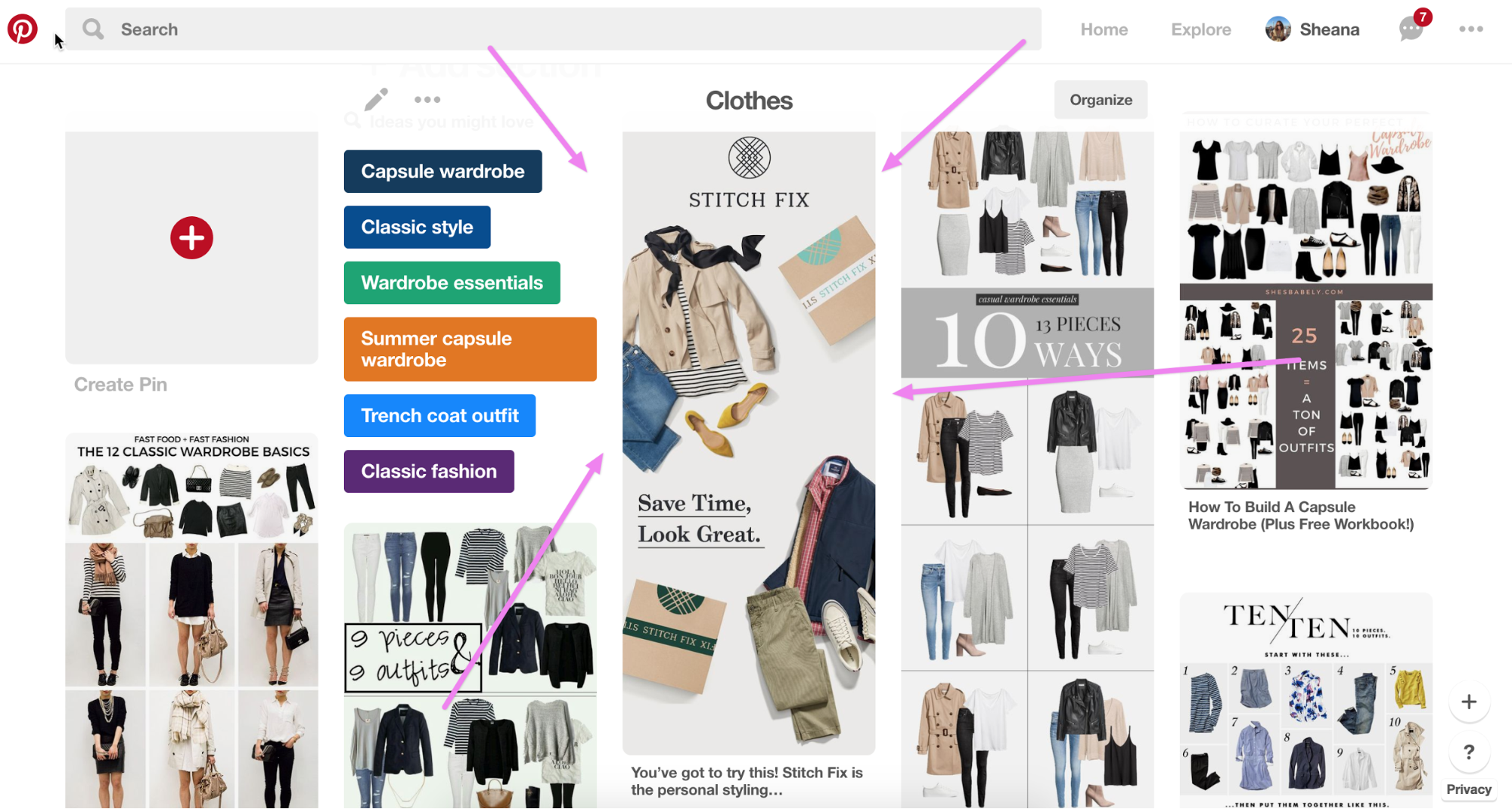 Stitch Fix could easily amp this up by using more valuable content in the image as they do elsewhere. Or they could highlight that I'm a user of their service with an image (like this one) and modified copy like, "I just took my style quiz. Have you?" (The clickbait practically writes itself!) Unlike other social networks where posts are shown less often over time, images pinned on Pinterest stay put unless deleted by the user. This makes it well worth it for Stitch Fix to amp up their Pinterest referral imagery.
Direct Emails Are a Double-Edged Sword
One choice stands out: Stitch Fix's email invitations are sent directly from the referrer's email address. Insofar as decisions on referral programs can be bold, this one is. First, the good. By having the invitation come directly from the referrer, Stitch Fix is ensuring virtually perfect deliverability. It's not going to get stuck in the spam folder. It's not even going to end up in Inbox's promotions folder. And because it comes from a friend, I'm likely to actually open it. It shows my friend's name and picture, and it includes a subtly appealing subject line.
But these benefits come at a price, both for Stitch Fix and the referrer:
There's a meaningful loss of information when their referrers send the email themselves. Stitch Fix won't have any access to open rates and will have limited access to clicks – essential metrics for good decision-making.
Using the referrer's email client also limits Stitch Fix's ability to conduct A/B testing. Instead of being able to optimize the entire funnel, they are limited to learning about what works only once a referred friend signs up.
Leaning on the mailto link also impairs the user experience of the referrer. When I created my original Stitch Fix account, I did so using a Yahoo Mail account, a web-based email service. But when Stitch Fix created my referral email, it launched my default desktop email client, one which was not tied to my Yahoo account. Alas, users of webmail like Yahoo or Outlook will be driven to a desktop email client they never use, which will likely result in abandoned referrals. (Note: Gmail was a notable exception to this. A Stitch Fix user who signs up with their Gmail address is directed to their Gmail account on the web.)
A Great Service Makes for Many Referrals
Stitch Fix has designed a successful service that earns plenty of word of mouth. They currently offer a two-sided referral reward. The referrer earns a $25 credit once their referred friend orders their first "fix," who, in turn, gets their first styling fee waived. Email invitations come directly from the referrer's personal email address, rather than a third-party email service, ensuring deliverability. However, this may come at the expense of essential insights, including data on open rates and the ability to A/B test. It also leaves many webmail users in the dust, with the referral email being dropped into a default desktop mail program that may or may not be configured.
Stitch Fix has a reputation of being "customer experience first, technology second." This mysterious Reddit post claims that they didn't even have a website by the time they raised their first $750,000 in seed funding in 2011 from Baseline Venture's Steve Anderson. I speculate that their email referral system maintains this legacy; it's a reasonably untechnical but entirely functional solution. Stitch Fix can get away with it because their product and customer experience is absolutely first class.
Additional details of Stitch Fix's referral program are highlighted in the video teardown above. Which referral program should I tear down next? Anything specific I should cover? Let me know in the comments below and keep an eye out for my next teardown in the coming weeks.