There's no point in beating around the bush here – The only reason you consider launching a referral program is to help your brand reach as many potential customers as possible.
No brainer, right?
And to do that, as Richard Lazazzera wonderfully put it on Shopify's blog:
"You always want to ensure you're making it as easy as possible to share your products and refer your brand."*
But here's the catch – how do you actually do it?
Specifically, what channels should you use to promote your referral program?
And most importantly, which ones can drive the biggest return?
Luckily for you, that's what I'm going to discuss in this post.
Best ways to Promote Referral Links
Social media platforms,
Personal links, and
Email.
And then, discuss the pros and cons of each to help you select channels for your program.
Intrigued? Let's not waste any more time then.
BONUS: Want to learn how other brands implement their referral programs? Check our referral program teardowns.

How to Promote a Referral Link and Boost Your Sales: Top Referral Program Channels
#1: Social Media
At first sight, the logic behind referral programs is so darn simple, isn't it?
Someone lands on your site and sees information about your program. It could be a banner you display, a popup modal or they may have spotted a referral link in the footer.
It doesn't matter.
What's important is that they get excited about the reward you offer, and decide to jump in.
Your job is done.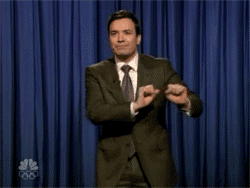 From then on, it's just a matter of providing them with a way to spread the word on your program (which in more technical terms means, sending a referral link to their connections.)
Now, I admit, I've simplified the process a lot here.
Then again, my goal wasn't to outline everything that goes into a successful referral program but to show you that your aim is to simply lead a person to spread the word about your brand.
And given its reach, social media is more than ideal for the task.
Here, take a look:
Crazy, right?
So here's how Hired.com uses social channels to promote their referral program.
And here's another example, from Ztylus:

Important thing: Once you click any of the options, they act just like any other social sharing buttons you see on websites – they display a dedicated window to share the content on the network.
And in most cases, the pre-populated message includes:
A short message about the offer that a user can edit if they wished to,
A referral link that's tied to a sharer's username,
And often the company's social media ID or tag to help them monitor those messages.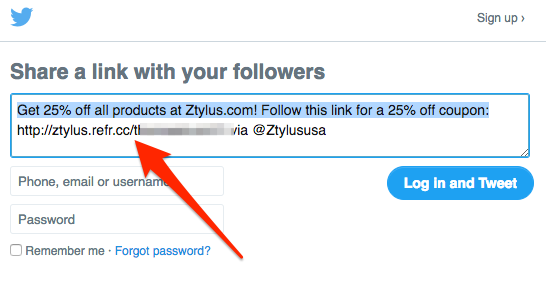 Simple, right?
So, what specifically makes social media such a powerful referral channel?
First, it's the reach. By their nature, social media messages are public. Although a person shares them with their network only, there always a chance that someone else forwards the message further.
Targeting an impulse behavior is another. Most people use social media for fun or entertainment (at least when it comes to non-professional networks like Facebook or Twitter).
As a result, our natural defenses are down when we're on those networks, and we're far more susceptible to act on impulse, and click on a referral link.
But there are cons to the channel as well.
Noise is by far the biggest one. It's so easy for messages to get lost in the ocean of other social updates popping up in a person's feed.
After all, according to Internet Live Stats, there are, on average, 7851 tweets posted every second…

Also, social updates aren't personal. Unless you send a direct message to someone, of course.As a result, they don't carry the same weight as an email or a personal link posted to a private channel.
#2: Personal Link
Fact: Not all of your visitors will want to boast about your referral program in public.
Many will prefer to use email (and we'll chat about this channel shortly).
But some users will also want to share it privately on Slack, post it to friends on Skype or WhatsApp, or use any other messaging app they use.
And then, affiliates might want to include it in content they publish on Reddit, Quora, and many other places.
That's where offering a personal link comes in handy.
A personal link works in the same way as your other referral links users share on social media or via email with one exception:
They can copy it, and use wherever they want without being forced to use a specific channel.
Using Hired.com's referral program as an example again, here's how their personal link looks like: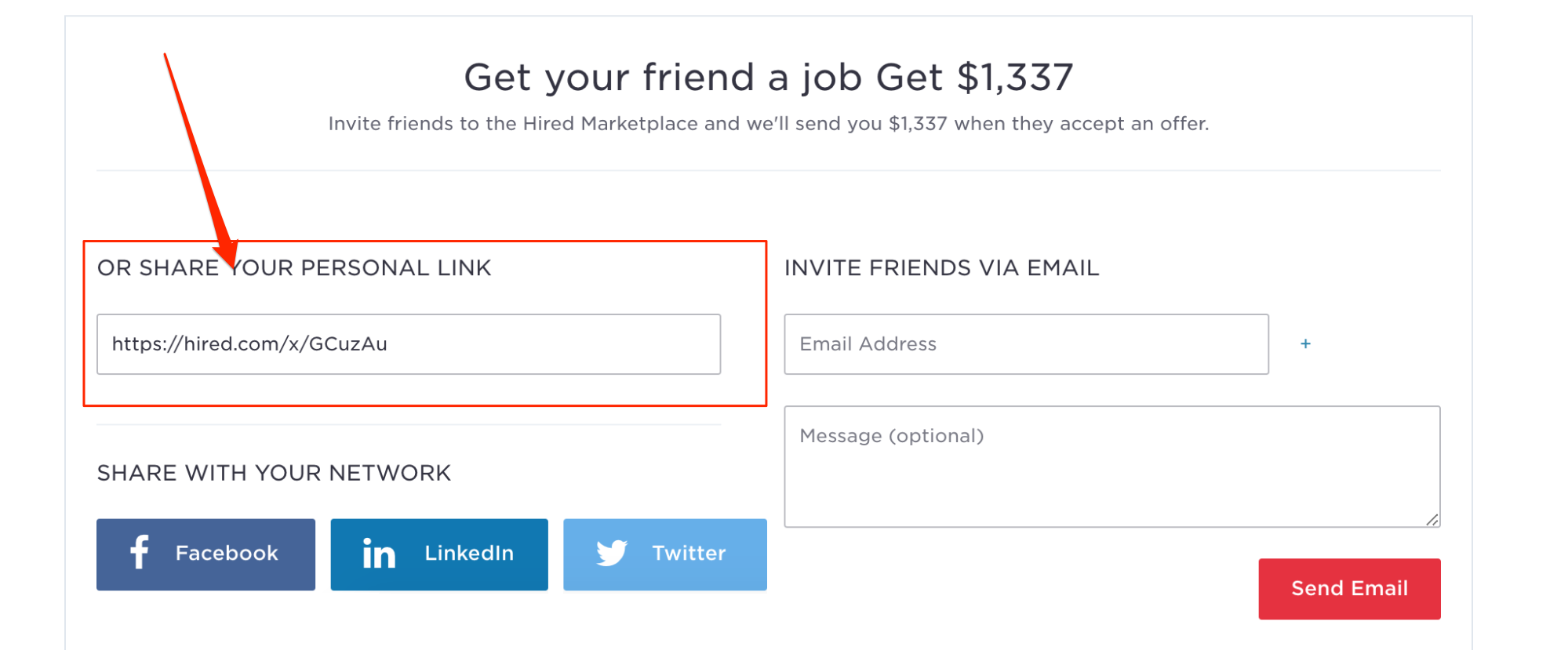 From there, a person can simply copy it into any communication channel they prefer – chat, messenger, text message, share it on forums, etc.
And it works.
For one, as the name suggests, the link offers an opportunity for users to send highly personal and relevant message.
Unlike on social media, where there is no guarantee that a message reaches the right people at the right time, posting a link to Slack or even a relevant forum thread increases the chances for it reaching people who might be interested in your program.
However…
Sending a personal link requires far more work than sharing your program on social media.
Instead of just clicking on a button, and then, posting to Twitter or Facebook, users need to grab a link, and then use it in a completely new channel. Which means, writing a custom message from scratch to convince someone to click on the link.
#3: Email
Let me be bluntly honest here:
To me, email combines what's best on other channels – social media and personal links, making it the most effective of them all.
Here, let me explain:
Unlike social media, email is personal. No doubt about it.
(Well, unless you intend to send unsolicited emails to complete strangers, of course. But that's an entirely different thing.)
Email offers a wide reach. And this, coupled with its personal nature, makes it far more effective than the other two channels.
Finally, it's as simple to use as social sharing. Most referral programs offer pre-defined email templates, with the option for a person to add a custom message as well.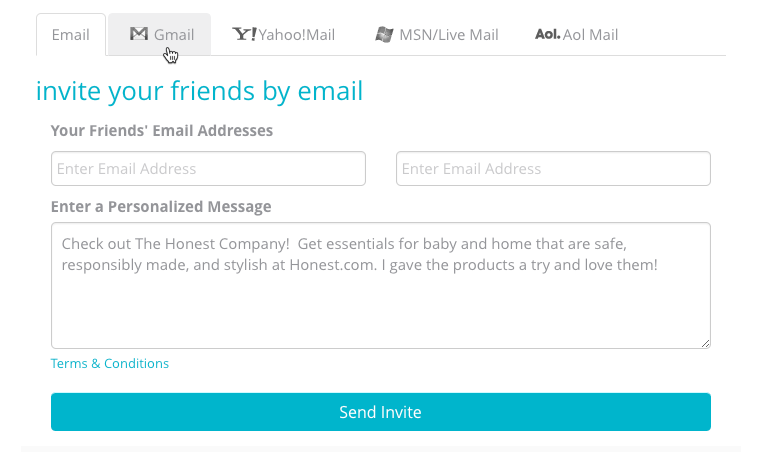 Airbnb's referral program, however, uses a simpler approach, sending a predefined email on your behalf.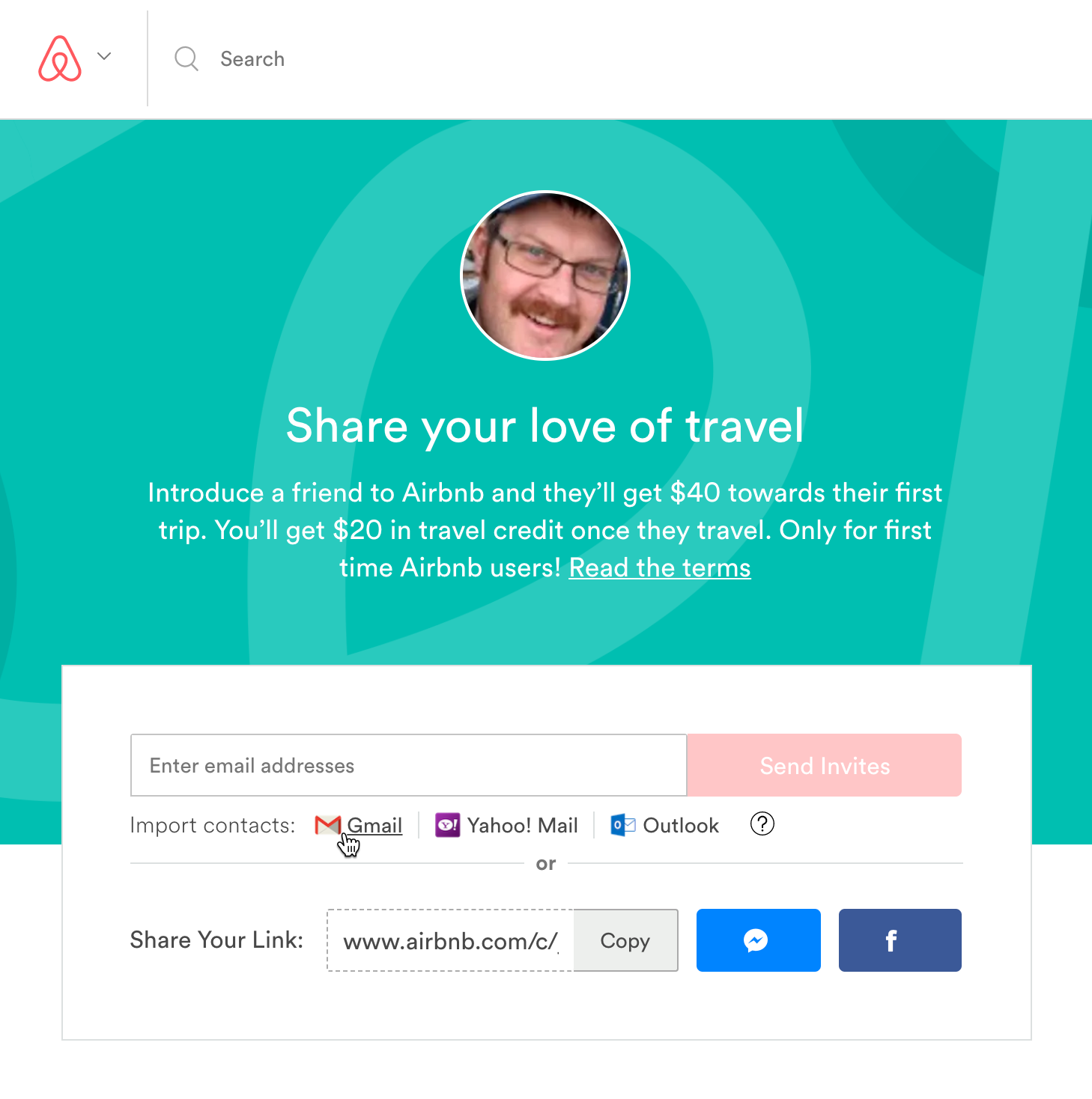 And here's how their referral email looks like: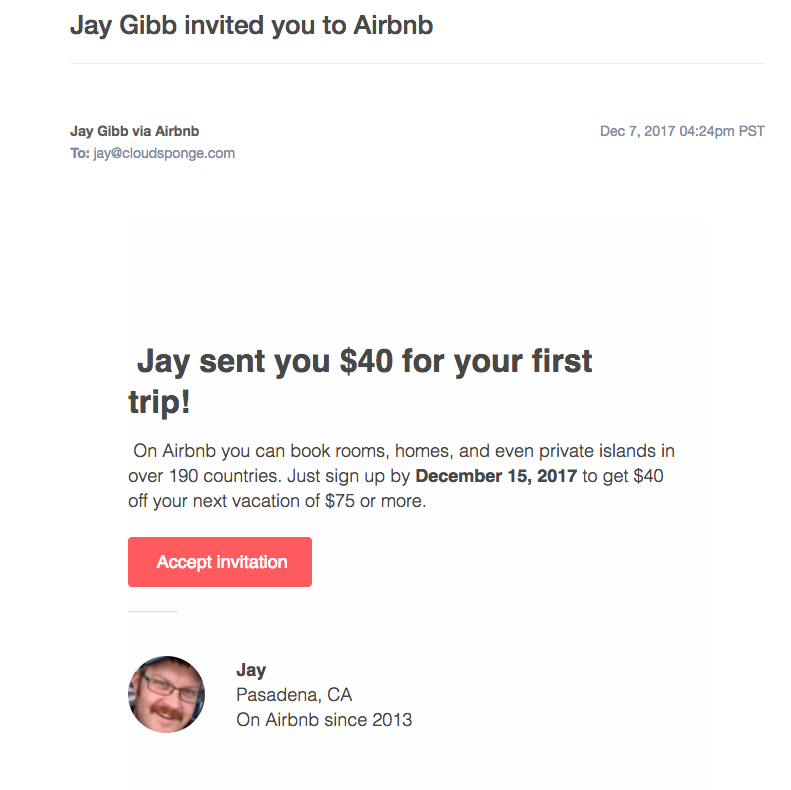 And here's one from Honest.com, with a customized message: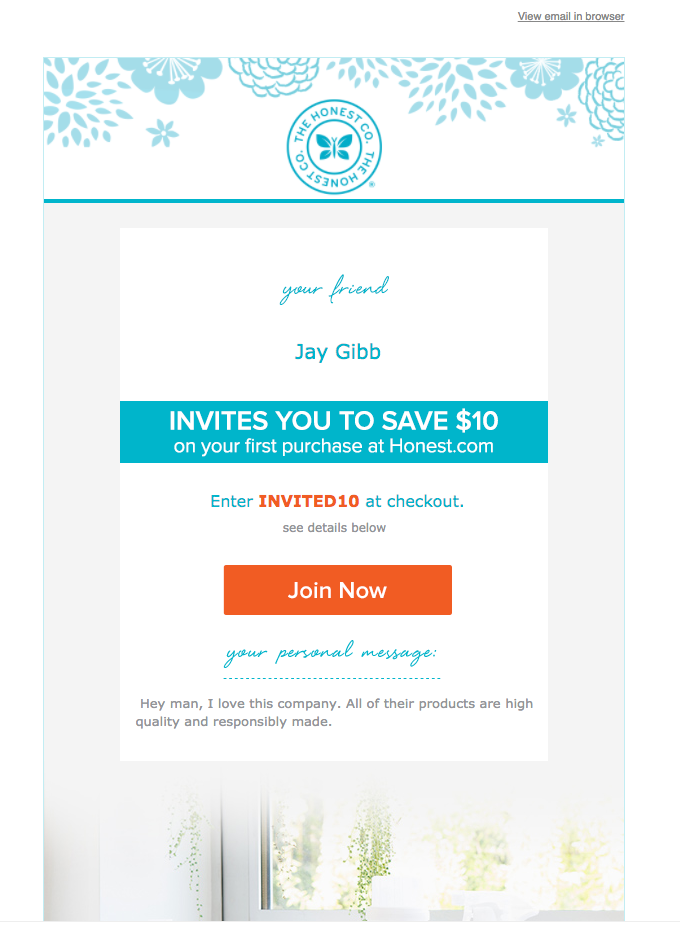 But here's a thing – more and more companies start to consider email as an out-of-date channel.
Google's index, for example, contains 249,000 pages discussing email being presumably dead…

Those articles boast about Slack, messaging, and many other solutions supposedly taking over email. Some even outline exactly how that's going to happen.
And true, real-time messaging has substituted email in many aspects of communication.
But it's far from wiping it out completely.
For example, research by the Radicati Group predicts that email usage is only going to increase over the next couple of years.
Here, see for yourself:
They also estimate that the number of email users worldwide is only going to up too. Here:
But I know, these are just stats.
They may prove my point but fail to reveal why email is here to stay.
In our recent conversation, CloudSponge's CEO, Jay shared his thoughts on the issue. And he makes some great arguments. Just listen to this:
"Email is one of the few open networks. Other platforms like Slack, Facebook Messenger, Skype, etc. are closed. You can't send a message into it, unless you are a part of a group. You also can't send a message out of them. Email, however, allows you to communicate without a need for a preexisting relationship with the recipient."
Makes sense, right?
Which brings us back to my statement from the opening of this section – email combines what's best in the other referral channels:
Personalization,
Reach and strong targeting, and
The ease of use.
Learn how to optimise your emails to get better conversions

So which referral channel should you use?
The simplest answer is – all of them.
As you've seen from the explanation above, each one of them offers different opportunities for helping your brand reach the right audience.
However, give prominence to the one that is the most likely to engage your audience AND matches the type of product or offer you're trying to attract new customers too.
For example, if you sell B2C products, then including LinkedIn on the social media list wouldn't generate an awful lot of engagement.
However, the situation could be opposite if you optimized your social sharing options for Pinterest, for example.
Similarly, if you offer something others might not want to boast about at work – recruitment services, for example, then your audience might be more likely to refer you via email or personal link.
Let Cloudsponge Supercharge Your Referral Program!
The CloudSponge platform includes everything your site needs to create user-friendly sharing functionality that is essential for viral growth in today's online market.
And with the CloudSponge Contact Picker, customers can easily access their email address books to share your products with their friends — opening you up to a world of new opportunities!
Sign up to take a free test drive of our products and learn how we can help take care of the heavy lifting of your referral campaign. Lastly, don't forget to check out the rest of our website to see what else we have to offer.