Incredible, isn't it?
Most businesses would have realized already that what they sell goes far beyond their products. They know that they also provide experience. And one that is supposed to make customers want to engage with them over and over again.
But they seem to know it in theory only, don't they?
In practice, many of them still haven't made the connection between customer experience and their bottom line.
Take support costs, for example. Companies spend enormous money each year dealing with frustrated customers. And then, complain about it to no end.
Yet, so many of them haven't noticed that fixing user interface issues, for example, would have eliminated much of their support overload. Forever.
And that's what I want to discuss with you in this post. I want to show you how you might be unknowingly inflating your support costs by not simplifying obvious UX flaws in your product.
Because…
A Poor Customer Experience Hinders Your Growth
The data confirms it – Customers value experience as much (or even more) as the price or product quality.
In fact, Oracle reported that 86% of customers would happily pay more for better brand experience. Granted, the company conducted this research a couple of years ago. But I don't think it's far-fetched to believe that these numbers would hold true today as well.
The above is particularly true in the light of the latest "Tech Vendor NPS and Loyalty Benchmark" report, in which Temkin Group states:
"Our analysis shows that NPS is strongly correlated to customers' willingness to spend more with tech vendors, try their new products and services, forgive them after a bad experience, and act as a reference for them with prospective clients."
And in August 2018, in another report, "ROI of Customer Experience," the company stated:
"The correlation between CX and repurchasing is very high (Pearson correlation= 0.82.)"
The 2018 Customer Experience ROI study by Watermark Consulting presents similar findings. The CX leaders outperform the laggards by nearly 80%.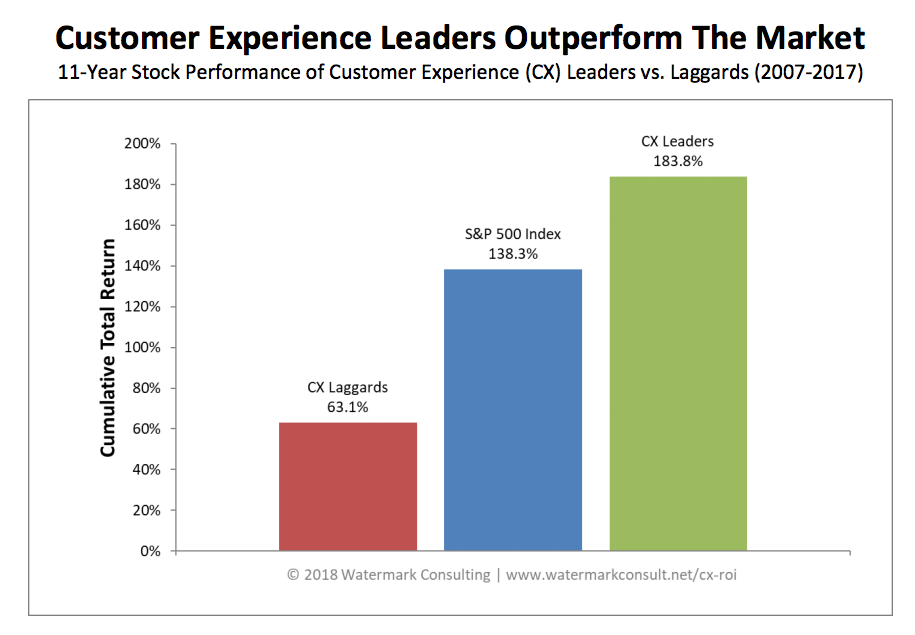 And finally, Walker Information point in their Customer 2020 report that in just two years, customer experience will overshadow price and product quality as key business differentiators. (Quoted via the Customer Think portal.)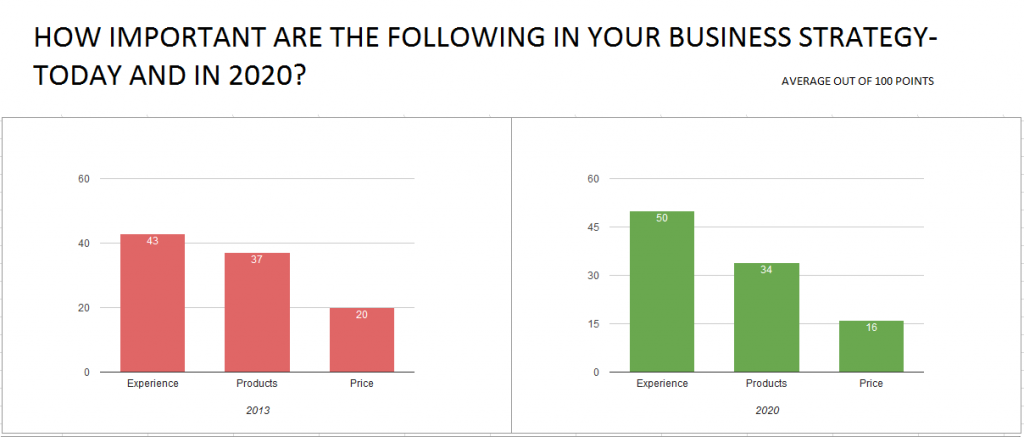 But the poor customer experience costs you more than lost sales
When you look at the key factors affecting the customer experience, you realize how many of them relate to the actual product usage, rather than problems with interacting with a brand.
Poorly designed features, site or product speed issues, a steep learning curve, confusing functionality or interface can cause users to struggle with a product.
Some of them will abandon a product. But many others may have no choice.
Take a simple Ecard platform. Customers would use it to send an important invitation. Yet they encounter confusing interface or functionality. If they're pressed for time, they, most likely, will push through, just to get the job done.
Unfortunately, in practical terms, the above would mean contacting your support to guide them through solving an issue they should have been able to complete on their own.
The result? Frustrated customers taking up your support resources and forcing many others to wait to get their more critical problems solved.
In fact, that's the exact problem one of our customers – Greenvelope – experienced first hand.
As Kyle Leesman, the company's CTO told us:
"In the early days, being able to reduce the manpower of our support team was key. Every import that came from CloudSponge was one that potentially might have needed our help and assistance through a more manual process."
(Read the full story about how using CloudSponge helped Greenvelope reduce support hours.)
Can you see the problem now? A simple product flaw affects your business in three ways:
It frustrates your customers,
Those people, in turn, block your support team,
And that results in even more angry customers, many of whom experience a more severe problem that needs fixing right away…
Let's illustrate this with an example.
Since we talked about an Ecard company above, let's assume that you run one. Your users turn to you when they need to send a digital card to a person or a group of people. And naturally, to do so, they need to import their recipients' emails somehow.
Which is exactly where things could get a little tricky. Because the process of importing recipient's emails might affect their willingness to use your product.
Although it rarely feels like that at first sight.
A user could simply type those emails manually, particularly if they needed to send an ecard to only a handful of people, right?
But what if they set the card up on a smartphone? The small screen would, most likely, provide insufficient typing experience to do so comfortably. And so, they give up.
Or what if they don't remember those people's email addresses? Naturally, they could go back and forth between their address books and your app, copying each email. But that's hardly an enjoyable thing to do too.
Another option. They could create a CSV file with all email addresses to which they want to send the card. And then, import it directly into your product. Sounds easy. Except that, I'd assume, most of your users won't be familiar with the file format or the process.
As a result, your support team would get inundated with questions and requests for help. Some users might inquire about the best application to use to create such a file. Should they use MS Office? Google Sheets? Excel?
You know it doesn't matter. But they don't.
Similarly, many might ask about the type of columns to us. Or whether to use quote marks or not? How to format the name field? How to name each column?
And while your support team would teach those users how to create an input file, other, more pressing support inquires would remain in the queue…
Let's illustrate the above with a real-life example from an actual ecard company, Macmillan Ecards. Macmillan offers only the two import methods I described above.
Their users could either type emails manually or import a CSV file.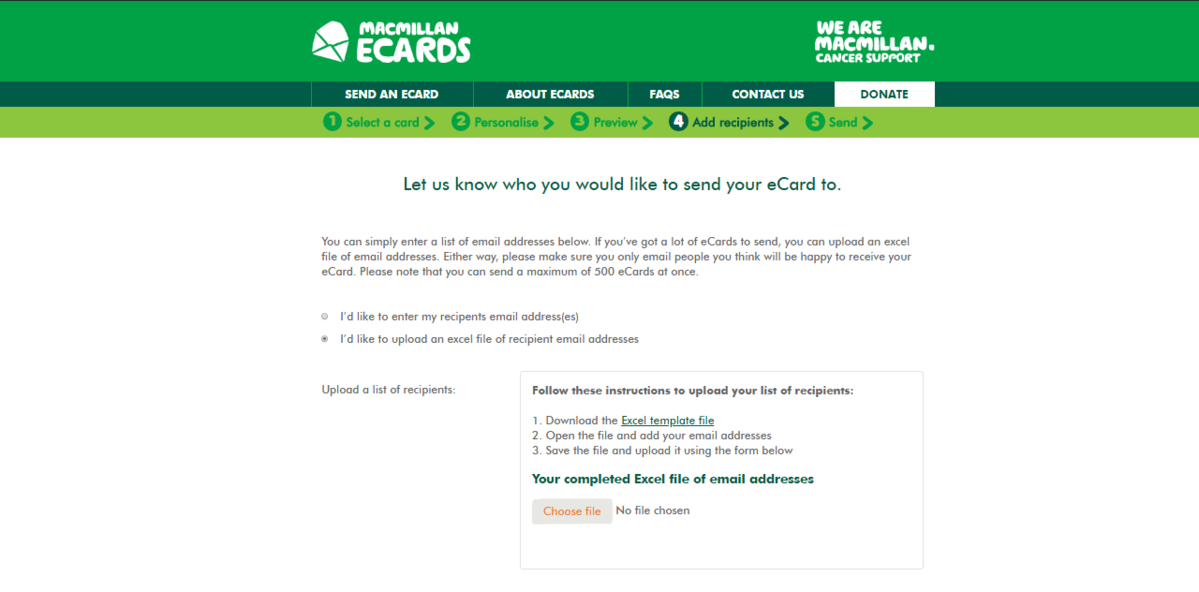 Note the complexity of sending an e-card to a larger group of recipients. To complete this task, a person must download a template file first, add any email addresses they want to use, save the file and upload it to the platform.
Unless the sender is indeed tech-savvy, the potential for error and blocking the company's support is significant,
Compare the above example with an e-card company we referenced already – Greenvelope.
The company's customers can add a list of recipients in other ways too. They could:
Manually type addresses, ideal if someone sends invitations to a small group of people,
Upload a spreadsheet full of contacts,
Copy and paste a list of emails,
Import from a webmail contact book,
Reuse information from previous invitations.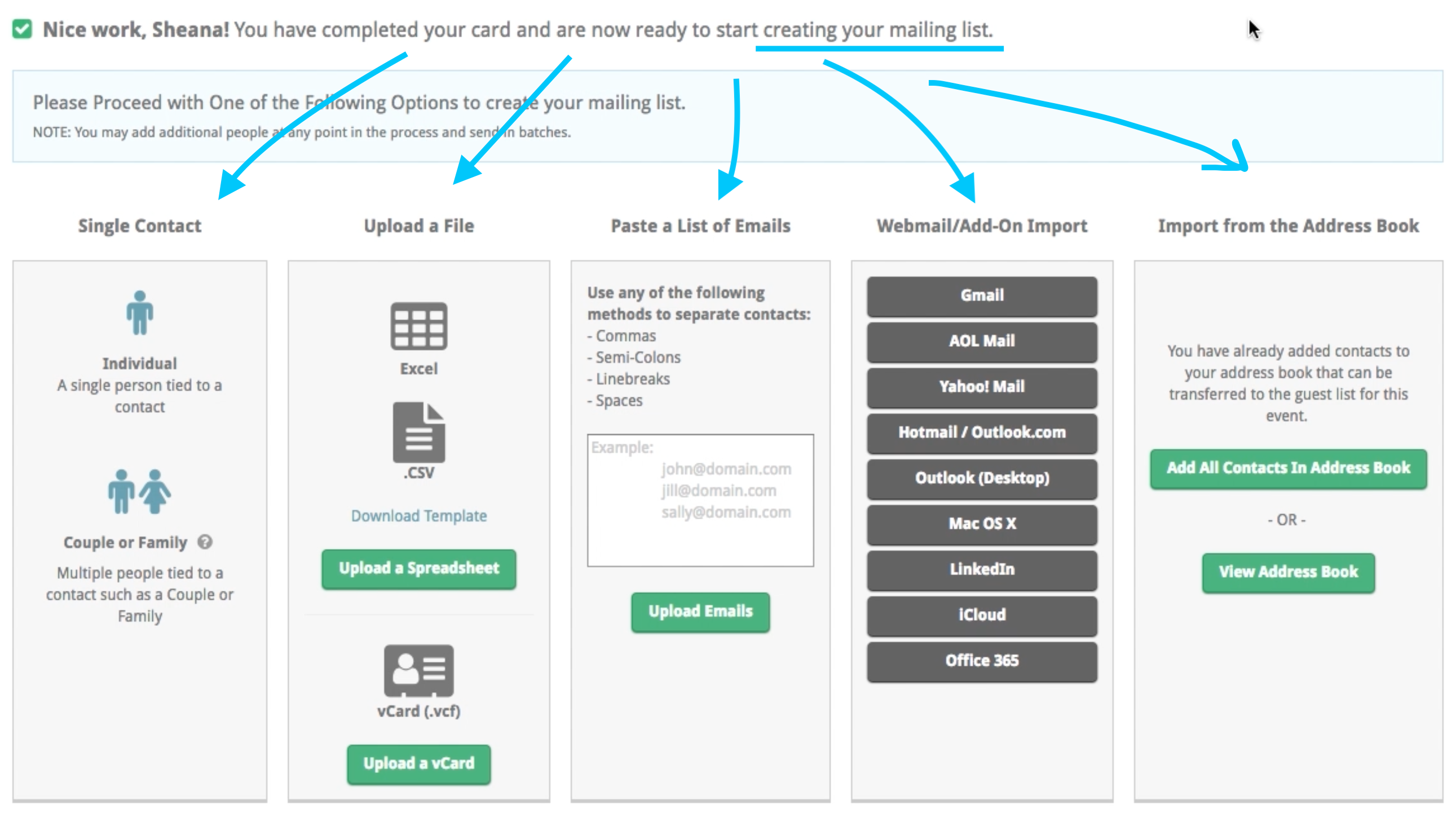 Some of the methods above require technical know-how, I admit. But others don't. And the sheer amount of options allows a person to choose a method they feel the most comfortable with.
The result, a significant reduction in the number of hours Greenvelope support team had to spend assisting customers in importing contacts to the platform.
In fact, that's exactly the problem that drove Greenvelope to seek solutions to improve their interface.
As the company grew, the time and man-hours needed to support users experiencing problems with manually entering or importing contacts began to increase at a worrying pace.
Not to mention, fixing those issues resulted in faster growth. Fewer users needed help completing the e-card sending process. And as a result, the churn rate dropped too.
And that's another outcome of user interface problems:
Churn
After all, faced with friction or frustration when using a product, users who could switch to another vendor, would. Those who absolutely must complete the task using the product might stick around. However, as you've seen already, they'll likely increase the strain on your support.
Tackling the above is critical from a growth perspective too. Not fixing those simple interface or experience issues exposes your business to lose the market share.
Another competitor could offer a simpler and more usable alternative and win your customers over.
Closing Thoughts – A Simple Way to Assess Whether Your Business Suffers from the Above Problem
Most support teams' inboxes overflow with inquiries and questions day after day after day.
However, as I reasoned above, not all of those customers would need assistance. For that to happen though, you'd have to fixe user interface issues these inquiries relate to.
And so, the first step would be to identify what issues you could eliminate this way.
Review your customer support conversations, looking for patterns relating to the user interface.
Perhaps there's a particular feature or functionality your customers struggle with regularly. Or they ask about a step in the process you don't have.
These might indicate challenges with your user interface. And the opportunity to overcome them by fixing the overall experience.
Want to see how CloudSponge could help you add address book importing to your recipient list creation interface?
Schedule a Consultation
Reach out by Email
Join us on Slack