DonorsChoose, the crowdfunding platform that helps teachers and educators raise money for classroom projects and education materials, wanted to improve the success rate for teachers using the fundraising site. The DonorsChoose Product & Engineering team analyzed user activity and found that when teachers shared their crowdfunding request with their network of friends and family, they were far more likely to reach their funding goals. In response, the team began to search for ways to improve the platform and make donor solicitation and project sharing an easier and more seamless part of the user experience.
About DonorsChoose
DonorsChoose was founded in 2000 by Bronx teacher Charles Best who believed that there were plenty of people who would be willing to help fund classrooms in need if they knew where the money was going. He started a website where teachers request support for classroom resources and experiences. The concept caught fire, and it wasn't long before teachers across the country were using the crowdfunding site to improve education in classrooms across America.
In 2007, backed by additional funding, the website was opened to every public school in the United States. Remarkably, at least one teacher at 75% of schools in the US has created a project on the DonorsChoose platform.
More impressive is the amount of money that DonorsChoose has helped funnel into classrooms across the country since its inception. To date, the website has raised over $550 million dollars with almost a million projects funded on the platform. In the last year alone, DonorsChoose has raised over $100 million dollars for students and teachers in need of additional funding. The site has impacted the quality of education for more than 24 million students in US schools.
How It Works
DonorsChoose helps classrooms seeking funding on the platform by connecting them with two major sources of support: 1) individual "citizen" donors and 2) corporations and foundations looking to make an impact in classrooms.
About half of all donations, Pearsall explains, comes from corporation and foundations such as Chevron, Google, and the Bill and Melinda Gates Foundation. "These sponsors will often fund projects to make an impact in their communities or match existing individual donations to meet funding goals," says Chris Pearsall, VP of Brand and Communications.
"The other half of funding comes from individual donors just like you or me giving $5 or $10 dollars at a time because they find a project that inspires them," explains Pearsall.
Connecting classrooms with individual donors in combination with matching donations from larger organizations is the true power of a platform like DonorsChoose. "We see ourselves as different than other crowdfunding platforms because we've built a community of people and organizations who want to support education, even if they don't know the teacher they're helping," says Pearsall.
A Boost From The Personal Network
Since donations come from different sources, there are several factors that impact which projects are successfully funded. How a teacher launches a project plays an important role in how successful a funding bid is, says Tea Ho, Product Designer at DonorsChoose:
"Initially, we at DonorsChoose took it on and did a lot of the work to help projects get funded and didn't ask very much of [teachers.] We've found that when we encourage users to share their projects with their friends and family that it really unlocks opportunity and funding that hadn't been there before, because getting even one donation on a project can build that project's momentum and inspire strangers to support it," says Ho. "It's important for us to give teachers tools to easily import their address books and email their contacts because reaching out to their networks is critical."
More than half of individual donors come from the immediate network that's locked away in email address books and contact sources. "We see that just over 50% of our individual donors know the teacher they are supporting," Ho adds.
On top of that, starting with a teacher's immediate network increases the chances of receiving funding from other donors, says Pearsall. "The initial support that teachers bring to their own project boosts a project on our site, which helps unlock more dollars from other donors and corporate and foundation partners."
That makes a smooth and seamless contact importing process essential to the early success of a project, providing an initial boost of donations and wider access to funding sources through the DonorsChoose site.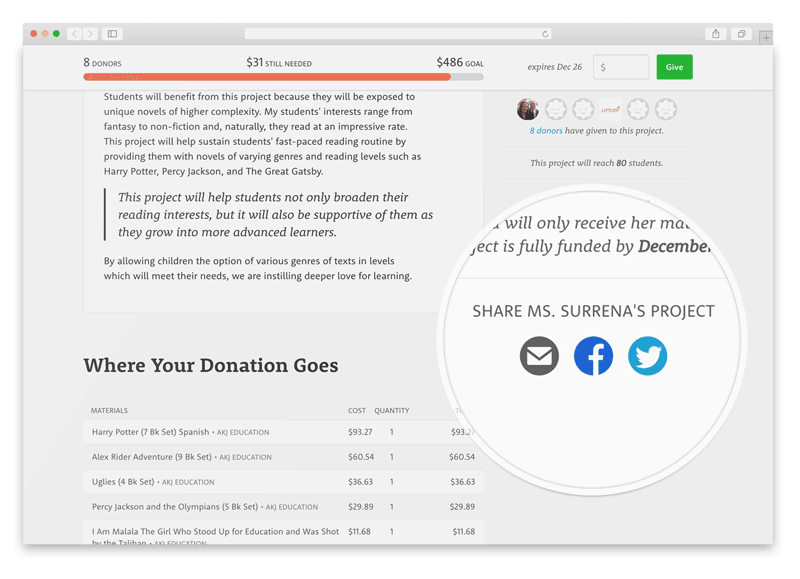 Tapping The Inbox
In early iterations of the DonorsChoose platform, projects could be shared with a manual tool that allowed email address inputs for sharing. However, Tea Ho shares that this presented several limitations. "Before we used [contact importing], we let users enter hand-typed emails," Ho says, "The problem was we got a lot of bad email addresses and it was difficult to track the number of email addresses imported."
The benefits of contact importing seemed obvious–giving users access to contacts in their address books or contact sources would encourage more sharing and more accurate information. The improved volume and reliability in sending donation requests was likely to significantly increase donations.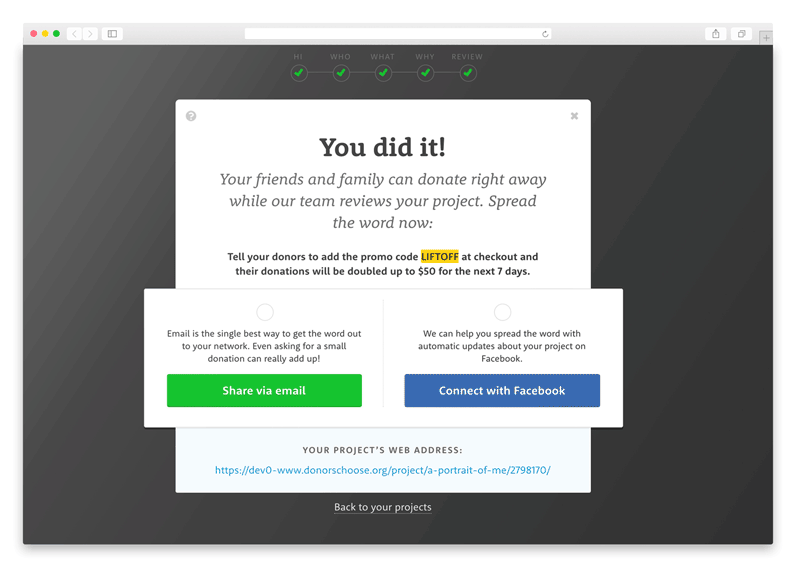 The "build or buy" discussion familiar to almost any engineering team began to point to finding a vendor to provide integrations with some of the most common contact providers such as Gmail and Yahoo: "We're a nonprofit and even though we have this awesome engineering team we are small. We have fewer than 20 engineers, so when it comes to time spent completely hand rolling a product like this, we don't have the resources to do that and do everything else we need to do for our site," Ho explains.
DonorsChoose began the search for a way to provide contact importing services for the site and stumbled upon a now-inactive vendor called Plaxo. "The company only existed for a year or two," describes Ho. "Eventually, their team pointed us to CloudSponge as the best solution when they shut down."
In 2012, DonorsChoose implemented CloudSponge and had the integration completed and quickly rolled into production, reducing the project timeline from months to weeks. "It was not a huge project and fairly simple to integrate," says Ho.
Immediately, the DonorsChoose platform presented users with an easy to use interface for spreading the word about funding requests with friends, family, and potential donors. More, even, than was available previously or with competitors. "With the other options we explored… the contact importing was lacking. A lot would offer just Gmail or Yahoo, but a lot of teacher networks that are based on their school use Outlook, Hotmail, and other email options. That's something CloudSponge offered us."
Those opportunities were then added to various places across the site, including the project creation workflow, project description, donors' thank-you page, and more. The added opportunities gave donors more chances to connect their network with teachers in need.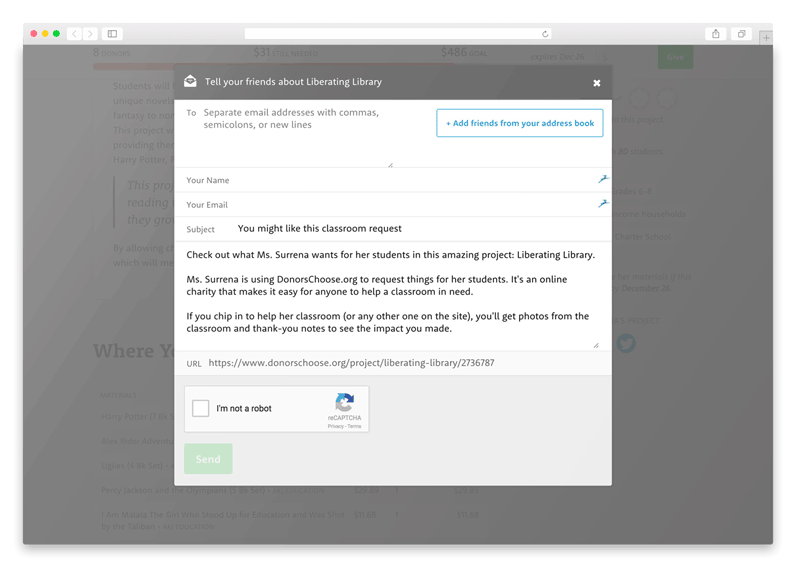 Impact
The impacts of implementing CloudSponge for DonorsChoose were felt immediately at the company. Previously, email contact imports was arduous to track and measure but with CloudSponge a tracking process that was difficult became immediately visible to measure and improve. Using tools available within CloudSponge "we were better able to track our success. Before, we had a difficult time tracking how well our emails did, but the integration with CloudSponge gave us better visibility into how that was happening."

Our three year average in a before and after [CloudSponge] comparison…resulted in a 65% increase in the number of emails sent.
The results would prove to be significant. Using data available from their email delivery platform, DonorsChoose saw a large uptick in emails soliciting donations for projects on the platform. "Our three year average in a before/after comparison…resulted in a 65% increase in the number of emails sent."
More emails means greater awareness for projects, which means more donors and more frequent donations. As a result, Ho implies, more projects are funded, and more materials are provided for students. "It's absolutely had an impact," Ho adds.
As an added benefit, integrating with CloudSponge has allowed DonorsChoose to make major evolutions in their contact importing UX with minimal effort. When mobile-friendly interfaces became necessary to serve their increasing mobile traffic, CloudSponge offered a mobile-friendly widget upgrade so they could better serve their mobile audience. "In 2015 when CloudSponge upgraded the widget experience it took less than an hour to upgrade which is a huge time-saver. It would have taken more than a month to design and implement."
All in all, the CloudSponge implementation allowed DonorsChoose to focus on their core business and drive bottom-line metrics that make a difference in classrooms across America.
"It's awesome," says Ho.
Start your 14-day trial now
No credit card required until you're ready to go live!