Nextdoor, the private social network for neighborhoods, knew that driving platform growth meant leveraging human connections. By optimizing invitation flows with CloudSponge, Nextdoor uncovered a viral growth strategy that allowed rapid growth in the United States and internationally.
About Nextdoor
Nextdoor is a social networking service for neighborhoods that allows users to connect with people who live in their own neighborhood and nearby areas. The company launched in the United States in 2011 and since has rapidly grown into markets such as the United Kingdom and Netherlands.
Nextdoor prides itself on tapping into residential communities and offering a solid ecosystem in which neighbors can connect, meet, and exchange information. The Washington Post quickly recognized when Nextdoor launched that the then small company "seems poised to ride the wave of people's desire to connect back to their community".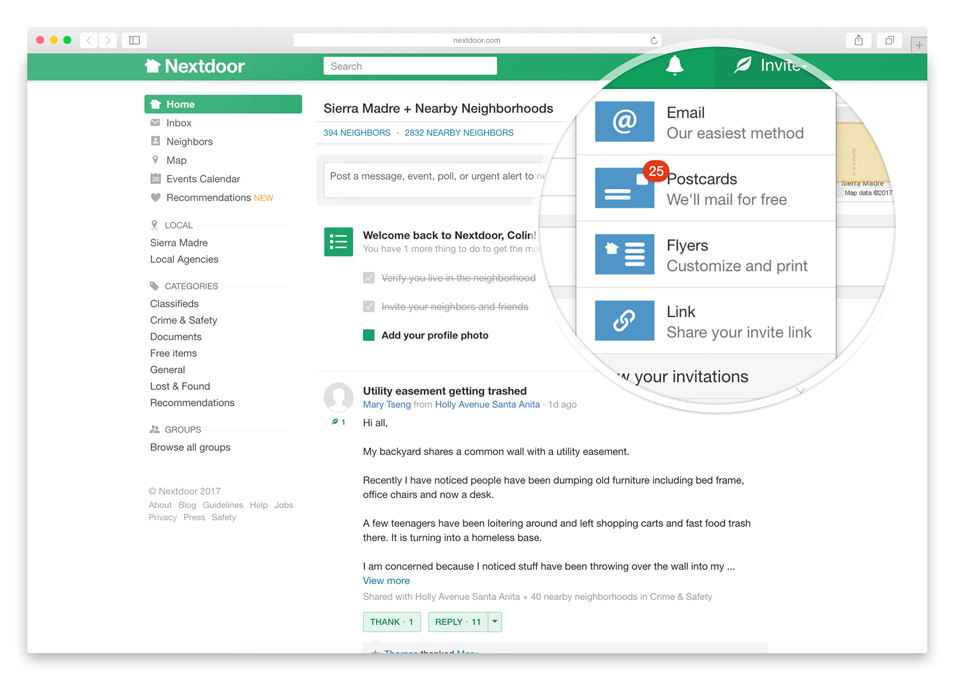 Prompting users to send invitations to users via email is the "easiest method" and responsible for a great deal of Nextdoor's viral growth.
Nextdoor has helped their users connect with those around them through two major invitation channels:
Sending physical postcards to nearby neighbors
Users sending email invitations to friends and neighbors found in web-based address books
"Email is one of our largest channels in terms of viral growth and Nextdoor is certainly a viral growth story. Invitation flows are extremely important and CloudSponge is the nexus of that," says Alex Karweit, head of growth engineering at Nextdoor.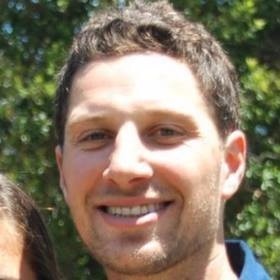 CloudSponge has been an important driver of viral member growth because it allows those who are motivated to invite to do so in bulk.
Contact Importing For Invitations
As early as 2013, Nextdoor identified that a solid invitation strategy was a critical component to penetrating neighborhoods and began experimenting with integrating address book importing into the onboarding experience.
The key, Nextdoor found, was making it as simple as possible for users to invite people they know using the information that is often locked away in Gmail, iCloud, or LinkedIn accounts. By giving users access to those address books in a few clicks without leaving the Nextdoor website, invitations went out more frequently and in larger numbers. Ben Springwater, product manager at Nextdoor, sees the power in those elevated invitation numbers every day: "CloudSponge has been an important driver of viral member growth because it allows those who are motivated to invite to do so in bulk."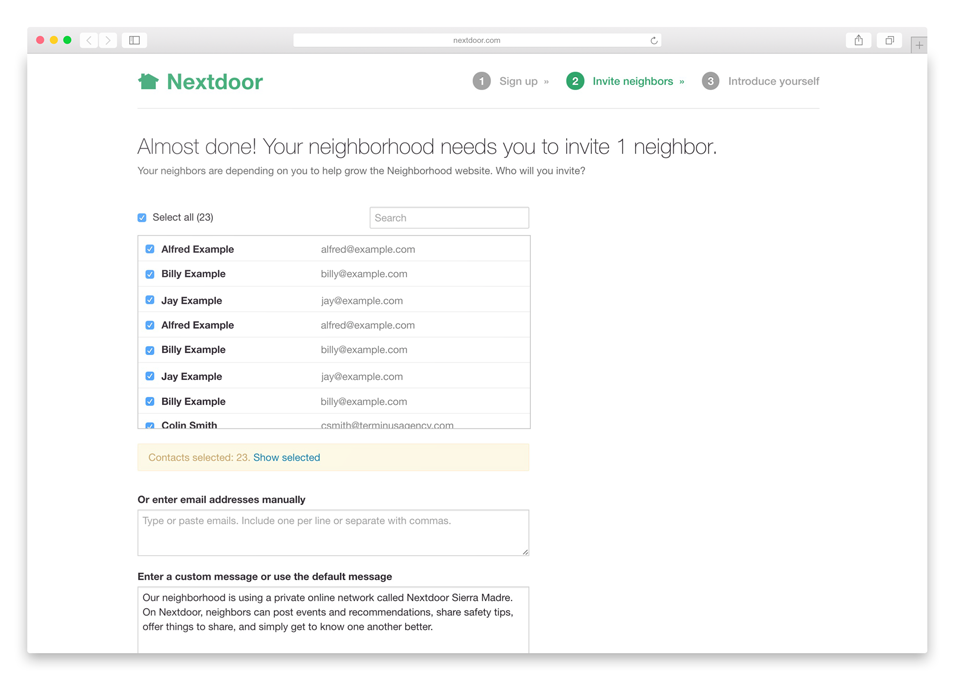 In just a few clicks, it's simple to invite dozens of neighbors from your address book thanks to Nextdoor's integration with CloudSponge.
However, Nextdoor has been incredibly proactive in optimizing how users are given the opportunity to send invitations. The growth team has continuously tested messaging and timing of when the Nextdoor application present the opportunity to invite friends store away in address book sources. "We've been making some changes that optimize our flows so that incoming members will be able to more easily connect with more neighbors and bring more neighbors onto the platform," says Karweit. "We've made some adjustments to how we've asked people to invite others and thought through why they might want to send invitations. I pretty quickly realized that it works well."
Well enough that address book imports have spiked more than 300% as the company continues to grow. By carefully testing and optimizing the onboard and invitation flows, Nextdoor has been able to drive consistent, viral growth by leveraging address book importing: "We've done hundreds of experiments…if it went up and it stayed up, it means it got better."
Speed Is The Key
One of the added benefits of integrating with CloudSponge has been the speed with which Nextdoor has been able to integrate several address book sources and the reduction in maintenance costs that comes with maintaining several different APIs and authentication streams.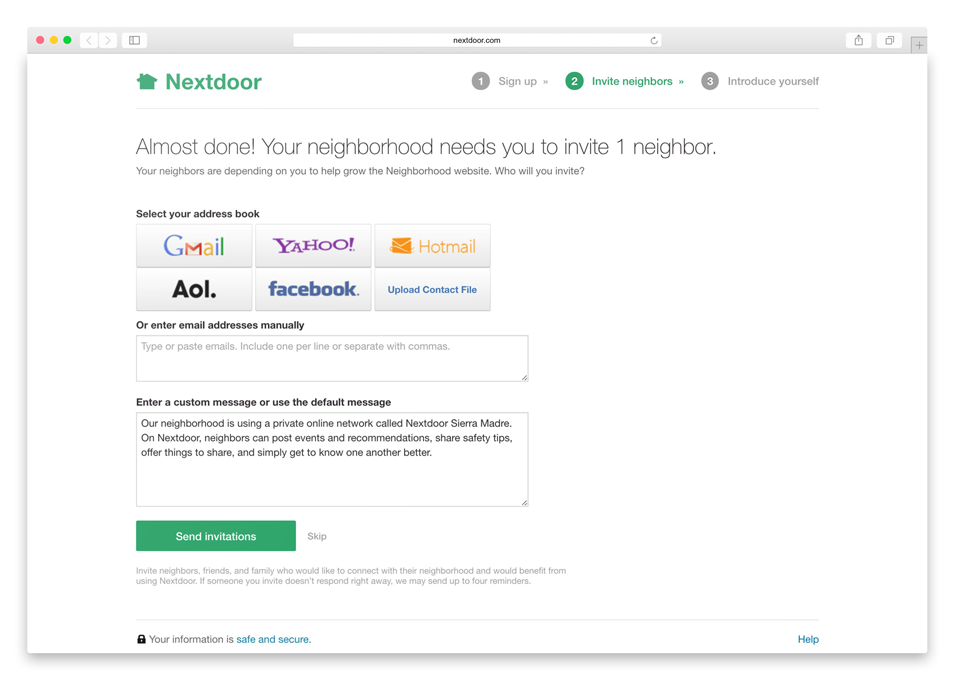 Nextdoor is able to rapidly add new contact sources based on country and region due to their integration with CloudSponge.
"For us, it's all about integration time, so CloudSponge basically knocked out a dozen major webmail providers in one fell swoop. If we had to do it ourselves, it probably would have been a decent amount of work it wouldn't make sense to do it. Without being unsexy about it, the CloudSponge software just works and it saves our team a lot of time and allowed us to have leverage to grow more quickly. "
This phenomenon, however is not limited to address book importing for platform invitations. Karweit reflects, almost philosophically, about the power of outsourcing specific application functionality to third-party software vendors with a focused product strategy.
"In the mid-90s, the cost to get a company off the ground and do things was 10x of what it is now because you didn't have AWS, you didn't have all these 3rd party plug and play software packages that allow you to get leverage to go fast. CloudSponge and applications like it have allowed us to go fast, and it may not be on the scale of something like AWS, but they certainly all add up."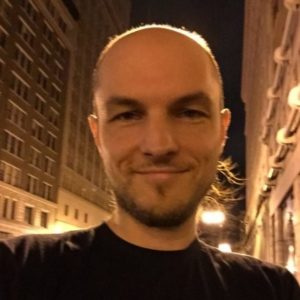 Email is one of our largest channels in terms of viral growth and Nextdoor is a viral growth story. Invitation flows are extremely important and CloudSponge is the nexus of that.
International Expansion
In 2016, Nextdoor began their rapid international expansion into the Netherlands and continued into the United Kingdom in February of 2017.
"One of the main initiatives that the growth team is working on is that we're going internationally. We're already in the UK, we're in the Netherlands, and we'll go into more countries. In every country, email is one of our larger invite channels, and every country has different domains and mail servers, so one of the things I've realized recently is the benefits of CloudSponge is handling that. That will be a big load off our shoulders, it's variable cost of going into new countries that we want to keep low."
The ability to scale with tools like CloudSponge is critical to not losing momentum as Nextdoor continues its international expansion. With every new country, there comes a host of new potential contact sources and languages. Instead of wasting development hours configuring integrations and APIs for every individual webmail service, CloudSponge offered Nextdoor a single integration point and reduced the man-hours dedicated to maintaining APIs when they contact sources changed.
"When you're talking about [integrating with] something like Gmail, it's one provider so it's not that big of a deal. It's a bigger deal when we're in 50 countries and their are 60 email providers. You start thinking about the fact that one of those address book sources is going to be changing." Every change, he notes, is potentially a lost batch of new users, broken API connections, and time to fix the integration.
"It's kind of like the birthday problem," Alex describes. He continues to describe a scenario where in a large enough group, someone is celebrating a birthday nearly every day. It's the same with expected changes to APIs over a large set of address book providers. "One of them is going to change and it's kind of like playing whack a mole." Reducing that problem by delegating the API maintenance to CloudSponge has been critical for moving quickly Alex believes.
"That's where we feel that CloudSponge has shined for us. As we continue to scale internationally we'll continue to see those benefits."
Editor's Note: If you're interested in learning more about how Nextdoor uses CloudSponge, check out our complete teardown of Nextdoor's invitation system.
Start Your Trial Now
No credit card required until you're ready to go live!