It's no secret that referrals, particularly those coming from friends or family, beat every other growth strategy.
By a mile.
Yet so many businesses set up their refer-a-friend programs in a way that nobody could ever use it.
They bury them deep in the interface, make the sharing process obscure and some never even consider asking users for help.
In this post, you'll learn how to do the opposite – optimize the friend invitation program to get users to tell others about your product.
Let's begin.
The Mechanics of Refer a Friend Programs
Note: we've published a complete guide of psychological drivers that make someone to share a product. I recommend that you read it too. It'll help you understand how to convince a person to tell others about your brand better.
In this section, however, we'll focus on how the referral process works.
And it's actually quite simple.
A customer loves using your product. And because she finds it so helpful, she decides to invite friends to check it out.
Her friend receives the invitation and visits your site. If they like what they see (and of course, assuming they also have a problem your product helps alleviate), they sign up.
From then on, your onboarding process takes over, aiming at converting them into a user or enticing them to continue using the product, whichever option applies to your sales process.
Now, if we divide the above process into stages, we can form the actual friend referral funnel: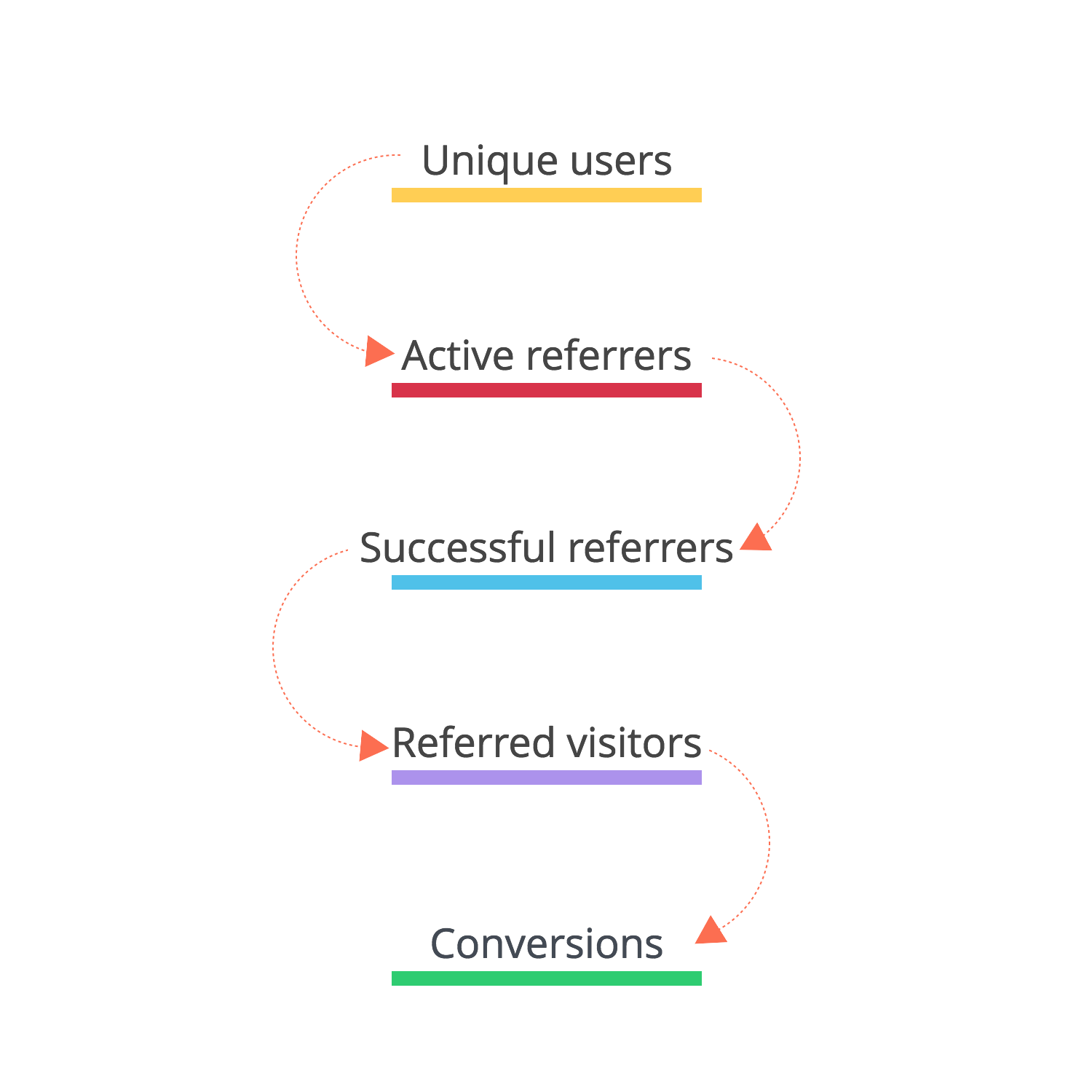 Let's take a quick look at its stages:
Unique Users – this category includes your entire user or customer base that actively engages with your product.
Active Referrers – these are the people who have noticed and interacted with the refer-a-friend program.
Successful Referrers – active referrers who completed all the steps in the friend invitation process (meaning, sent a referral)
Referred visitors – referral recipients who engaged with the message and visited your site, and finally,
Conversions – referred visitors who signed up for your product or platform.
Now, the above also suggests that your referral program has two separate objectives:
Take as many people in the first stage – Unique Users – to notice your program (stage 2), and then, send a referral (stage 3)
Convert as many referred visitors into users or customers (stages 4 & 5)
In the sections following, you'll learn how to optimize the program to meet the first objective.
How to Optimize a Refer a Friend Program to Inspire Users to Share Your Product
At the start of this post, I shared with you some reasons why many friend invitations fail – inaccessibility, difficulty and poor communication.
What follows are four ideas to help you overcome them.
1. Simplify the Sharing Process
Here's a statistic that amazes me every time I read it:
83% of people are willing to tell others about a product after a positive experience with it. Yet only 29% of them actually do it.
Crazy, huh?
Then again, I bet it's because the rest simply doesn't know about the referral program (and are probably too lazy to go through the process manually – write the email or social updates and post it to their friends).
In fact, Texas Tech University, whose research yield the above data also admitted that the single problem with a lack of referrals is that companies do not actively ask for them.
They bury it deep in the interface, in a place where hardly any user would venture.
This company, for example, lists the affiliate program in a section of the main navigation that's not even labeled (if you don't count the three dots):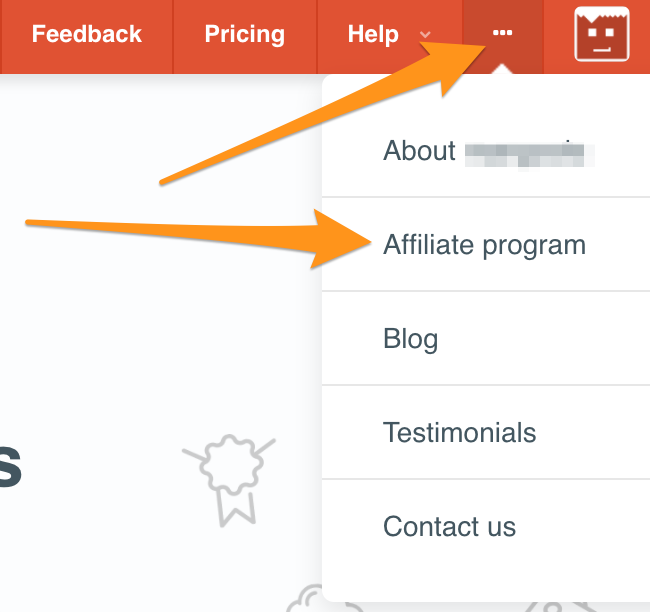 I admit that I have no idea how many of their users click on the link to access that part of their site. I know I didn't until I began looking for examples for this post (and I've been using their product daily.)
In comparison, this software company keeps the link to their referral program visible on screen all the time.

Now, I agree, a refer a friend program shouldn't take center stage in the app.
But to ensure users avail of it, at a minimum, it should be noticeable and easy to access.
Examples:


Similarly, make the whole process seamless.
If you want users to share the product on social media, give them quick and easy access to sharing options.
If you want them to email friends about you, ensure that they don't have to go through any hoops while doing so. For example, provide them with an easy way to import their friends' emails into the app, and fire off the referral message in a jiffy.
As Jay, CloudSponge's CEO, points in this Growth Hackers discussion:
"Don't make your users type anything, especially things they have to go look up like their friends' email addresses. Just give them a way to select recipients from their contacts and hit "Send". Your conversion rate will go down with every friction point you insert into the form."
2. Communicate with Users About the Program Outside of the Product
Don't be afraid to ask your users to help.
Remember, we already established that the majority of referral programs fail simply because businesses never tell their users about it.
Here's how you could change that.
1. Email users about your program.
Here are two ways to do that:
If you've only launched the program, announce it to your entire user base through a newsletter or other email formats you use to communicate with them.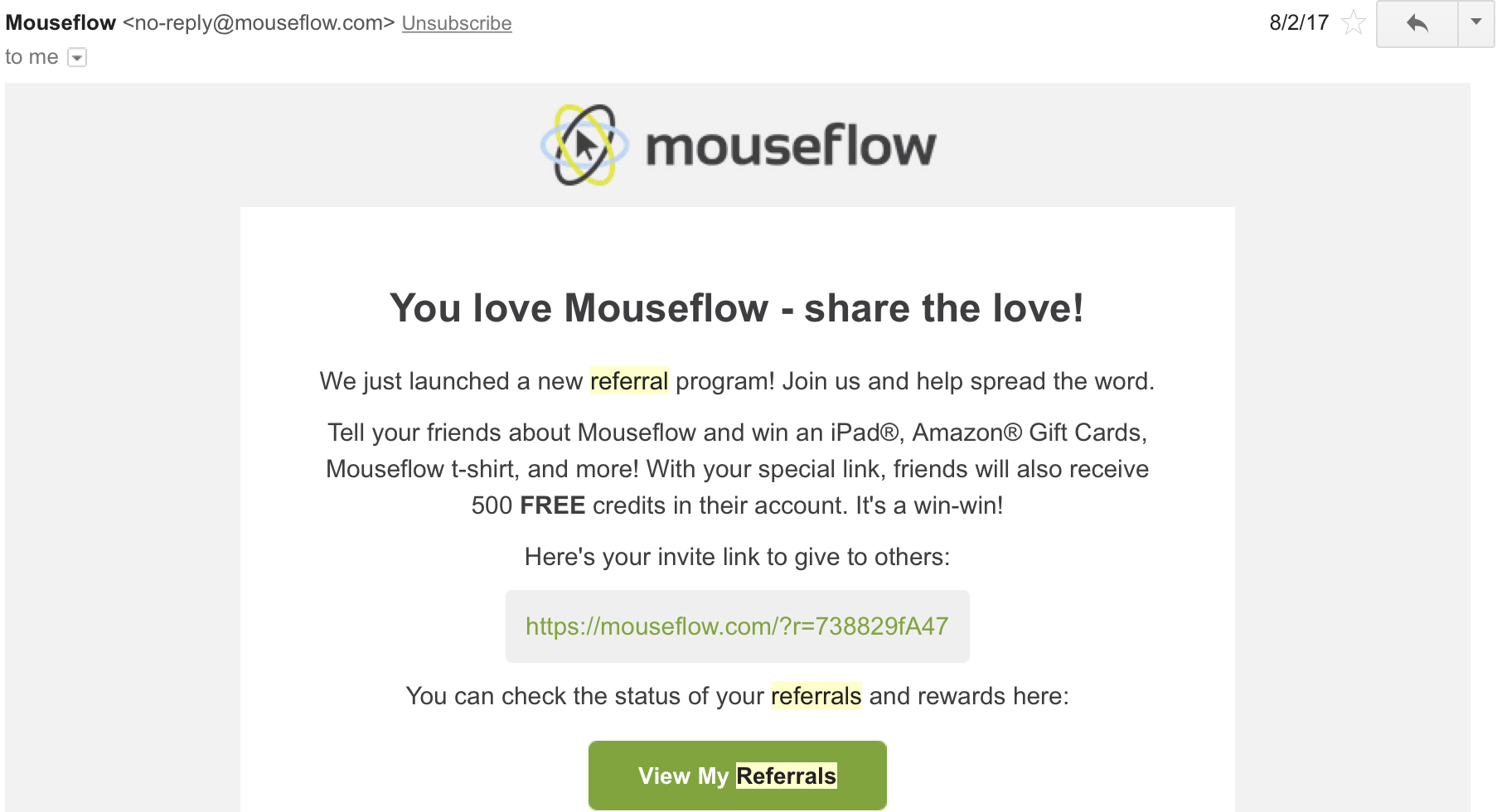 In case, if your program has been running for a while, email your most engaged users about it. After all, they're the most likely to love your product, and in turn, be willing to help promote it.
2. Display an in-app message introducing them to it.
Again, target users by engagement to target your program better.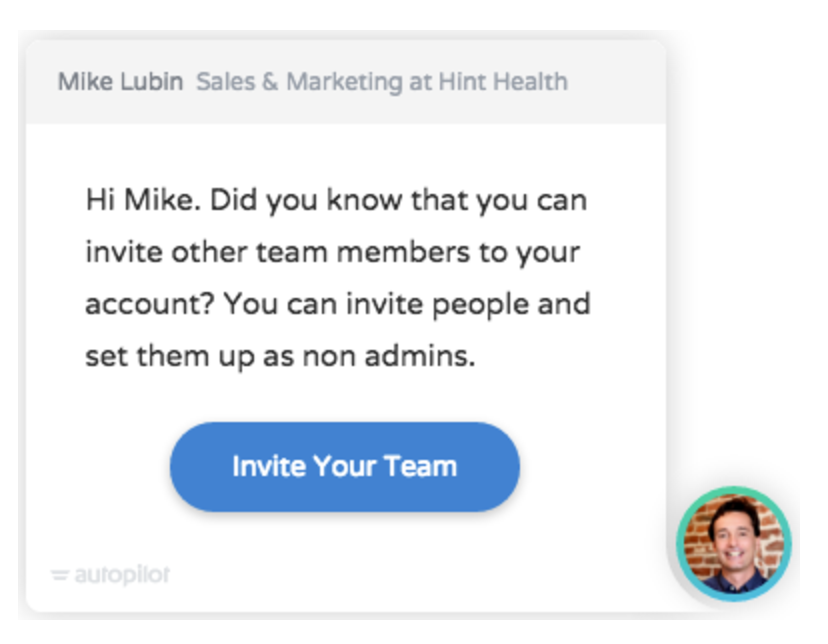 3. Add it to your login page.
This is particularly helpful if you run a browser-based software. After all, most of your users will see this page every time they come to use your app.
4. Add info about it to your company email signatures
Many of your colleagues, particularly customer teams will regularly email with users. And every such interaction offers an opportunity to introduce your program.
Now, naturally, they shouldn't be openly promoting it, particularly if referrals aren't the premise of their communication with a user. But they could gently point them towards your program by including short info about it in the email signature.
5. Run social ads to promote the program
I admit that perhaps a full blown campaign mightn't be the best idea. However, you could, for example, use targeting options like Facebook's custom audience to target your users only, and remind them about the program.
3. Provide Users with More Options to Share
Not every user will want to post about your product on social media.
Then again, some might actually prefer that to email. And others could simply want to post about your app to their colleagues on Slack.

Which means that offering a single sharing channel is likely to help generate referrals from a small group of your users only.
Here's an example. This company offers a proper referral program. But it allows users to share their product via Twitter only.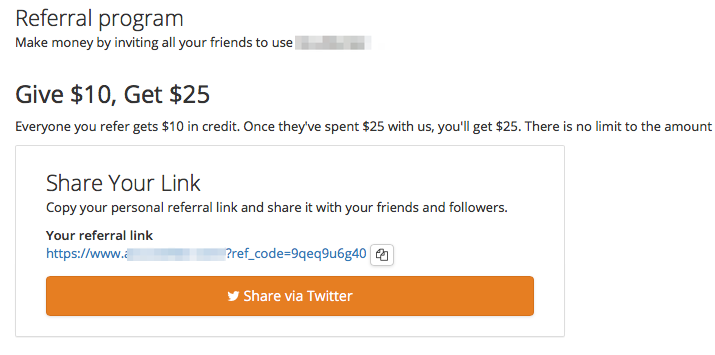 Giving users an option to choose from many channels, however, extends this to pretty much anyone willing to talk more about your brand.
The most popular sharing channels are:
Social media platforms – Twitter, Facebook and any other site that your audience would use.
Email – allowing users to send referral emails directly from the app
Sharing links – a short, personalized link someone could copy and paste to Slack or any other communication tool they use. This is particularly useful if you offer referral rewards and need a way to track user recommendations.

4. Offer Rewards and Incentives for Referring Friends
Some users will recommend your product on their own accord.
Many, however, would need an incentive even to consider it.
But let's get one thing straight here – there is absolutely nothing wrong with rewarding users for helping you grow the brand.
After all, they absolutely don't have to do anything to promote your product. It's perfectly alright for them to get something extra for their effort.
Having said that, you don't have to offer a reward. Your program could run equally well without it. In fact, for some business types, the reward might actually prove detrimental.
What makes a good referral reward?
Companies typically use one of the two types of rewards:
They reward users with the ability to use premium or high-level features for free, or
Offer actual payment, in case of many affiliate programs.
Here are some examples of different referral rewards:
Evernote offers points you can redeem for your Premium subscription:
This company matches the reward to what a referred user had spent with them:

SEMrush offers cash – a hefty 40% of the recurring affiliate sales:

And the well-known Dropbox program rewards referrals with more storage space:

Closing Thoughts
There are just so many benefits of having a strong refer-a-friend program – faster growth, greater customer LTV and more.
Yet so many businesses set up their referral programs in a way that nobody could ever use it.
In this post, we've shown you strategies to do the opposite – optimize your program to inspire more users to talk about your brand.
And all that's left now is to go and implement those.
Good luck.