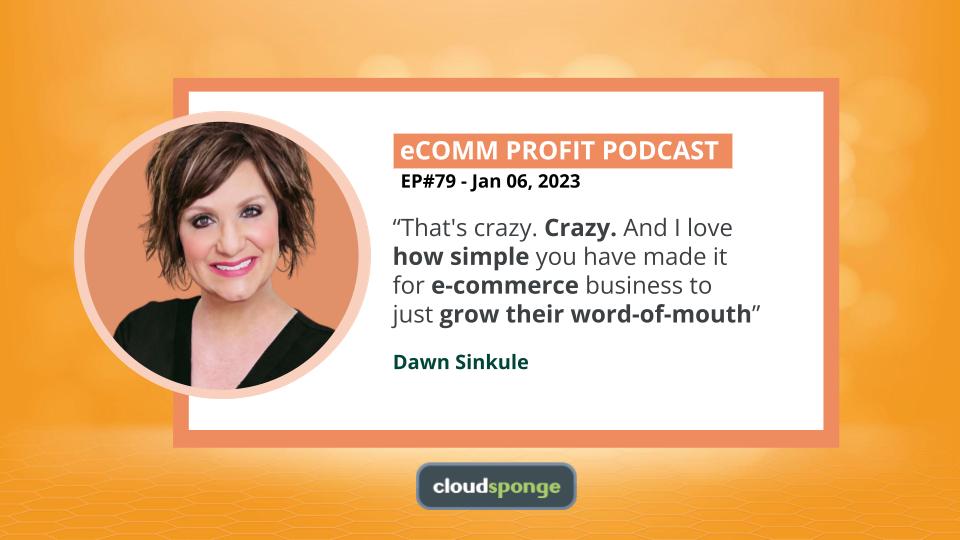 Dawn Sinkule, the host of eComm Profit Podcast in conversation with our CEO, Jay Gibb, explores how a contact picker can be leveraged to acquire more e-commerce acquisitions via an optimized sharing workflow, and email personalization that gets you better email open rates.
Via anecdotal evidence from CloudSponge customers such as Stitch Fix, JustFab, and many more – discover just how a single button can be game-changing when growing an e-commerce business via word-of-mouth marketing.
Podcast Transcript
Dawn Sinkule:
Welcome to the eCom Profit Podcast. I'm your host, Dawn Sinkule, CEO of Digital Dawn, and I'm so excited to be here with you today. Here on the eCom Profit Podcast, I open Pandora's Box, and share with you and other eCom business owners weekly topics that will help you explode your business online. I outline my tried and true secret sauce, the D-to-D method that's guaranteed to bring your business results. As an entrepreneur myself, I try to pull out all the same entrepreneurial passions in others. So get ready to be fired up about your business and let's have a great time.
Welcome to the eCom Profit Podcast. I'm your host, Dawn Sinkule, and today we have a very special guest, Jay Gibb, who is a former software engineer and the founder and CEO of a B2B SaaS company CloudSponge.
I am excited to have Jay on this podcast today because I think he's going to bring us some really interesting insight on how we can, as eCom business owners, help grow and expand our customer acquisition and increase sales. So Jay, welcome to the podcast. I'm so happy to have you.
Jay Gibb:
Hey, Dawn, thanks for having me.
Dawn Sinkule:
So Jay, before we get started, tell everybody about your work background as a former software engineer getting into the eCom space. Kind of tell us how this came to be and how you developed CloudSponge.
Jay Gibb:
Yeah, sure. So I started off after college being a programmer, a developer, and eventually evolved that or sort of expanded my horizons into being more entrepreneurial. Rather than just working for other people, started to build things that I owned, and started sort of be a software founder. And along that journey, it came CloudSponge, which is what we're here to talk about today. And it's kind of a classic story of scratching your own itch and then realizing that a lot of other people had the same itch. And so at this point, I was already not a developer anymore, and I had a team, my team built it for us, but what we built was a connection to all of the world's address books. And I won't get into why we built it because it's irrelevant now because this was 2010. So this is 12 years ago, it's ancient history-
Dawn Sinkule:
Years ago.
Jay Gibb:
But the important part is we basically built a way to ingest all the address books from Google and Yahoo. And at the time it was Hotmail and AOL and all the different brands of Microsoft, Windows Live and MSN. And-
Dawn Sinkule:
Yeah, I remember.
Jay Gibb:
And back then people used Outlook for desktop and Thunderbird and you name it. And so we basically built this machine that was able to get all that information with the user's permission and parse it all and sort of normalize all the data into a consistent format and make it available on a webpage.
Dawn Sinkule:
Got it. Okay.
Jay Gibb:
So that your users, the people that are visiting your website would be able to see and select people from their own address book while they're on your website. Right?
Dawn Sinkule:
Got it.
Jay Gibb:
And then sort of fast forward a few years that sort of ended up dragging us into the eCommerce space, we didn't originally build it for eCommerce. We built it for ourselves, and then as we were building it, we discovered all the other people that had the same itch and we're also building integrations with Gmail and Yahoo and all the different Comcast and all the different providers and everything. And so we put a price on it and made a webpage out of it, called it CloudSponge, and started marketing it. And then we figured out why do people want it? We weren't clairvoyant enough to actually understand the use cases. We just sold it and we described the features and described it, and we got a lot of really positive responses from developers that really didn't want to build this themselves or didn't want to maintain it themselves because it's hard to do, it's complicated software.
And then over the years that followed, we got enough customers and we spoke with them and we looked at their websites and we started to characterize the use cases and understand, so there's this use case for eCommerce where people want to use it for sending referral program links or coupon links or sharing a wishlist for a gift registry. And those types of use cases where historically and maybe today previous, some of your listeners have a field somewhere on their website where they're expecting their user to type in a comma-separated list of email addresses. And maybe it's to send a referral code or a coupon or invite them to a registry or a wishlist. And that just sucks. It just doesn't work. Nobody does it like-
Dawn Sinkule:
All the eCom business out there saying "Yes, amen. No, nobody does it."
Jay Gibb:
No, they probably have it and it doesn't work very well, especially if the user is on a mobile phone who's got the patience to type in email addresses one by one. And one of the things that's really important with eCommerce is you don't want to lose your user. You don't want them to abandon-
Dawn Sinkule:
Yes, that's true.
Jay Gibb:
There's a whole vertical of businesses just around cart abandonment. There's like people abandoning their shopping experience is a no-no. And so if you can give somebody a way to stay on your site and click on a button, like an 'Add from Address Book button' or a 'Pick Contact button' or a select friends button or whatever you want to call it. And make it so that they click it, they provide permission to read their contacts, and then they see an alphabetized list of their whole address book. And it looks beautiful, of course, on a mobile device and on your phone it's got the little alphabet down the right margin, so you can jump to different letters of the alphabet and a search field at the top. So you can type in whatever you remember. It helps you find people and then you select the people you want to find and submit what we call, it's the contact picker. Submit the contact picker and then it goes away. You're still on the eCommerce website, but now that field is perfectly populated with all the email addresses in a formatted separated list, and everybody wins.
They got what they wanted. You kind of avoid this really painful frustration of inputting lists of email addresses. And it's literally as simple as just adding that one button to whatever form-
Dawn Sinkule:
It's like magic.
Jay Gibb:
You already have. Well, it's not magic, it's a lot of work for us.
Dawn Sinkule:
But on the user experience, it feels just like magic.
Jay Gibb:
They just put a button, it basically works in the HTML like area of any website. So we don't send the emails, we're sort of agnostic to what it is that you're doing with these email addresses. It's our job to put the email addresses into the field. And sometimes, you may want to have name, first name, last name, phone numbers, and other stuff that's in the address book. You can also use if you have a reason for it. But the point is, it works with whatever you've got. If you're using Shopify's Refer Friend program or you're using eCommerce like AutomateWoo Refer Friend program or whatever it is that you're using for, that requires this functionality, you can just put it in the HTML and put the link and point the link at the field that you want to populate. And it just works. It's really quite simple to integrate it.
Dawn Sinkule:
That's crazy. Crazy. And I love how you make it just sound so simple, but I don't mean to minimize the craziness of the complexity behind the scenes because I'm sure, obviously this is far out of my pay grade and scope of what I would be willing and able to even comprehend to do. But you've made it very simple for eCom business owners. Who is the ideal business owner? I mean, you said eCommerce, you could potentially use this for a B2B type business, I would assume as well. Is there an ideal type of business that this works best for? Or just anyone who really wants to capture information like this?
Jay Gibb:
I think eCommerce is up there. We have a lot of eCommerce success. Crowdfunding, we basically dominate. Almost every crowdfunding platform uses CloudSponge. Ah. Because of crowdfunding, it's really important for not only the project creator to use their address book to sort of prime the pump to get the initial group of backers, but then also the good ones. Once a backer makes a pledge for a crowdfunding project and they put 20 bucks or a hundred bucks or whatever they're going to do. They're often presented with, "Hey, by the way, we could reach our stretch goals if you also share this with your friends." Then we'll get a little sharing panel that's got Facebook and Twitter, and somewhere in there, there's probably a little envelope that if you click on it's going to give you an interface that uses the CloudSponge 'Add from Address Book' button. Right?
Dawn Sinkule:
Yep. Got it.
Jay Gibb:
We've got that market pretty much cornered. And then the other one would be, well, there's two more. I guess. One of them would be the, I've already mentioned e-cards and events.
Dawn Sinkule:
Events, yeah.
Jay Gibb:
Where you've got an invite, especially for a big event like a wedding or something. And right now we're kind of in the holiday season. So people are doing this, where guaranteed, if you're going to try to use one of these tools to send out holiday cards, at some point in that experience, you're going to input all of your friends and family and their mailing addresses, right?
Dawn Sinkule:
Yeah.
Jay Gibb:
Probably what they're going to do is they're going to give you a way to download a spreadsheet that's blank, and then you have to adapt your data to their format. And then you upload the spreadsheet, fix all the errors. I personally use Costco for that.
Dawn Sinkule:
The nightmare of it all.
Jay Gibb:
But there's a whole e-card and invitation industry can benefit from it. And then the last one is social networks. So this is something that anybody who's got an account on Twitter or Nextdoor or Facebook or whatever, you've all seen this, where they want you to upload your address book to help you find your friends who are already on the network. And then after you've done that, they want to use everybody else in your address book and they want you to send them all invitations to join the network. Right?
Dawn Sinkule:
Right.
Jay Gibb:
And so right now we've got, Nextdoor is a company that uses CloudSponge for that part of their functionality. So does Yelp. If you go to your Yelp account and log in and look for the email your friends feature, there's buttons there. It's like Google, Hotmail, Yahoo, AOL, all those buttons are powered by CloudSponge.
Dawn Sinkule:
That's amazing. Hey everybody, it's Dawn. Thanks so much for listening. I just wanted to pause really quick and say that if this episode is bringing up any questions or thoughts about your own business and you're needing a little guidance, head over to digitaldawnagency.com and book a free consultation with me. I'm happy to sit down and brainstorm what your business might need to grow and scale online. So you're everywhere, there's no place really that you couldn't integrate with. I mean, it sounds like you could do this. Now I've seen on your website, you've worked with some really big companies. You've got some pretty major Yelps, other major brands. So for a smaller eCommerce business, this is still an option for them, even regardless of size, if they're trying to capture and gather data in this way. Would you agree?
Jay Gibb:
Totally. Yeah. I mean, our basic plan is $59 a month. So we're not trying to price ourselves for only the enterprise. Those are just happen to be the logos that we put on our website because of course we recognize them. Business to show those. But the sort of the long tale of it, the majority of our customers are just ordinary size, small, medium businesses that have a stack of tools and everybody's got the stuff they buy. And we're in that list. And lately, we've been doing a lot of WooCommerce stores, 'cause we have a WordPress plugin that makes it really easy to install the CloudSponge product inside any WordPress website. And so we've been doing a pretty good campaign and getting a lot of good successes with the WooCommerce.
Dawn Sinkule:
It's amazing. Yeah. That's amazing. So as I was doing research for this podcast, I was kind of going through your website and looking at different things about you and the company and all sorts of stuff. And it sounds like with this data you could do even more analytics or some things off the backside of this data once you have it captured. Can you kind of talk a little bit about how a user or an eCom business owner could really maximize outside of the ease of this, how they might maximize some of the data that they capture?
Jay Gibb:
So just to be clear, CloudSponge itself doesn't capture any of the data, especially none of the sensitive data. But we do have logs, so inside a CloudSponge account, there's charts that are meant for the optimizers. The people that want to go from a 60% abandonment rate to a 30% abandonment rate. We give them all the charts they need to understand where there might be room for improvement. But the place where I think we can make a really unique impact that I think your listeners that are really in the conversion rate optimization kind of mind frame, that I think is really neat here is it is actually best described by example. So imagine on an eCommerce website, you've got a normal refer a friend program. Send your friends this link. If they use the link, they get a 20% discount or a $10 coupon, and after they purchase something, you'll get $10 off your next purchase. It's really standard eCommerce use case, right?
Dawn Sinkule:
Yep.
Jay Gibb:
And without class funds, you type in your friend's email address and you hit submit and they get the email.The email that they receive isn't very personalized. This is the referral email they get. It's coming to them from a store that they probably don't recognize. Hopefully the engineers behind that store included your name because your name they should recognize, you're their friend. They may or may not have done that. Right?
Dawn Sinkule:
Right. True.
Jay Gibb:
So now take that exact same thing, but if you use your address book instead of just typing in your friend's name, now the software that's going to send the email to your friend, it has your friend's entire address book record. So it's got your friend's name, first name, last name, and email address. And so it can use those data fields to personalize the email, and you're going to get way better open rates and way better conversion rates because now you're sending me an email. And it's going to say, Dawn via eCommerce store, I don't recognize, and in the subject line, "Jay, I think you're going to love these socks. Here's the $10 coupon." It's going to use my name in the email in a way that otherwise wouldn't have been possible. Right?
Dawn Sinkule:
Yeah. That's crazy because I think so many eCom business owners work so hard, at least in our agency, one of the things that we help our business owners with and our agency clients with is the ability to help with open rates, right? Conversion, optimization, open rates, all of the marketing things. And one of the biggest challenges is when you start to get a lot of these additional plugins, whether it be loyalty programs or you start to get referral popups or different things like that, that you're wanting, they're very standardized and they're not very personalized. So you're either hiring somebody to go in and try to swap things out or code it for you differently, or you're just kind of left to use whatever is the standard sort of template with sending these types of things, whether it be any type of program, any loyalty program that I've seen is pretty standardized or a lot of different buy one, get one sort of pop up things with emails and all that kind of stuff. It's all pretty standard.
So having an ability to really customize it automatically without having to hire and or do it myself, seems like an amazing opportunity for increased open rates and actually getting the person to take the action, which is what you're trying to get them to do. Not just open it, but actually do something with that open rate. Right.
Jay Gibb:
Yep.
Dawn Sinkule:
Amazing.
Jay Gibb:
Yeah. It's working for a lot of eCommerce stores.
Dawn Sinkule:
Oh, I bet. I bet. Okay, so let me shift gears a little bit. So the type of people that you've got on your team, they're developers, they're engineers, they're really smart men and women. Are any of them eCom business owners that have sort of been in the trenches with this? Because at the initial, you kind of talked about the opportunity that you created this for yourself, right? Do you recruit eCom business owners to come in and give you real time, real life, because these sound like real case scenarios that you've had people that know what they're talking about on your team?
Jay Gibb:
Yeah. No, it's an awesome question. And there's no doubt that we could do better at making that a qualification criteria to work here, but it's already tough enough. So we haven't really put a huge emphasis on hiring people with that pedigree, if you know what I mean. And part of the reason for that is because we kind of get that through our customer success and our customer support, and I think this is maybe a little bit unusual in the B2B software space. We actually genuinely love talking to our customers. We're not trying to create a system that's just self-serve where we can just look at our CRM and do nothing else. My calendar is on the public website. People can just put themselves on my calendar and talk to me if they want to. And the same goes for everybody else at the company.
And I'm not necessarily trying to argue that that's an alternative to having that internal pedigree, but it's definitely-
Dawn Sinkule:
No, but it helps.
Jay Gibb:
Part of the reason why we're successful is because we actually get involved in the implementation of our solution. We're not just pointing you at documentation, we're looking at your website and helping you parse through opportunities and maybe problems. And so we get a lot of that from-
Dawn Sinkule:
You get a lot of feedback.
Jay Gibb:
Customers, and sometimes from our leads, but usually from our customers, we take advantage of that, and they actually take the time to put themselves on my calendar just to pick my brain about stuff. We're always really happy to do that.
Dawn Sinkule:
I love hearing that because you're right, a lot of SaaS companies don't necessarily, that's not true. It's not just a SaaS company situation. I think a lot of companies in general don't take a lot of time to listen to their customers. And our philosophy at my agency as well is that "I want to be a partner for you. I want to hear what you have to say, and I want to partner and give you my best recommendation, even if it's not me, even if it's not me, that's the best recommendation. I want to help find a solution." And the only way that you can do that is to talk to people and to hear what people have to say and then use that for good and market yourself and create solutions for that. So I love hearing that.
Okay. So next question. Let's put a crystal ball here in the middle of this, and let's look into the future and let's talk about what you see happening with CloudSponge or morphing with CloudSponge in the next, let's say five years. And in the online space, I've been doing this for almost 10 years now in the marketing agency space. And I can tell you from when I started to where it's at now, it's not even the same business that I was running before. So that might be a bit of a loaded question with what you see the future of CloudSponge kind of turning into. But what is maybe your vision of what you want it to be, and where do you actually see things going in the next five years?
Jay Gibb:
Yeah, it's a fun question to answer for sure. And I give you two different perspectives on it. From a product feature perspective, we've decided, and I don't think we'll change our minds, that we're not in the business of sending emails, we're never going to get into that. We basically have this barrier that we've always respected and I don't think we're ever going to change it. So we'll never get to a place where we're sort of creating referral program software or invitation software, or that's just a line we've drawn that makes sense for us to stay really focused on the thing that we're really uniquely good at. And so over the next five years, what I imagine, or what I'm envisioning and trying to make true is that we will just be integrated into all the tools that do those things.
Dawn Sinkule:
Yeah.
Jay Gibb:
So if you think about all the different verticals, take the referral marketing vertical. There's probably 50 companies that you could go buy their referral program software.
Dawn Sinkule:
For sure, right? Yeah.
Jay Gibb:
Magenta, Shopify, commerce off the shelf stuff, SaaS stuff, hosted stuff, plugins, open source, whatever. There's a lot, right? And so what we want is to be ubiquitous in that whole vertical as being a way that you can just turn on the contact picker.
Dawn Sinkule:
And that's it, right?
Jay Gibb:
Yeah. Go to CloudSponge, buy a key, bring your key with you, paste it into your interface, hit save, and now you've got a contact picker. So that's a lot of work. That's a lot of negotiating. That's a lot of partnerships. It's just a lot. And for us, that's the most signal to noise ratio as far as knowing that with those partners, it's a hundred percent qualified leads. We're not dealing with some non-perfect percentage. All of the people that use these platforms all are qualified leads for us. We can genuinely create a win win win for us, win for the partner, win for the mutual customer universally. So it feels good to do it. And so we'll be doing that for five years for sure. But more, I think your question because of the crystal ball, you're thinking more abstractly.
Dawn Sinkule:
A little bit. Yeah.
Jay Gibb:
And I guess what it comes down to is the theme is word of mouth. The theme is that we are competing with paid acquisition channels, maybe not competing. But we're an alternative.
Dawn Sinkule:
I was going to say, yeah, parallel. Yeah.
Jay Gibb:
It's not one or the other. They are two different things. And I think everybody sort of does the paid acquisition channels because it's fast, but it's expensive. That's the trade-off. And everybody wants more word of mouth. They want people to tell their friends. They want that sort of organic virality. And so that's where we live, that's where our frame of mind is. When somebody gets on a call with me to do a consultation, I'm imagining what can this person do to their business to create more organic virality, organic word of mouth, right? Like you say, whether it's with the CloudSponge contact picker or not. That's the theme. How do we get more people talking to their friends about your products?
Dawn Sinkule:
Exactly.
Jay Gibb:
Exactly. So that's kind of a more abstract answer, I think.
Dawn Sinkule:
Well, you said, I mean, I could talk for hours on this one, but you've said so many really amazing good things there. I think one of the parts that I took away with what you guys want to do is the riches are in the niches. So stay in your lane with what you're really good at, what you have drawn your line in the sand with, what you know want to be doing and don't deviate. And I think so many entrepreneurs get into that shiny penny syndrome, so to speak, and have lots of different things that they want to try. And I am a whole believer that stay focused, just stay the path. And unless something from a technology perspective changes, do what you're best at. So I love hearing that. And then I love the kind of organic virality piece of it that you mentioned in so many different ways.
We're working on that with our clients, is that in the next five years, all of these different platforms could potentially change, be different, more expensive, not as optimal as they are today. And how and what are some different ways that you can continue to grow your business? And we all know that if you refer to friend to my company, they would most likely go with my company because you told them to. Same sort of thing. I mean, we all go to restaurants that our friends told us we were fantastic. We all use software that that person uses, or I go with this person because of it, babysitters, anything. So I think that word of mouth is the way that you, that's how I've built my agency from the ground up is word of mouth more so than anything else. So I think that's a really important key to how a lot of businesses are going to be continuing to grow steadily over the next five years, regardless.
So I love that you said all sorts of good things. So because you get to talk to so many eCommerce businesses, and as we start to wrap up, my final question for you of the podcast would be, what is probably the biggest thing that you hear from your day-to-day conversations? Or what are some things that you know eCom business owners should be doing that they aren't doing to increase sales or to drive growth in their business? Maybe outside of what you're offering as a solution, what are some other key things that you hear business owners talk about or that you hear from your team?
Jay Gibb:
I can answer that question in the form of a resource that we've created.
Dawn Sinkule:
Yeah, love it.
Jay Gibb:
We'll post it for your audience at cloudsponge.com/digitaldawn. So people go there, on that page, we haven't made it yet, but it'll be there when they listen. There'll be a place where they can input their email address to download a resource file that's just a free download. And it's basically a four or five page audit, a word of mouth audit. Where, as a store owner, you can just go through the questions. The first area, the first question is, it kind of asks about the different word of mouth features that your site may or may not have. And it's immediately a inspiration list. "Oh, why don't I have that?" It's a few things that are just, that maybe they're there, maybe they're not. And then the second area is for each of those that you have, let's audit it. Let's see. Do you have, for example, really common mistake is mailto links. Everybody uses mailto links, and everybody knows they don't work.
Dawn Sinkule:
Right? Yeah.
Jay Gibb:
Don't understand it. I don't get it. 'Cause the mailto link, it's supposed to be for contact us. It's supposed to be for click here to send a support question, right?
Dawn Sinkule:
Right.
Jay Gibb:
But somehow over the last 20 years, they got morphed into being used to send an email to your friends. If you look at a product page, it's going to have a little panel. I can almost just roll the dice and it'll have, they almost all have it. A little panel that's got Tweet and Facebook post and a little envelope icon. And when you click on the envelope icon, it's going to launch you into your web mail client to share this product with your friends. It just doesn't work. Nobody does it. So that'll be part of what the audit is. Are you using this? Yes or no? And all the different sort of things that you should be thinking about.
Dawn Sinkule:
Yeah.
Jay Gibb:
And then the last part, I know I'm making it sound long, but it's really only six pages.
Dawn Sinkule:
Yeah, no, it's cool.
Jay Gibb:
Half of them are just headings. The last part is more of a metrics question of if you're going to measure the performance of this feature, let's say it's a wishlist feature, where do you go to get the numerator and the denominator to calculate how well this thing is for is performing? Again, just forcing people to think through, if you don't measure it, you're never going to improve it, kind of mentality. Again, it's just that thing that it's not rocket science, but it's a really useful-
Dawn Sinkule:
Great way to think about it. Yeah.
Jay Gibb:
So that'll be right on the cloudsponge.com/digitaldawn. I think it's actually probably the best answer to your question.
Dawn Sinkule:
I agree. I love that. I love that. And all of our listeners love resources and tools and checklists and audits and things they can find. So that'll be amazing. We will link that in the show notes for sure, so that everybody can go get that and download that. So Jay, you have given us amazing information. You have made this incredible tool that you've created sound so easy and so user friendly, and I know that it is not easy to do, but it is user friendly. So thank you so much for coming on today and sharing your experience and telling all of our eCom business owners how amazing this tool is and why you really need it. And I think everybody needs to go out there, sign up for this. We'll have a link to how to sign up and get your own account, and we'll give a discount even.
Jay's been gracious enough to give us a discount on anybody that signs up using our link. So we'll link that in the show notes. But this has been awesome. I appreciate your insight and your perspective, and thank you so much for coming on the show today.
Jay Gibb:
Thank you for having me, Dawn. It's been great.
Dawn Sinkule:
Yeah. Okay, listeners, until next time, thank you so much. Bye now.
Jay Gibb:
Bye.
Dawn Sinkule:
Thank you so much for listening to today's episode. If you like what you've heard, I'd be so grateful if you'd leave a review and don't forget to subscribe so you never miss an episode. If you'd like to see if you're a good fit to work with the Digital Dawn team, head over to digitaldawnagency.com/contact and let's book a call. Thanks so much again, and until next time.