We power the Contact List buttons on thousands of websites
Any interface that asks users to input their friends' names, email address, or phone numbers will be instantly optimised by adding our Contact Picker.
It's a popular word-of-mouth growth tool for refer-a-friend forms, e-card or invitation recipient lists, and find-a-friend searches.
5 minute installation, 2 week free trial
Trusted by 5,000+ Businesses








All Your (Use) Case Are Belong To Us
Our Contact Picker will optimise any recipient list user interface, guaranteed. 🛸
Global Coverage (even AOL?!)
We're integrated with all of the most popular webmail platforms from around the world, because not everyone uses Google y'know.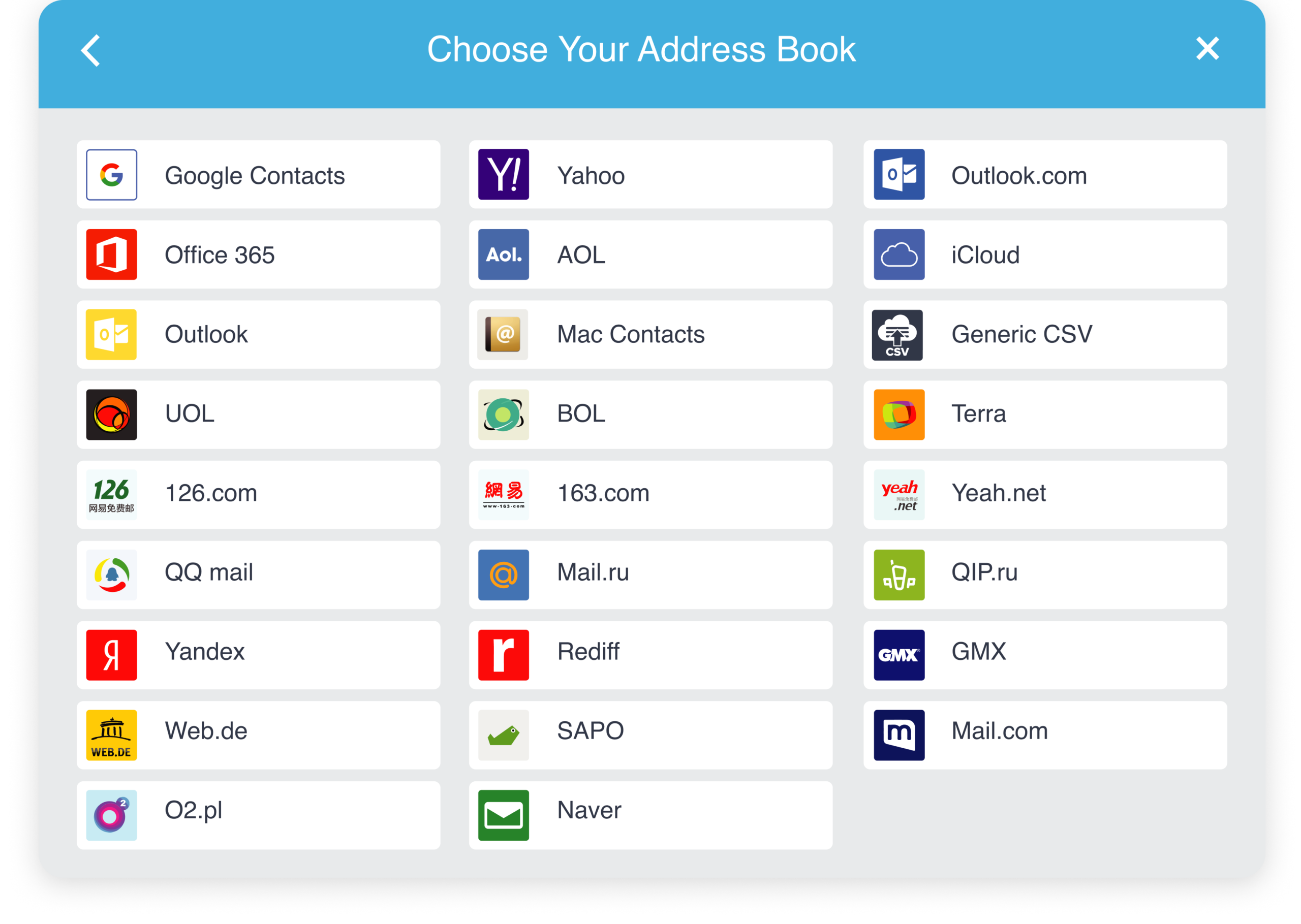 You can customize this menu to include only the webmail providers that your users will recognize, or you can put these logos directly on your page to skip this menu entirely. We monitor these integrations 24/7/365 on our service status page.
Mobile-First, Responsive Contact Picker
Without ever leaving your website, your users will see their contacts in a delightful list that's easy to search and select so they can create their recipient lists in record time.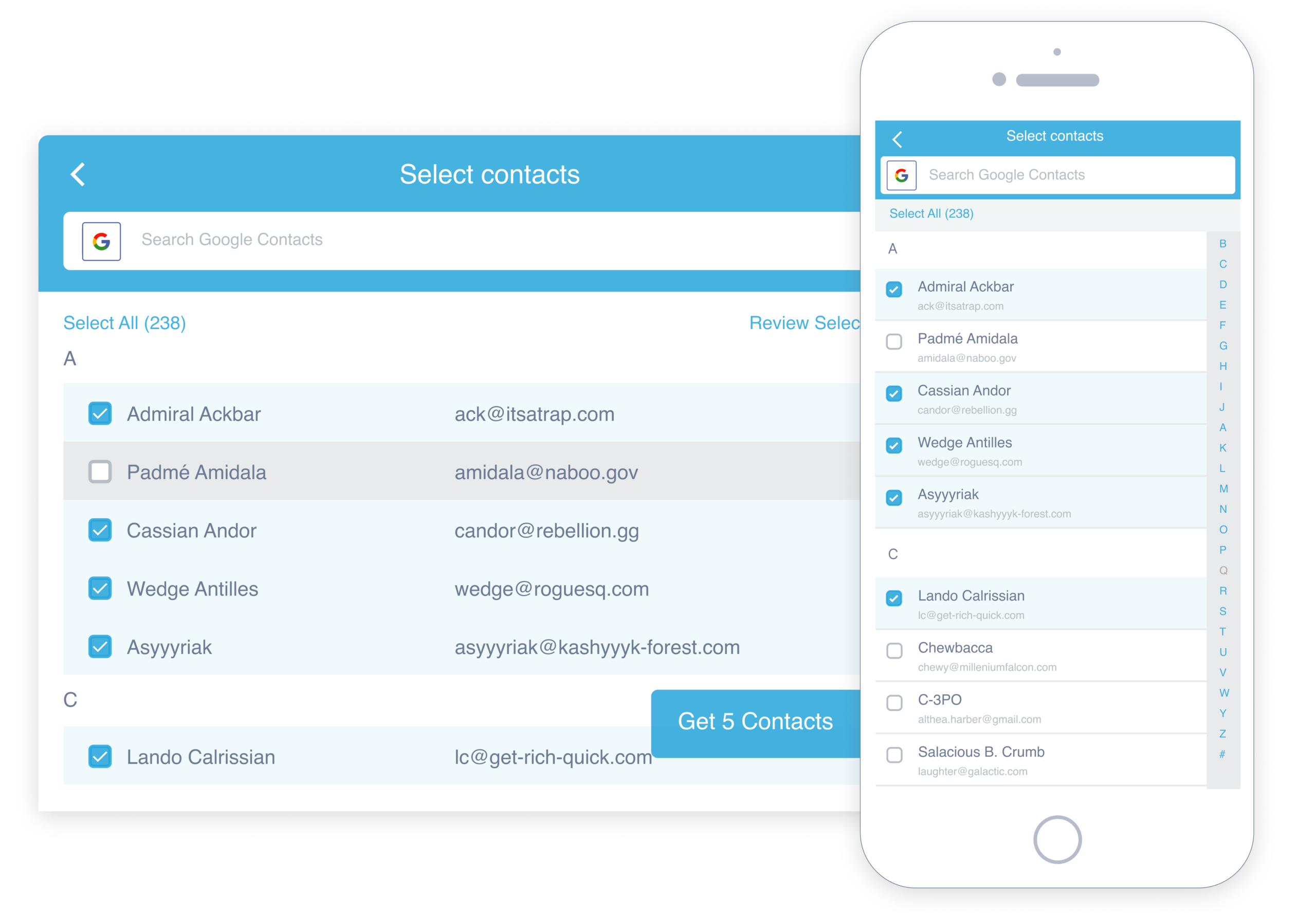 🎵 "Webhooks and Callbacks and Forms, oh my!" 👠
No matter how your recipient list interface works, we have an integration method that'll work for you.
Our Contact Picker works on any web page, and it's already integrated into a ton of platforms

Need something specific? Just ask and we'll try to help!
We've been around since 2010, and we're trusted by lots of companies that you'll recognize.
Click these company logos to read about how our customers used CloudSponge to optimise their recipient list interfaces.
Frequently Asked Questions
Does the Contact Picker send emails for me?
No. Sending emails is up to you. It's pretty easy to set up if you're using one of our integrations like Better Sharing for WordPress or Zapier. Remember to follow privacy best practices if that's your use case!
Does CloudSponge keep the address book data?
Is it possible to be GDPR-compliant if I'm using the Contact Picker?
Can I customize the Contact Picker?
Yes, of course. Everything you see is customizable with our Branded plan. Your front-end developers can override all of our styles to make it match your site perfectly, and every text string can be overridden with whatever text you want. You can even run the Contact Picker in headless mode and develop the entire UI yourself, if you need help just ask!
Whose OAuth credentials does the Contact Picker use?
You'll use your own credentials so your users see a familiar brand when they're being asked to grant access to their contacts. But don't worry, we'll help you through the application process to make sure it gets done quickly!
Can I bundle the Contact Picker into my software?
Yes. We have lots of partnerships with platforms that include our software inside theirs. Contact us to talk about the different ways we can approach it.
Try CloudSponge for free in your
testing environment
Have a questions or prefer a guided tour?
Schedule a consultation with our Founder.